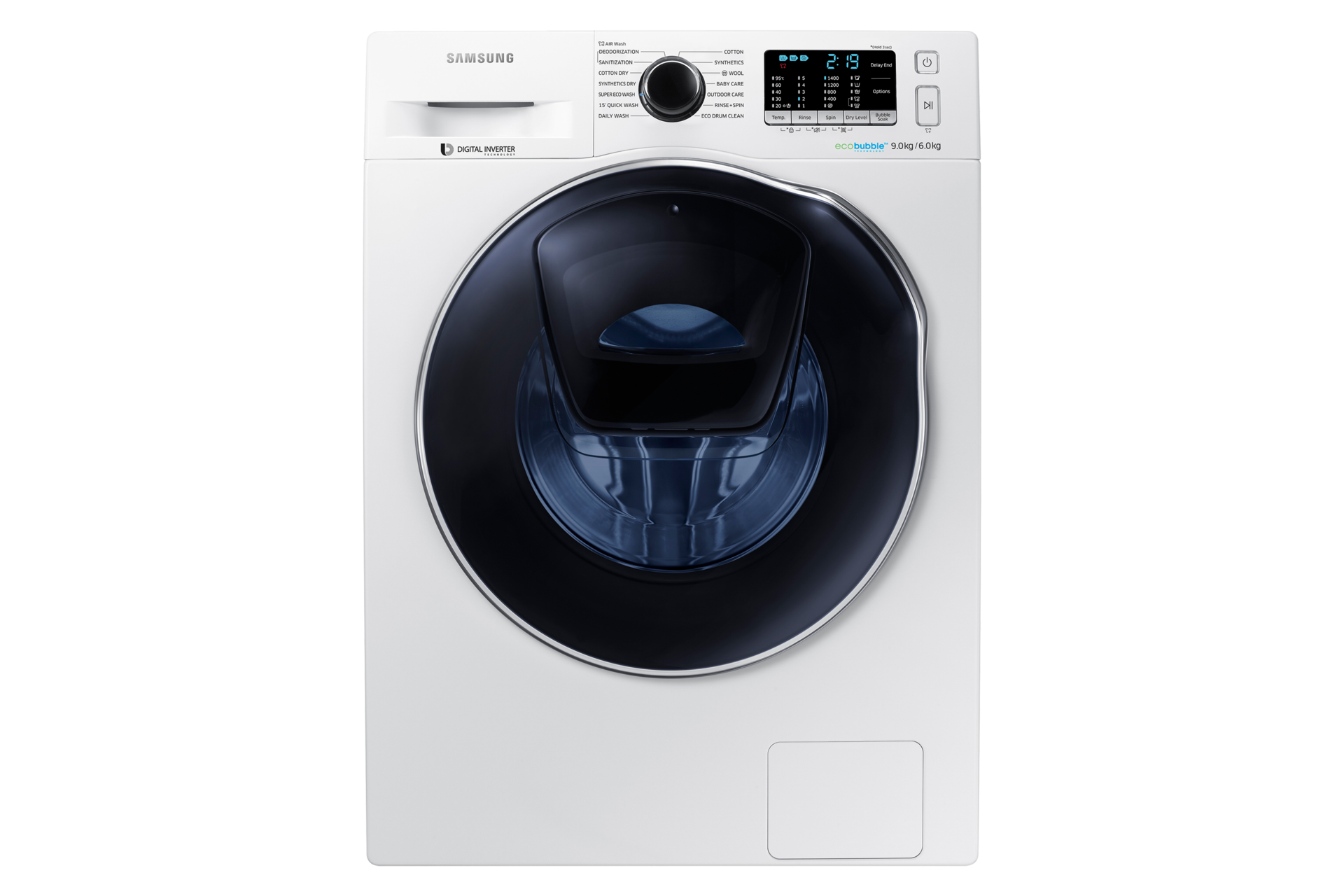 WD5500K AddWash™ Washer Dryer with ecobubble™, 9kg
WD90K5410OW/EU
WD5500K AddWash™ Washer Dryer with ecobubble™, 9kg
is rated out of
5
by
7
.
BUNDLE
Sorry! This product is no longer available
9 kg
Washing Capacity (kg)
Bubble technology
Bubble technology
A
Energy Efficiency Class
600x850x650 mm
Net Dimension (WxHxD)
FEATURES
AddWash™ lets you add to the wash during the wash
Wash cool and save energy using ecobubble™ technology
Get rid of stubborn stains with the power of Bubble Soak
Drying cycles tailored to your needs
Add to the wash during the Wash
Add to the wash during the wash
Open the innovative AddWash™ door to quickly drop in anything extra during the wash* – whether that's a stray sock you missed, extra softener, or a hand-washed garment for final rinsing.
* AddWash™ door can be opened at any time when the drum temperature is below 50 °C.
Undeniable performance of bubbles
Our efficient ecobubble™ technology mixes air, water and detergent to create bubbles that penetrate your clothes faster, helping you wash at cooler temperatures. Better for the environment and your bills.
* Tested in accordance with IEC 60456-2010 / 4 kg Wash Load / Super Eco Wash cold (WF80F5E5U4W) vs. Cotton 40° without ecobubble (WF0702WKU). Individual results may vary.
** Based on the Performance Lab Test report by Springboard Engineering on EMPA strips, between normal detergent solution and bubble technology without mechanical action.
*** Drum pattern may not be identical with actual product.
Freshen up or simply wash & dry
Our Air Wash technology uses a stream of hot air to quickly freshen up garments without the need for water.
For regular laundry programs, our drying cycles will take care of your cotton & synthetics alike.
Super speed
Speed spray
Intensive Stain Removal
Whether its cotton, synthetics or baby clothes, add a 30 minute Bubble Soak to any of your preferred programmes at the touch of a button. Then let our unique ecobubbles penetrate deep into the fabrics to loosen tough stains – giving you a thorough and efficient clean after every soak.*
* Tested in accordance with IEC 60456 5th edition / 8 kg Wash Load / Bubble Soak Wash (WF80F5E5U4) vs. Cotton 40 / 60°, Synthetic 60°, and Denim 40° without Bubble Soak (WF0702WKU).
Quiet, reliable performance
The quiet Digital Inverter Motor gives you long-lasting, reliable performance. Less noise, less vibration and less wear and tea - Stay worry-free with our 10 year warranty on the Digital Inverter Compressor.
Extraordinarily beautiful design
The Crystal Gloss Door, in transparent White or Ocean Blue, provides the ultimate in aesthetic pleasure.
Easy troubleshooting
Smart Check is an automatic error monitoring system. It detects and diagnoses problems at an early stage and provides quick and easy troubleshooting solutions using a Smartphone App*. So it saves you time having to find the manual and avoids the cost and inconvenience of unnecessary engineer callouts - and potentially expensive repair bills.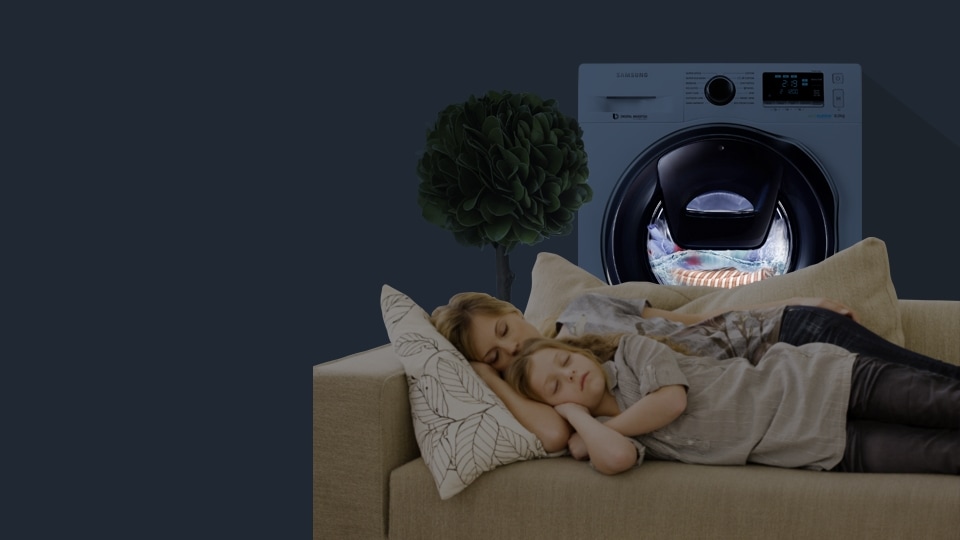 *Available on Android and iOS.
Gentle Fabric Care
With our unique diamond embossed drum design, clothes are prevented from snagging, while a cushioning layer of water adds an extra level of care to your laundry.
9 kg

Washing Capacity (kg)

Bubble technology

Bubble technology

A

Energy Efficiency Class

600x850x650 mm

Net Dimension (WxHxD)
Rated

5

out of

5
by
Tonyz
from
Really quiet machine
We've owned this machine for almost a month and found it to be really quiet and efficient. We haven't used the airwash feature yet and are intrigued to, and haven't dropped a sock but have tested the addwash function. It's a little deeper, although slightly narrower than our old machine, so it does stick out beyond the kitchen cabinets a touch, and I'm not sure why you'd need tinted glass on the door, which means you can't see what is going on inside. All in all though, the positives massively outweigh the negatives and we're very pleased.
Date published: 2019-02-11
Rated

5

out of

5
by
TF10
from
Good value and features
I initially thought that the add to wash feature was gimmicky but it is actually great and fairly frequently used
Date published: 2018-10-03
Rated

5

out of

5
by
Enestotas
from
Great Machine
We definitely love this machine. To be frank we can't live without it. It's so easy and efficient. Such a beauty. We definitely suggest it
Date published: 2018-04-17
Rated

5

out of

5
by
Andy G
from
So quiet
I chose this washer dryer because it's looks better than others. Addwash doors it's handy feature, I did use this quite few times. And the washer it's so quiet in operation, even when spinning at 1400 speed. Washing quality is very good and the drying it's outstanding. Only one function is missing- the hand wash, but the wool programme included. Can't say anything on reliability yet. Highly recommended.
Date published: 2017-12-28
Rated

5

out of

5
by
Deborita
from
A great all-round washer dryer
I bought this machine after my previous washer dryer has spun itself apart. This machine is easy to use. The add-wash compartment is useful although it only is used every now and then. The machine is reasonably quiet and both wash and dry performance are good.
Date published: 2017-12-12
Rated

5

out of

5
by
Luv2Shop
from
Great washer dryer, perfect for what we need. Really pleased with the purchase
Great washer dryer, perfect for what we need. Really pleased with the purchase
Date published: 2017-03-05
Rated

3

out of

5
by
poggs
from
looks great but funny size and very long wash time
Decided to buy this after my last washer dryer started banging and thumping. Its very pretty but very complicated. I simply had no idea what a normal wash was. The manual is not very helpful and doesn't really explain how to actually use the machine very well. Most of the manual is how to install it. Anyway, there are loads of pretty much unsuitable programs. eg. The "daily wash" stated it can only take 2 KG,so that's pretty pointless and the other washes like synthetic were only 4kg max. So its the cotton wash only, but it takes a whopping 3 1/2 hours! There really is no normal wash for a normal load. Or at least I couldn't work it out. However the very looonnnggg wash does clean the clothes fine and its nice and quiet. There is one massive issue however. It simply does not fit under a standard 600mm deep worktop. Due to a fat belly/shelf at the back its 7cm too deep, so if you have a standard fitted kitchen and want to fit it under the worktop. You cant. Its too big and juts out 3 inches or so. ho hum I guess
Date published: 2018-02-03
User manual & Downloads
Live Chat