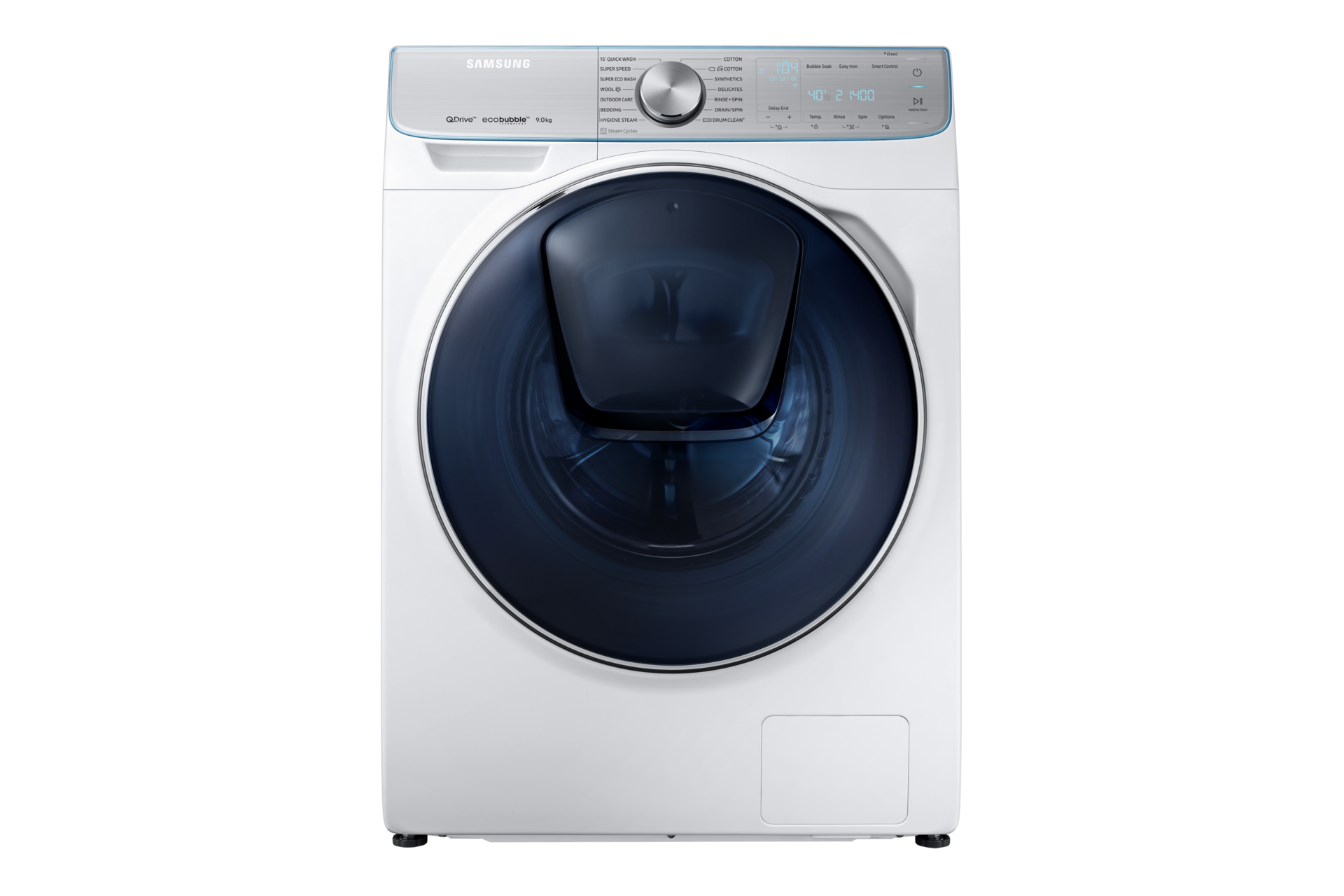 WW7800 QuickDrive™ Washing Machine with Hygiene Steam, 9kg
WW90M741NOR/EU
WW7800 QuickDrive™ Washing Machine with Hygiene Steam, 9kg
is rated out of
5
by
4
.
BUNDLE
Eco Bubble™
Super Speed
9.0 kg
Washing Capacity (kg)
A+++(-40%)
Energy Efficiency Class
Half the time on laundry*, Double the time for yourself
*Samsung QuickDrive™ WW6800M/WW7800M vs Samsung WW6500K (half load, 40°C Cotton wash)
Images shown below are illustrative only and show models available outside the UK.

Half the time on laundry*, Double the time for yourself
Innovative QuickDrive™ technology reduces the washing time by up to 50%*, without compromising the cleaning performance. Samsung's unique fabric care drum is equipped with a pulsator that creates a fast water flow that covers the entire drum. As a result, the detergent penetrates deep into the fabric, to give your clothes a thorough wash in less time*.
*Samsung QuickDrive™ WW6800M/WW7800M vs Samsung WW6500K (half load, 40°C Cotton wash)
Wash Cool, Save Energy
Unique cool wash technology for even greater energy savings
Our efficient ecobubble™ technology mixes air, water and detergent to create bubbles that penetrate your clothes faster, helping you wash at cooler temperatures. Better for the environment and your bills.
Add to the Wash During the Wash
Open the innovative AddWash™ door to quickly drop in anything extra during the wash* – whether that's a stray sock you missed, extra softener, or a hand-washed garment for final rinsing.
*AddWash™ door can be opened at any time when the drum temperature is below 50°C.
Take Control Anytime, Anywhere
Laundry Recipe
Laundry Recipe* selects the optimal cycle based on the type of garments, colour and soil-level of your wash load.
Take Control Anytime, Anywhere
Laundry Planner
Laundry Planner* lets you choose your laundry finishing times to fit with your schedule.
Take Control Anytime, Anywhere
HomeCare Wizard
HomeCare Wizard* gives you tips to help you maintain your washing machine at its best.
Take Control Anytime, Anywhere
Auto Detergent Replenishment
Auto Replenishment tracks your detergent usage and re-orders more supplies so you never run out*.
*Requires 'Samsung Connect', available on Android and iOS. Registration required.
*Requires 'Samsung Connect', available on Android and iOS. Registration required.
*Requires 'Samsung Connect', available on Android and iOS. Registration required.
*Requires 'SmartThings' app, available on Android and iOS. Registration and Amazon account required.
Intensive Stain Removal
Whether it's cotton, synthetics or baby clothes, add a 30 minute bubble soak to any of your preferred programs at the touch of a button. Then let our unique ecobubbles penetrate deep into the fabrics to loosen tough stains – giving you a thorough and efficient clean after every soak.
Quiet, Long-lasting Performance
The quiet Digital Inverter Motor gives you long-lasting, reliable performance. Less noise, less vibration and less wear and tear – it even has a 10 year warranty.
Peaceful Washing Anytime
Peaceful washing anytime, anywhere with less noise and vibration
Thanks to our VRT technology, now everyone can enjoy a more peaceful wash thanks to a drum that keeps in perfect balance, even at high spin speeds.
Eco Drum Clean+
Keep your machine clean for optimal washing performance
To ensure you always get the best possible wash, the Eco Drum Clean+ cycle cleans the inside of the drum and the rubber seal. For complete ease of use it even reminds you when it needs cleaning (every 40 cycles).
Anti-Scale Heater
Reduces limescale build-up for great energy efficiency
The Anti-Scale Heater minimises the energy used when heating the water during the wash cycle. The new type of coating is made of an anti-adhesion material that reduces the build-up of limescale around the heater, and avoids unnecessary energy consumption.
Drum Light
Extra light, extra convenience
No more socks left behind! This washer dryer includes an internal drum light that lets you see exactly what's inside – and make sure that you get everything out. Located on the upper right side inside, it brightly illuminates your laundry and the rest of the drum, so you can quickly and safely check the contents.
9.0 kg

Washing Capacity (kg)

A+++(-40%)

Energy Efficiency Class

Bubble technology

Bubble technology

600x850x600 mm

Net Dimension (WxHxD)
Rated

5

out of

5
by
Geoffers
from
An Excellent Machine
I was provided with this washing machine by Samsung for testing purposes at the beginning of the Summer. I an now writing an unbiased review after using the machine for 3 Months. The biggest bonuses are the very large drum capacity, the ease of use both via the conventional method and remotely via the app. Being lazy I mainly do mixed washes utilising the programme the machine chooses which is the Super Eco Wash which takes 1hr 10 minutes. As a busy dad/grandfather I have used most programmes as my oldest daughter often leaves our grand child with us so delicates, bedding, steam hygiene programmes have been used along with woollen. The fast wash has been used and great for my teen who often comes in and has a quick turn around after college and visiting friends. I would fully recommend this machine. As I was provided with the Machine I can not rate the Value for Money
Date published: 2018-10-12
Rated

5

out of

5
by
Bertiec
from
Looks the business and is
I received this washing machine from Samsung for product testing purposes. Had for nearly a week and have to say I am very impressed. The machine looks very high tech however in saying that it is extremely easy to use. The dial for the setting selection is precise and gives you confidence that you know what you have requested is what you are getting. It is very quiet on all the settings I have used so far. The size of the drum is an absolute dream lovely and big you have no issues in getting everything in and out. The light in the drum which if I am honest I thought it was just a gimic is in really useful and does make emptying easier. I have linked the machine to my phone so I can see progress of the wash without going into the room where the machine is. The delayed start function is great set it so washing finished just as I got home so could hang out straight away, fantastic as this meant less creases and less ironing as I sure everyone has better things to do than iron. I am looking forward to discovering even more that this brilliant machine can do, the bubble soak I will be using for hubby's grubby work clothes and the hygiene steam for dogs bedding to exclude any germs . Well done Samsung great product and look forward to many years of use.
Date published: 2018-08-03
Rated

5

out of

5
by
Jamhod
from
Quality machine
I received this washing machine from Samsung for product testing purposes and have to say from the moment it was unwrapped it oozes quality both in the solid build and looks, well done Samsung! The size of the door is huge and the interior light makes it easy to see inside and make sure you've not left a stray sock behind...talking of stray socks it only took me one load to miss a sock out and use the add wash mini door to add it after the wash had started - brilliant idea! The washing machine is so quiet I am amazed, even at the 1400 spin you barely hear it. Cleaning performance is brilliant and the only thing missing on the programmes is a hand wash, which is a shame. The tech on this washer is a good but still needs improvement, it does not always connect, you have to enable smart connect each time and the mobile SmartThings app is not very intuitive, but assuming your not buying this machine to operate it remotely you will not be disappointed! It has taken us some time to get used to the controls and the locking of the door all the time when not in use is a good idea, but also a little annoying. The flashing lights all over the screen is a bit confusing but these are all minor issues in what is a brilliant high quality washing machine....I don't think you'll be disappointed with this one!
Date published: 2018-07-28
Rated

4

out of

5
by
RobCE
from
Substance and Style
I received this washing machine from Samsung for product testing purposes. I have been very impressed with the machine (a few things prevent the full 5 stars and would give 4 3/4 if I could). Design wise the machine looks impressive, the large door allows for easy filling and removing of clothes. The 9k capacity is brilliant for our household of 6 (2 working adults, 1 teenager about to commence college, 1 teenager into RAF Air Cadets and 2 in juniors) and has had no difficulty in handling a demanding wash load. The centre wash cycle dial is easy to use and once you have completed a few washes, you become comfortable in applying customisable settings. The machine is so easy to use and the auto setting calculations based on internal sensors makes washing close to effortless. Where the design falls short of perfection is all the flashing lights and sound alerts at the end of the wash. We have our machine in a utility room but I think if you had this within your kitchen, it would be a distraction. You can mute sounds but a flashing light to tell you the unit is on for the duration of the wash is unnecessary. The smart control was not as impressive as I thought it would be as you can set delay finish time when setting the wash cycle, but the alerts as to the different parts of the wash cycle where you can use the add wash may be useful to some. I found connectivity kept dropping out, so you could only monitor activity and not push instructions to the machine. Compared to our old machine this one is so quiet and I have had to check mid cycle to be sure it is on. The spin cycle at 1400 is barely audible and even with the utility door open it is not significant. The actual wash performance is above our initial expectations and the internal wash sensor systems that adjust wash time, number of rinse cycles and spin setting clearly delivers enhanced performance. No more waiting to build up a wash load, as you can rest assured the machine will optimise the cycle for you. The Add Wash function has been very useful and the safety measures around this function are impressive. The addition features such as 'bubble soak and easy iron' are great for washes such as work shirts and gym wear.
Date published: 2018-07-21
User manual & Downloads
Live Chat