Get in shape with the Galaxy S5 and Gear range
By Matt on 12th Mar, 2014
There is not much that's more important than your wellbeing. However, in today's non-stop, always connected world, prioritising fitness can be a challenge. Discover how Samsung's latest Galaxy S5 and Gear range can help provide fitness tools and motivate us in a very personal way.
Will Francis, one of the UK's most influential tech bloggers, provides a first look at the latest features and applications found in the Galaxy S5 and Galaxy Gear range. Check out what he has to say.
Move to the beat
Your heart is one of the most important indicators of your fitness; how it reacts and recovers to even the simplest tasks can say so much. And this is why the Galaxy S5 now comes with a built-in Heart Rate Sensor, the world's first smartphone to do so. Located just beneath the camera on the back of the Galaxy S5, checking your beats per minute (BPM) is as simple as placing your finger on the sensor.
You may ask, why do we need heart rate sensors on our phones? Samsung's approach to wellbeing is all about helping people improve their fitness through regular updates and helpful reminders. With this sensor, you will be able to easily keep track of vitals, whether you are doing a workout or you're busy at work.

Keep motivated with S Health

The new and improved S-Health 3.0 provides personalised daily routines, along with target-setting functions and real-time coaching. These targets can be measured in steps taken, rate of speed, or distance travelled. And if you miss your targets, the S Health application is there to provide a friendly notification reminder. It's like having a personal trainer always with you, but with less yelling.
Get going with Gear 2 & Gear 2 Neo
Technology is creating and advancing tools that can help us stay fit, and Samsung is at the forefront of this movement. That's what led them to create the Galaxy Gear 2 and the Galaxy Gear 2 Neo.

These wearable devices seamlessly synchronise with your Galaxy smartphone and also have a built-in Heart Rate Sensor, S Health integration, and a pedometer. With these tools, they can help track your daily movements and also create bespoke real-time coaching.

Add to this the 4GB of memory and a built-in standalone music player, and you really are ready to get active.

Find out more about Gear 2 and Gear 2 Neo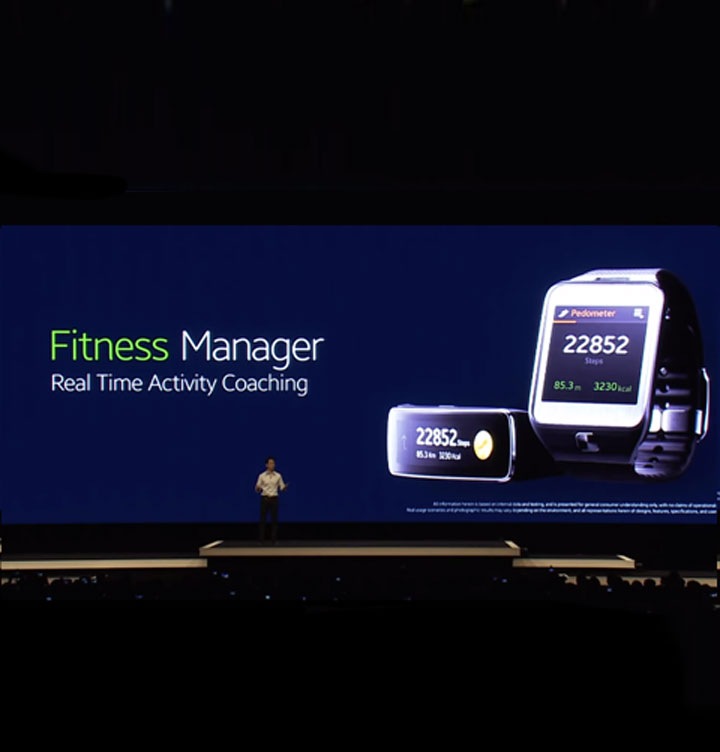 Stay active with Gear Fit
Voted the Best Mobile Device at the Mobile World Congress, Samsung's Gear Fit is your ultimate fitness device. Its curved touchscreen display and hypoallergenic band makes it ideal for an active lifestyle.

Like the other Gear devices, it features the built-in Heart Rate sensor and S Health applications, but it also has an Always-on activity tracking system. This follows all your movements throughout the day, 24/7. This information can then be analysed on your Galaxy S5, helping you understand what targets you're hitting and where you need to try a little harder.

Find out more about Gear Fit.
Buy your Galaxy S5
If you want to be one of the first to own the new Samsung Galaxy S5, click the link below to buy it now.