Samsung at the 2014 Consumer Electronics Show
By Matt on 7th Jan, 2014
Every year in January, Samsung heads to the world's biggest consumer electronics show, CES in Las Vegas, to unveil some of the year's coolest products. It is a great opportunity for Samsung to show off unseen and upcoming technology that will influence the way we live our lives. Discover what was revealed at CES 2014.

Find out more about what was launched for CES 2015, click here.
See it all here first
Samsung brings you all the latest news from Las Vegas right here on Samsung.com. So, if you love your tech, check out the Samsung keynote speech right here.
The world's largest curved UHD TV
The audience was wowed by the U8500 Series UHD Television , Samsung's first curved UHD TV. Not only does it have a stunning UHD screen resolution four times higher than Full HD but also combines this with an elegant curved design that creates an immersive panoramic viewing experience not possible with flat screens.

Samsung's range of UHD TVs will expand in 2014, with a selection of 10 UHD Smart TV models ranging from 50" to a huge 110". The full lineup includes both flat and curved screens, giving buyers plenty of choice.

There was even a preview of the latest cutting-edge bendable TV technology. We got a glimpse of a new UHD TV that can literally change shape from flat to curved on demand, depending on what you're watching.

Samsung also revealed the future of UHD content, streaming services providing movies, TV shows and more from top global content partners including Amazon and Netflix.

There will also be a new UHD Video Pack containing an external hard disc drive with preloaded content from the likes of 20th Century Fox Entertainment and Paramount Pictures.
Come home to beautiful sound
CES 2014 saw Samsung introduce new Audio Technology as well. This included products like the powerful M5 Wireless Speaker and H750 Soundbar , which delivers truly cinematic audio, as well as the sleek H610 Sound Stand which is ideal for small spaces.

Samsung also revealed the H7750MW Blu-ray Home Entertainment System . It's the perfect match for HD and UHD TVs, giving you a virtual 9.1Ch system for a stunningly warm yet clean audio experience.

Today, people want to be able to listen with high-quality sound anywhere in their homes, with whichever device and audio source choose. Using wireless and multi-room technology, these new products give us even more freedom to do that.
Meet the Galaxy PRO family
Once again, Samsung has shown off some amazing possibilities within the world of tablets and portable devices. The new and versatile Galaxy PRO family has been developed as the answer to your needs both at home and professionally, combining stunning viewing with enhanced performance and the potential to give your productivity a real boost.

The Galaxy PRO family includes the Galaxy NotePRO 12.2 , which has a 12.2" screen and is perfect for working and creating on the go. Also unveiled were the Galaxy TabPRO 12.2 , Galaxy TabPRO 10.1 and Galaxy TabPRO 8.4 . With these light and slim new tablets, you can really make the most of all your entertainment and other content.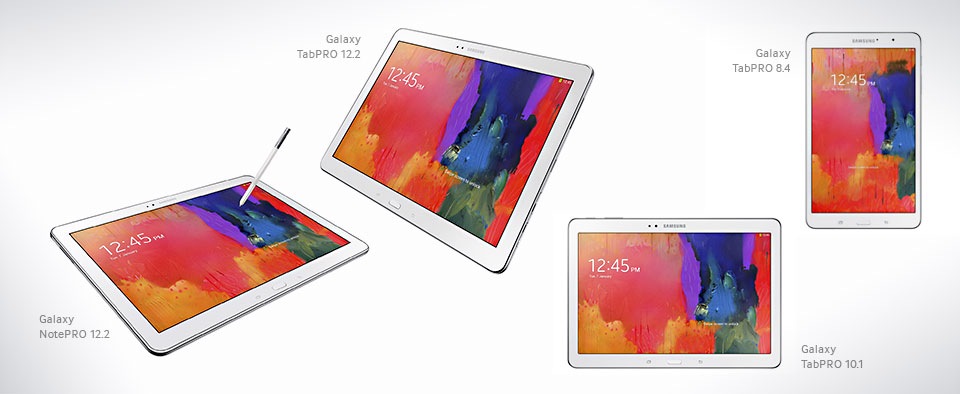 Next-generation Smart cameras
In the digital imaging field, CES 2014 has seen the arrival of two new Samsung digital cameras.

One new camera to be showcased is the latest member of the award-winning NX series – the NX30 Camera.

In addition, Samsung also demonstrated its first 'S' Series premium lens, the 16-50mm F2-2.8 S ED OIS and a new compact Power Zoom lens, the 16-50mm F3.5-5.6 Power Zoom ED OIS.

And if one digital camera isn't enough, photographers will be happy to know that Samsung also showed the world the Galaxy Camera 2 , which follows its extremely popular predecessor.

Smarter living with a connected home
Last but by no means least, in a move that could change the home forever, Samsung announced a new Smart Home service that puts people in control of their devices and home appliances with one application that connects them all. With that single application on a Smart TV, digital camera, smartphone or wearable device like the Galaxy Gear, you can now manage home devices from washing machines to light bulbs to air conditioners, whether you're at home or away on the road. You can even use voice commands - for instance just say "Going Out" to your Galaxy Gear and you can turn off the TV and the lights.

That's all thanks to Device Control, just one service that Smart Home will offer, which lets you use mobile device or your Smart TV to monitor or control home devices. Another feature is Home View, which allows you to monitor your home remotely using your smartphone in real-time through built-in cameras on appliances.The Smart Home service also gives you Smart Customer Service. That allows you to receive service alerts and assistance in servicing your home appliances, taking all the hassle out of after-sales care.