Experience a New Perspective
with Neo QLED TV
A transformational journey to Croatia's rocky Adriatic coast with perceptual artist Michael Murphy.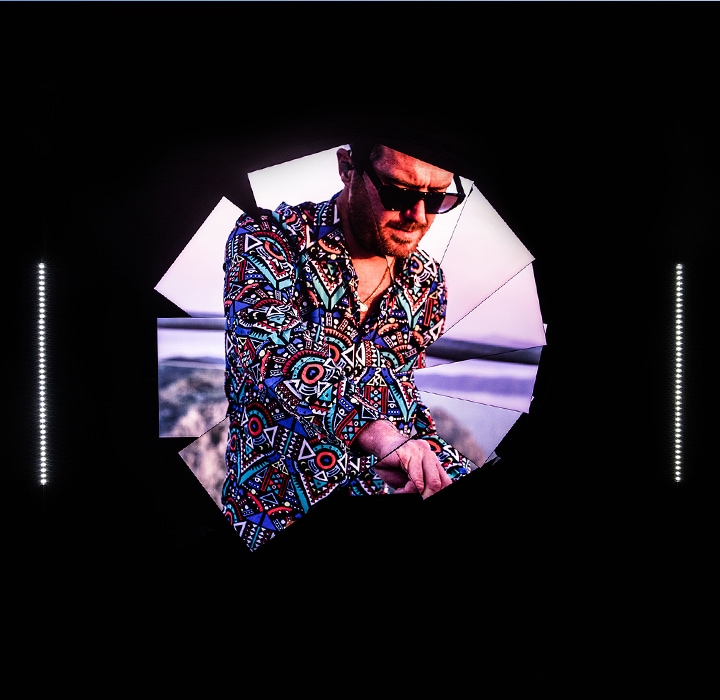 Every now and then an artist creates something no-one has ever seen before, and gives us all an opportunity to experience new perspectives. With the power of super Neo QLED 8K and the sublime beauty of Croatia's Adriatic coast – visionary perceptual artist, Michael Murphy has done just that.

In collaboration with master cinematographers, Cercle, and electronic music duo, Gorgon City, Murphy has created an installation in the Saatchi Gallery, London featuring eleven state-of-the-art Neo QLED 8K TVs—a transformational spiral of stunning Infinity Screens that transport you to a panoramic performance on the iconic Skywalk Biokovo. Combining pixel-perfect colour with 3D surround sound, this dynamic installation culminates in a truly cinematic experience, only made possible with super Neo QLED technology.
Croatia's Rocky Adriatic Coast in
True-to-Life Picture
Capturing the most beautiful places in the world is a speciality of Cercle—famed for sweeping fly-over drone shots, atmospheric landscape views, and super high definition visuals—and they worked magic with the Biokovo Skywalk, transforming a stunning tourist destination into a gravity-defying stage. But great footage deserves a great display, which is where the one-of-a-kind display technology behind Neo QLED really comes into its own. Featuring ultra-focused lights, extreme blacks and superb contrast the Neo QLED delivers the richest colours ever seen outside the cinema, transporting you directly to Croatia's Adriatic Coast with true-to-life detail.
Experience Gorgon City
in 3D Surround Sound
Following the release of their global dance chart-topping album, Olympia, electronic duo Gorgon City performed an exclusive track, 'Skywalk', inspired by the iconic Skywalk in Biokovo Nature Park. With a sprawling lo-fi beat, steady bass and atmospheric sampling, Gorgon City gave Neo QLED the perfect opportunity to showcase its 3D surround sound technology, creating a sensory feast for the eyes and ears.

A conceptual work of art, brought to you in 8K
Experience New Perspectives for yourself. Explore Croatia's rocky Adriatic coast through the astonishing screen of the flagship Samsung Neo QLED 8K TV and witness Michael Murphy's perceptual artistry with your own eyes. Discover new dimensions through Murphy's mind-bending installation—his first piece featuring moving images—while taking in the epic clarity and beauty of Cercle's footage, as played on super Neo QLED 8K.
Experience new perspectives at home
Discover new levels of beauty with Neo QLED 8K.