How Everyday Technology
can Boost Mindfulness
Feeling stressed? Help could just be a tap away.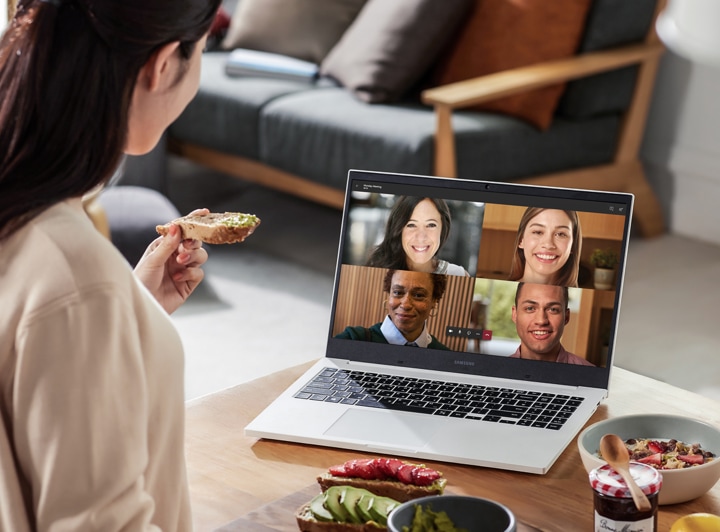 Technology permeates every aspect of our lives. From Monday morning Microsoft Teams meetings to virtual fitness classes, our world is becoming increasingly digitised. For some, our increased reliance on tech can mean it's harder to relax away from a screen. But actually the reverse might be true. Some of the most powerful wellbeing boosters are mapped by machine learning.

Here, we look at some of the best tech forward options designed specifically to improve wellbeing.
Make time for fun with video conferencing software
When it comes to wellbeing, it's hard to overstate the importance of shared fun. Communal moments of pleasure encourage the brain to release feel-good chemicals, which help us develop pathways to positive states of mind like happiness and trust. The pressures of the modern world might mean many of us are busy dong our own thing, but making time for fun with family and friends has many mental health benefits. And the exponential rise of video conferencing software makes it easier than ever to connect to those closest to you – no matter how far away they are physically. Jump on a Zoom or Google Duo call and indulge in a little laughter with those you love.

Keep track of stress using your smart watch
Far more than a mere timekeeping device, health watches are unique in that they can help you combat one of the biggest dangers to wellbeing: stress. Left unchecked, stress can cause headaches, high blood pressure, heart problems, diabetes, skin conditions, arthritis, depression, and anxiety. Got a Galaxy Watch Active2? Check in on your wellbeing by swiping to Stress on the Samsung Health app. It measures stress levels and helps you identify if you feel particularly anxious or overwhelmed. Deep breathing is one of the best ways to control stress on the body, so use the Breathe feature to help you control how you inhale and exhale. This will send a message to your brain to calm down and relax.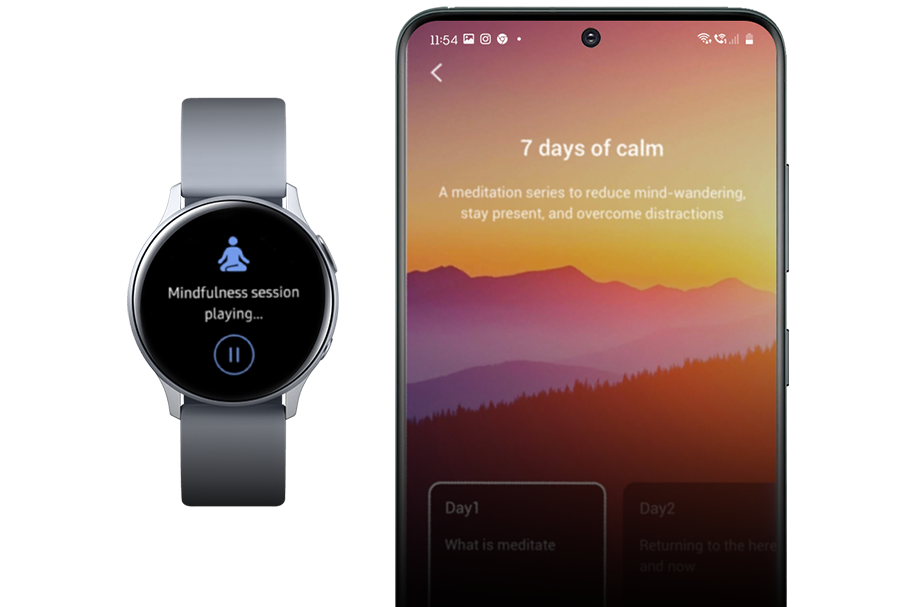 Improve sleep quality with light alarms
With insomnia on the rise, it seems the world has forgotten how to sleep. If you're struggling to wake up in the morning, the first step in transforming your slumber is recognising unhealthy sleep patterns. Smart phone apps like Calm are great for helping you relax before bedtime. Make use of the soothing Sleep Stories feature or try a guided meditation session. You can choose from lengths of 3, 5, 10, 15, 20 or 25 minutes, depending on how much you need to unwind. To take sleep quality to the next level, you might like to invest in one of the many body clock alarms on the market. These wake-up lamps are like a personal sunset and sunrise, gradually fading and brightening to support your circadian rhythm, leaving you refreshed.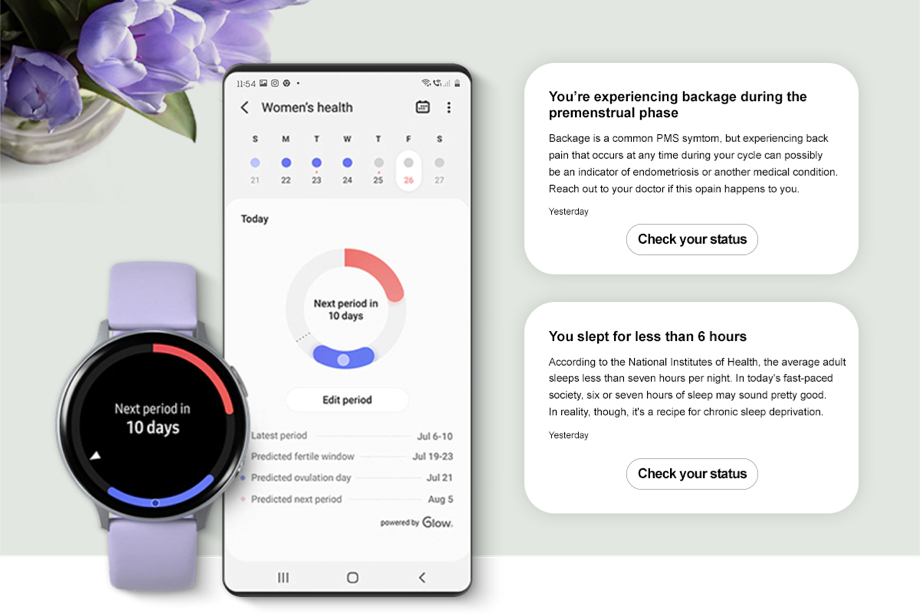 Use a period tracker to gain insight into your monthly cycle
Hailed by OB-GYNs across the globe, period tracker apps have been one of the most empowering femtech developments in recent years. Created to help you manage your menstrual health, these apps are also a great support for wellbeing, as they can help you identify hormonal changes that trigger mood shifts. Powered by the experts at Glow, Samsung Health now helps you monitor the various milestones of your monthly cycle – whether that's keeping tabs on ovulation and fertility, or helping you spot anything out of the ordinary as early as possible. Oh, and it's neither pink nor crammed with ads.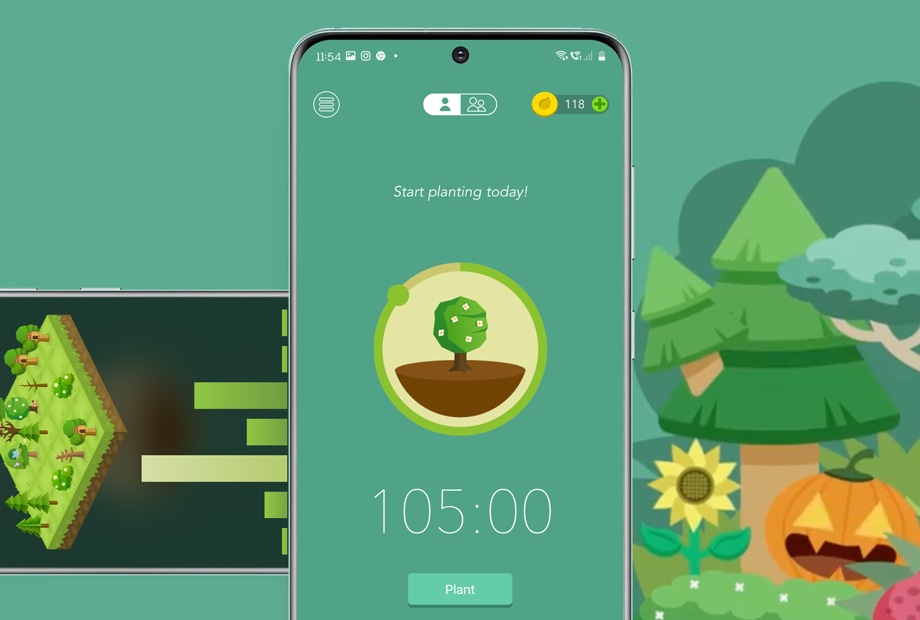 Stay focused and engaged when you struggle to concentrate
As we discussed in our article on VR games for mindfulness, the essence of mindfulness is focusing on a single task. Something that seems so simple can be so very difficult when we live in an age of endless distractions available via a tap. That's where Forestcomes in. This ingenious app helps you put down your phone and concentrate on one thing at a time. Whenever you want to focus, plant a virtual tree and it will grow in the next 30 minutes while you are working on your goal. The tree dies if you leave the app. By building your beautiful forest every day, you can stay focused in any scenario. Best of all, the app collaborates with conservation organisation Trees for the Future to plant real-life forests.
Seeking a new mindfulness solution?
Try one of these tech innovations.