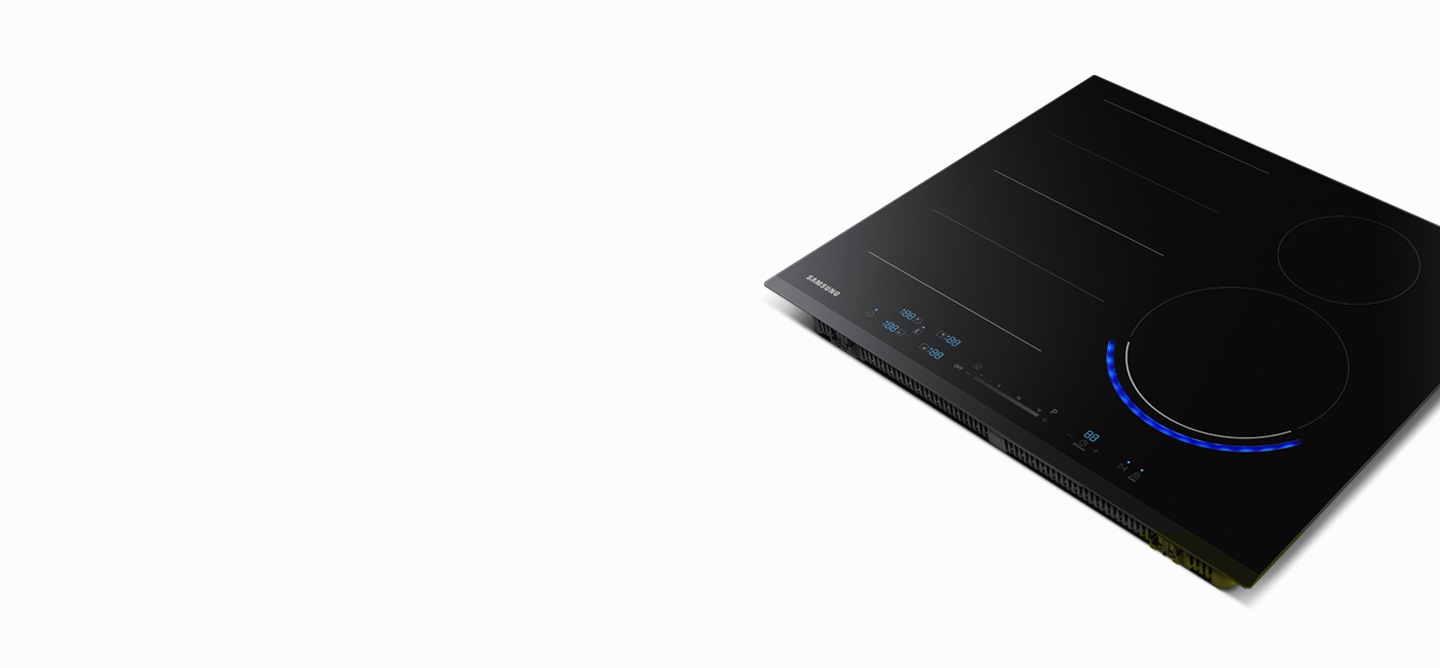 Hob Buying Guide
Gas, induction, ceramic – how do you choose the best hob for your home? What are the differences between hob types, and what else should you consider before buying?

What matters most?
When comparing ceramic hobs vs induction or gas hobs, think about what's important to you. Are you looking for precise heat control, energy efficiency or easy-to-clean surfaces?
What is an induction hob?
An induction hob heats pans directly, rather heating the cooking surface, like electric and gas hobs.

How do induction hobs work?
Copper coils under a glass surface are activated by an electromagnet, when iron cookware is placed on top. When they're removed, the magnetic field is broken and the hob cools quickly, as power is no longer flowing.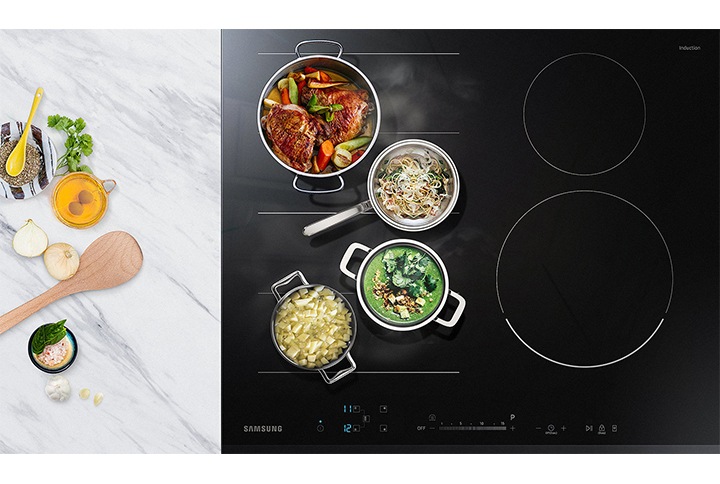 Upfront costs vs running costs
Cooking with induction hobs is extremely energy efficient, as no power is wasted; however, they tend to cost more to purchase than other types of hob. Luckily this can generally be offset by the running costs, which are usually much lower, because they use energy so efficiently.
Pans must contain iron to work
You can only use pans that contain iron on an induction hob. These are called 'ferrous pans' – check if the pans you already own will work, by testing them with a magnet. If the magnet sticks to the pan, you can use it on an induction hob. If you don't have any suitable cookware, you'll need to buy some, which will increase your upfront costs.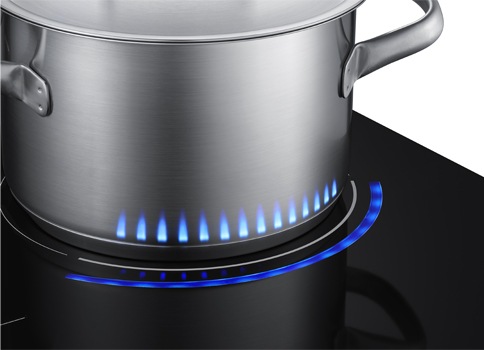 Benefits of induction hobs:
Energy efficient

Cooking zones cool down rapidly once the pans are removed

Quick heating and cooking

Some induction hobs come with lots of additional features, such as Wi-Fi connectivity and flexible cooking zones

Modern design
What is a ceramic hob?
A ceramic electric hob has a smooth, ceramic-glass surface, with heating elements underneath. Patterns on top show where the heating zones are, and their size.

How do ceramic hobs work?
Heat is conducted through the glass to warm the cookware. The smooth surface makes them easy to clean, especially if they have finger-touch controls, rather than knobs and buttons.

Pros vs cons
You can find more affordable options in this category, but the heating zones take longer to cool down after cooking on ceramic hobs, compared to induction hobs.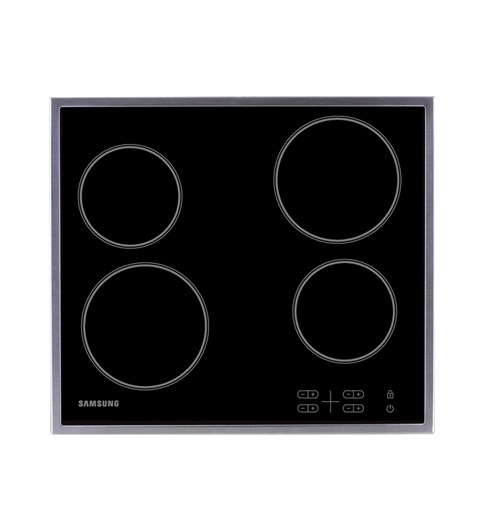 Safety features
Many ceramic hobs, including all Samsung models, have residual heat lights that show when the hob is safe to touch. Also, some have sensors that reduce heat, or timers that automatically switch off hobs, so you don't need to turn them off manually.
Benefits of ceramic hobs:
Easy to clean

All pans can be used

Affordable options

Modern design
What is a gas hob?
As the name suggests, gas hobs burn natural gas, and they have burners with visible flames that.

How do gas hobs work?
Pans are placed on elevated supports positioned over the flames, and a dial controls the heat, giving you the heat levels you require instantly.

Complete control
Gas hobs offer complete flexibility in heat intensity, as there are no set temperature intervals to work with. This level of control is why they are popular with chefs and professional kitchens.

Not all homes have gas
Before buying a gas hob, you should check you have access to a gas supply. Some new builds don't have a gas connection; plus, it costs more to channel gas to hobs on kitchen islands.
Cleaning time
Because there are more places for food to collect, it can take slightly longer to clean gas hobs, compared to ceramic or induction hobs.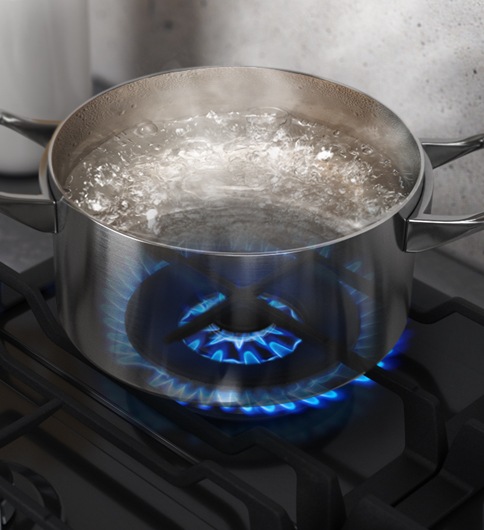 Benefits of Gas Hobs:
Instant, high-temperature heat

Flexible temperature control

A visible flame allows you to see how hot a cooking zone is

All pans can be used
Features to look out for
Different hobs offer a variety of extra features that can make cooking quicker, easier or more convenient.
Features to look for on all hobs
Flexible heat controls
Some hobs provide flexible heat controls for different cooking methods, such as boiling, stir frying or simmering.
Finger-touch controls / removable knob controls
Having a completely smooth surface make the hob considerably easier to clean.
Features to look for on electric hobs (ceramic and induction)
Child-safety locks
Lock touch controls prevent children from turning on the hob, or changing cooking settings.
Automatic timeout
This switches off the hob, if it is left for a certain amount of time.
One-touch controls
These allow you to set cooking preferences and control the hob with the touch of a button.
Residual heat indicators
A light remains on after the heat is turned off, showing whether or not the hob is safe to touch. This light is in the shape of an 'h' on Samsung models.
Features to look for on induction hobs
Heat level visualisation
LED lighting in front of each burner glows like a gas flame and indicates the level of heat, for more intuitive cooking. It also clearly shows if the burners are on or off. This is known as Virtual Flame Technology™ on Samsung models.
Flexible cooking zones
These wide, open areas on the cooktop can accommodate many different sizes of cookware, allowing for more flexibility.
Power boost
Extra power gives a quick boost of heat to a cooking zone, reducing cooking time.
Pan detection
This alerts you if a pan is the wrong size or shape for the hob to deliver optimal cooking. On Samsung models, it's called a Perfect Pan Detector.
Quick stop
Turn off burners at the touch of a button to stop pans burning and pots boiling over.
Internet connectivity
Monitor the hob from your phone to check cooking progress, or to check whether the hob is on*.
*Requires SmartThings App available on Android and iOS. An internet connection is required. Available on selected models.
Features to look for on gas hobs
Automatic ignition
Gas is ignited by an automatic spark when the controls are turned, so a separate ignition button isn't needed.
Rapid burners
For use with a wok or for quickly bringing water to boil. This is called a Triple Crown Burner on Samsung gas hobs.
Coated or enamel pan supports
These are easier to clean than stainless steel.
Endless rail grates
Interconnected supports allow cookware to slide between burners, making it easier and safer to move heavy pans.
Overspill protection
Burners are automatically turned off if the pan boils over, or if the flame goes out. This is known as Safety Shutoff on Samsung models.
Wok grates
A special grate for safer and more efficient wok cooking, keeping the wok stable and allowing heat to be quickly and evenly distributed.
Sizing and Measurements
Hobs are usually 60cm wide, and come with four burners. However, you may also find hobs at 70cm, 80cm or 90cm wide, with five or more burners and flexible cooking zones.

Make a measured decision
Before opting for one of the larger sizes of hobs, always check the net measurements against your work surface area to be sure they will fit.

Mind the gap
Underneath your hob there's a cut-out; a gap in the work surface the hob fits into. The cut-out is smaller than the hob dimensions, as the hob surface sits over the gap. Some larger hob sizes will fit in to the same cut-out a 60cm-wide hob uses, but always check first.
Hob installation
Whether gas or electric, your hob will need to be installed by a professional. A Gas Safe registered engineer should always be used to fit a gas hob, while a certified electrician should always be used to fit a ceramic or induction hob. Check if installation is included when purchasing your hob.
Hob maintenance
Gas and electric hobs require regular cleaning to stay in good condition. Only ever clean your hob when it's turned off and completely cool.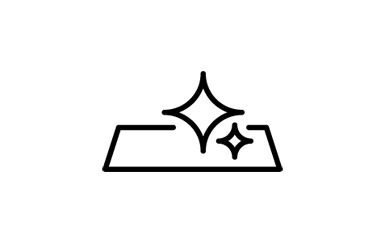 Cleaning ceramic hobs and induction hobs
Wash the surface with warm, soapy water and a soft cloth

Never use abrasives such as scourers or steel wool, as these can damage the surface

Clean up spills as soon as possible, to avoid permanent marks

Use a glass scraper to remove burnt-on food and tougher stains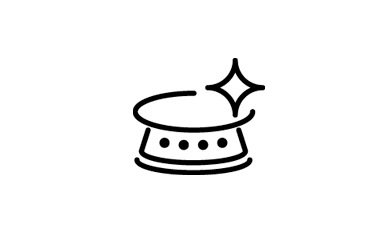 Cleaning Gas Hobs
Remove pan supports from the hob and soak them in warm, soapy water. Use a sponge and maybe a toothbrush to thoroughly clean them

Remove debris from the hob surface with a wet cloth, paying particular attention to any food or deposits around the gas burners. Food left here can obstruct and cause uneven cooking, as well as increase the risk of a fire

Apply a cleaning product with degreasing agents to the surface and allow it to sit for a few minutes, to remove tough stains. Then use a soft cloth to wipe away the cleaning product, and remove any leftover residue