55" KS8000 Flat SUHD Quantum Dot Ultra HD Premium HDR 1000 TV
UE55KS8000TXXU
55" KS8000 Flat SUHD Quantum Dot Ultra HD Premium HDR 1000 TV
is rated out of
5
by
12
.
BUNDLE
Sorry! This product is no longer available
Series 8
Quantum Dot Color
Smart TV
Supreme UHD Dimming
A Quantum leap in picture quality
Quantum dot display
KS8000 delivers a striking bezel-less SUHD Quantum dot display producing an outstanding Ultra HD Premium viewing experience with HDR 1000 which ensures exceptional peak luminance, colour vibrancy, stunning black levels and shadow detail with 2300 PQI. Together with Samsung's Smart platform you can enjoy the Smartest TVs on the planet.
Quantum dot colour
Welcome to an incredible unrivalled world of lifelike UHD picture quality, with 64 times more colour than UHD TVs. SUHD with Quantum Dot Display doesn't just raise the bar, it changes the game. TVs until now were not able to realistically display the world we see around us. SUHD with Quantum Dot display changes all that by expressing an exceptionally wide range of colours, over 1 billion – breathing life into each and every one of them and giving you perfect picture quality with the most true to life colours. This is in comparison to conventional UHD delivering 17 million colours. See the very best of new generation premium mastered content exactly as the director intended through Samsung's SUHD TV with Quantum Dot display – the reference for Hollywood studios.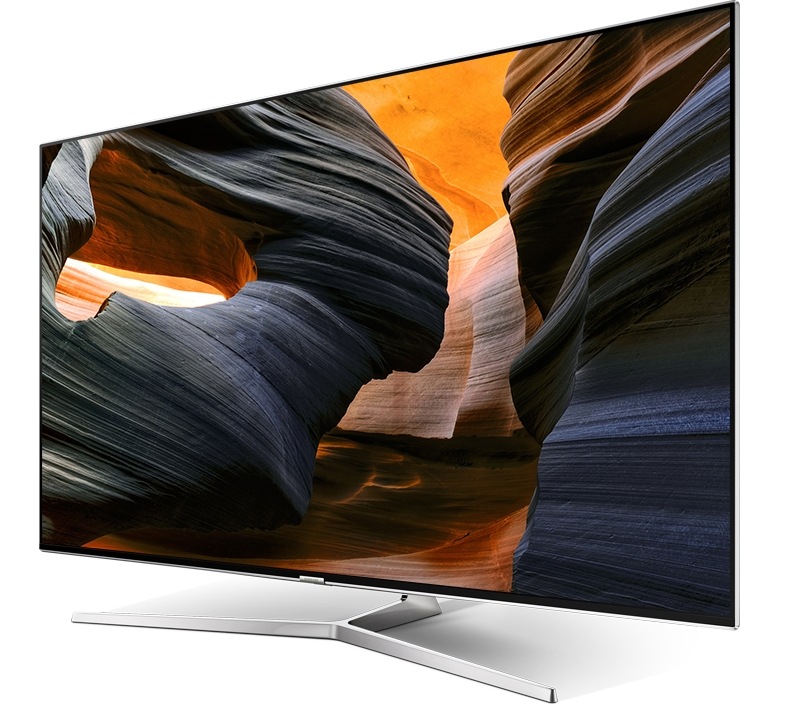 HDR 1000
The latest standard for UHD content is High Dynamic Range. All UHD TVs that are HDR compliant can display HDR content but not all HDR TVs are equal. HDR 1000 provides a far superior High Dynamic Range experience for striking brightness, exceptional shadow detail and vividly accurate colour. HDR 1000 delivers an exceptional UHD Premium viewing experience - the new generation of premium mastered content, exactly as the creator intended.
Ultra Black
Enjoy striking levels of contrast even when watching TV in the brightest environments with Ultra Black Technology. Experience all the vibrant colour and detail of next generation Premium UHD without having to close the curtains or turn off the lights. This new screen technology drastically reduces ambient light reflection to ensure maximum picture contrast is delivered as the Hollywood Director intended.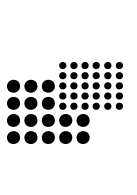 Supreme UHD Dimming
Supreme UHD Dimming technology divides the TV screen into hundreds of small zones, analysing each one independently to adjust colour, brightness and sharpness so you can experience better shadow detail and more accurate colour when watching your favourite video content.
The smartest TV on the planet
3 Clicks to your favourite content>
Does your TV seamlessly blend a variety of content sources? Introducing the smartest TV on the planet. Quickly access the content you want to watch from a variety of input sources on the Smart Hub home screen. Watch your favourite TV shows using the TV guide, switch to binge on UHD box sets through Netflix, Amazon Instant Video* or catch up with shows you have missed through our variety of Catch Up content partners – all of this is possible without interrupting what you are currently watching and all from the Smart Hub home screen. Just 3 clicks to your favourite content**




*One Remote Control function requires Internet access and may not be available in all languages or areas. *One Remote Control and Auto Detection function may not be supported by certain devices connected to Samsung Smart TV.
360 Degree Design
Combining the very best in picture quality with incredible design
Form and function combine to create a stunningly clean minimalist design that will enhance any living space. Neat cable management solutions mean no more messy cables tangled up behind your TV.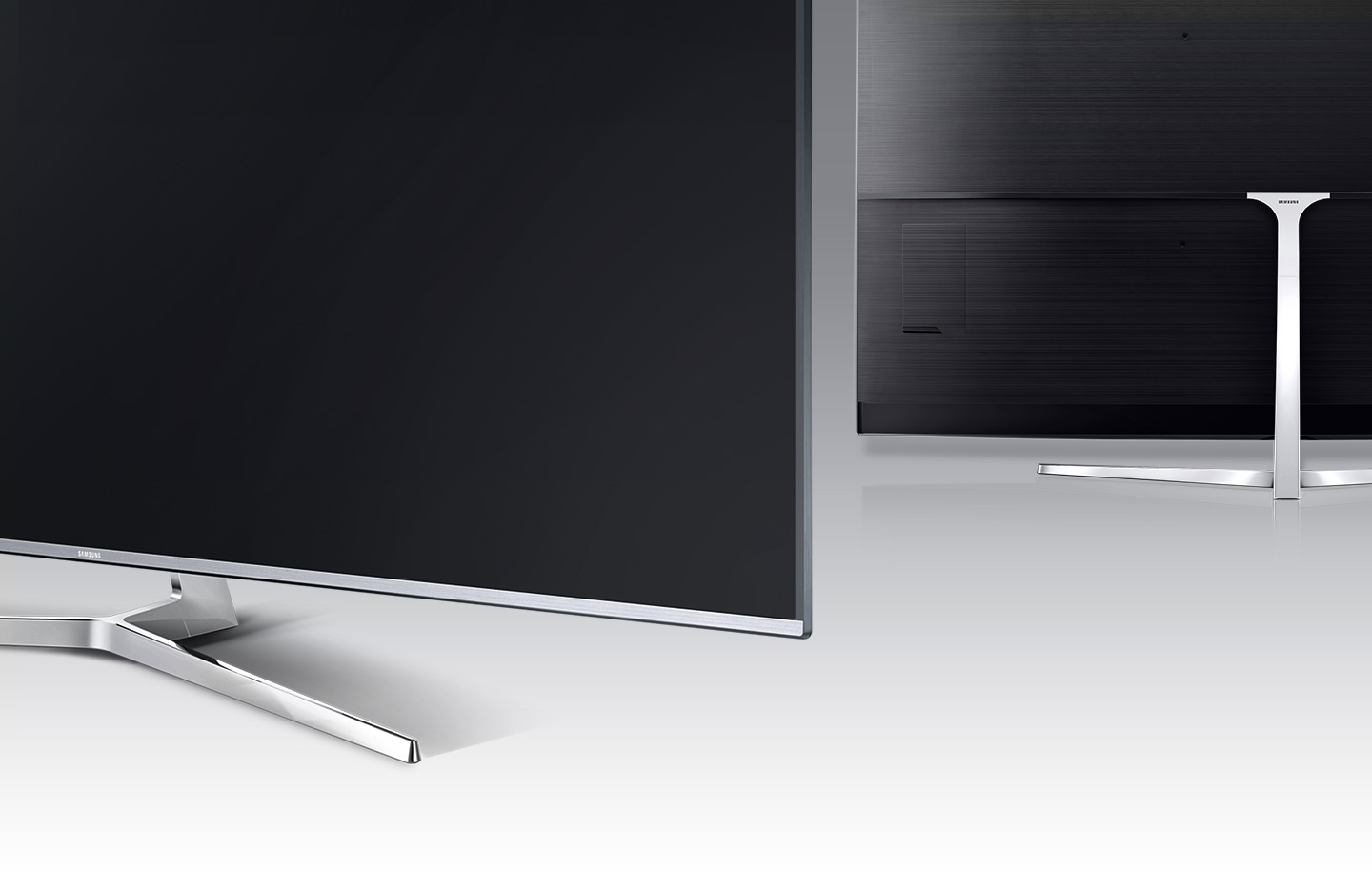 3,840 × 2,160

Resolution

8

Series

Quantum Dot Color

Quantum Dot Color

4

HDMI
Rated

5

out of

5
by
LovTv
from
Easy Setup and great picture
I purchased this TV a few weeks ago and now have it on the wall. Using the one connect box to connect all my devices is a great feature. So far I am very pleased with this Model and watching UHD content is amazing.
Date published: 2016-09-09
Rated

5

out of

5
by
moggoforest
from
TV has exceeded expectations
I did a lot of research before buying my TV both on the web and in stores. Nearly all of the major brands had an outstanding feature or two, but the KS8000 just had the best set of important assets compared to the competition - superb picture, very good sound without having to use a sound bar, very easy to use and seamless switching from Live TV to YouTube to Recordings etc. The Voice Recognition feature is an added joy to use.
Date published: 2016-09-04
Rated

5

out of

5
by
Boby
from
Great TV
This is a really great TV all the features you need and at a fantastic price !!!
Date published: 2016-08-30
Rated

5

out of

5
by
NeilM
from
A superb smart UHD HDR10 Television
This model in 55 inch guise is overall an excellent televsion with a great smart platform in Tizen 2 and with the latest HDR10 profile software really shines, literally, with uhd blue ray or HDR streaming from Amazon and Netflicks ( it has the latest HDR app). It is understood from the trade press that Samsung will update HDR to dynamic metadata over the next few months which will be an important upgrade and put the set on a par with those that have Dolby vision and further improve the HDR experience. My only critical observations are that it is prone to drop its wifi connection and would be better on an Ethernet connection. Having said that when connected it streams 4K without any hiccup. The online manual is not a lot of help and makes little or no mention of HDR and the set does not flag when you have an HDR signal. Come on Samsung put an HDR flag on your next software update! As of July still waiting for uk domestic catch up apps to feature in the App Store and understand it will be the end of the year before they are available. My experience is that if you are not having the televisions professionally calibrated, no real need in my view as my set was reasonably accurate out of the box, the Movie preset is the best option picture wise as in this mode the television will also automatically switch when it sees an HDR signal which it won't do in the Standard, Natural or Dynamic preset. One of my gripes as the manual makes no mention of this! Overall a great televsion and as future proof as you can reasonably expect and at least Samsung, unlike some other manufactures in my experience, are quick to update their software with new features.
Date published: 2016-07-08
Rated

5

out of

5
by
smokeyhill
from
The smart remote works very well, the picture is just gorgeous. 4k just looks beautiful on this set
The smart remote works very well and whilst is a bit different in design soon becomes very intuitive after a bit of familiarity. The picture is just gorgeous and the family spent the fist day with the unit browsing Youtube 4k content. 4k just looks beautiful on this set and terrestrial channels look very well defined and with impressive depth of colour.
Date published: 2016-04-29
Rated

4

out of

5
by
Icycleragon
from
Disappointing bluetooth feature
I bought this tv for its bluetooth support so I could use it at night with my bluetooth headphones. Unfortunately the sound didnt come through clearly on it so I contacted support who notified me that the built in bluetooth is mostly designed for speakers and keyboards. This is very disappointing and it should have been included in the product information.
Date published: 2019-04-10
Rated

4

out of

5
by
Lenny
from
Good tv great picture quality
Great tv good picture quality especially in 4K. The record live tv feature is ok but requires some work to be good. Pausing it can result in voice and picture sync issues. The do you want to stop recording live tv warning comes up far too often. A very disappointing issue is the distinct lack of any catch up TV availability In a newly launched TV thats a great disappointment
Date published: 2016-07-16
Rated

4

out of

5
by
Chuck
from
Excellent TV but !!
Fantastic picture quality .The Smart part of the tv such as using the on screen keyboard is very fiddly and time consuming to type anything in to and its not clear how to delete a letter you inadvertently typed in.No real explanation refering to the internet connection in the handbook which could be a bit more comprehensive for me personally
Date published: 2016-06-16
User manual & Downloads
Live Chat
*Terms and conditions apply.
Certain features with the Smart Hub may not be available without expressed consent regarding the collection and use of personal information. Content available through Smart Hub may vary among product categories, models and territories. Certain applications must be purchased and may not be available in all regions.
3 Requires Internet access. May not be available in all languages or areas.
1 Paid for subscriptions to app services shown may be required 2 Apps shown may not be available on all Samsung Smart TV products. The Samsung Smart TV platform is used by Content Providers to make apps available. Content Providers may remove apps from the Smart TV platform or stop supporting them at any time. When new Samsung Smart TV products are launched, there may be a delay before the apps shown become available on those products.
Internet connection and compatible controller required. List of compatible controllers available here *