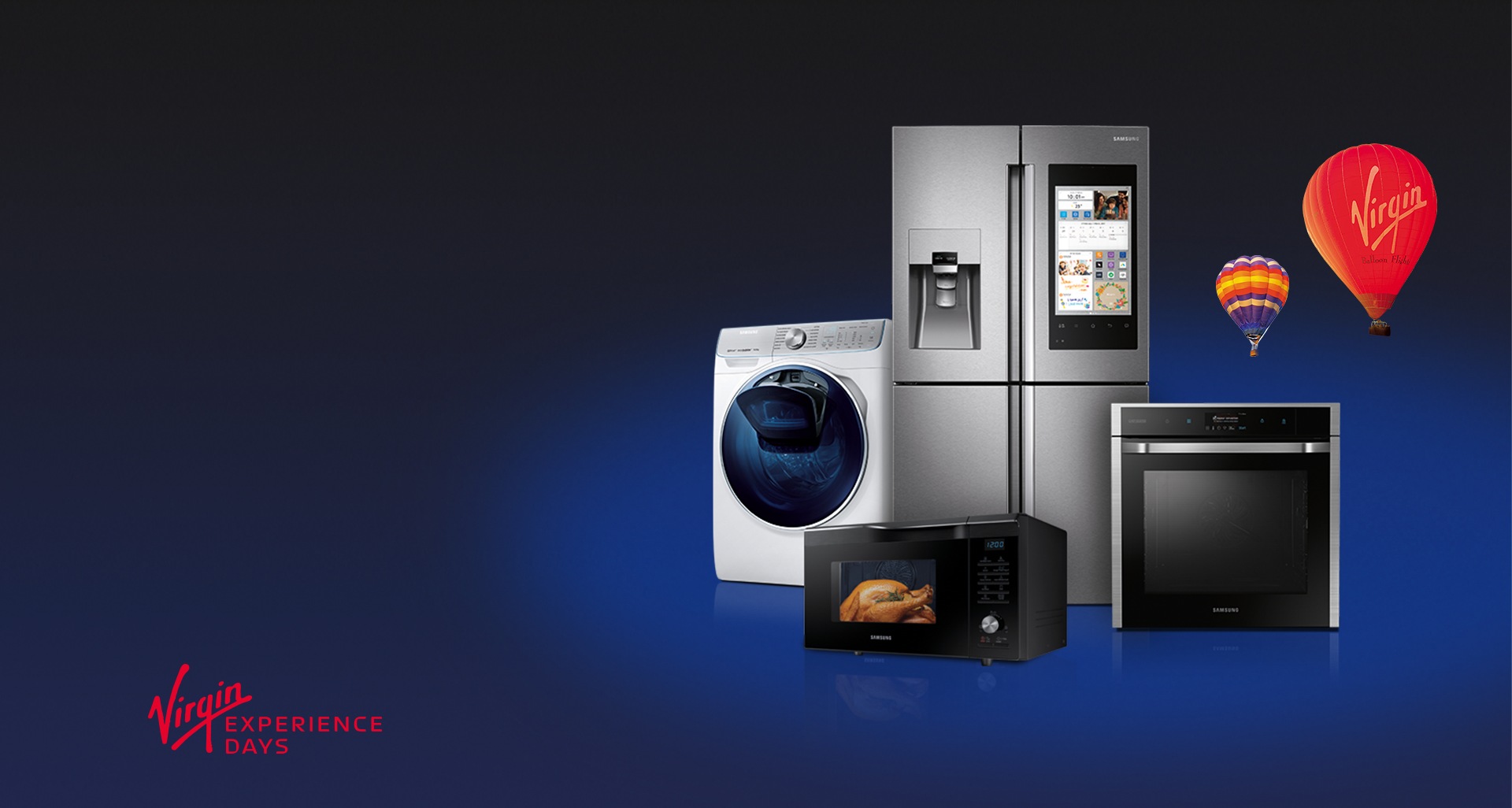 Enjoy a Virgin Experience Days voucher
when you purchase selected home appliances
T&C's apply.
Valid from 16th May. 2018 to 31st Aug. 2018
At Samsung we love giving our customers that little bit extra. Having partnered up with Virgin Experience Days, we are offering our customers vouchers with a value of up to £500 when purchasing a selected home appliance between Wednesday 16th May and Friday 31st August 2018.

Please remember that to claim, you must do so in the 21 to 60 day period from the purchase date and you must have a valid receipt from a qualifying retailer. If you are at this stage, you can start the claim process by selecting CLAIM NOW below. See a list of qualifying products below and for further information please select VIEW T&C'S below.
How to claim and use your voucher
Step 1.
Purchase a qualifying Samsung Cooking Appliance between 16th May and Friday 31st August 2018 to qualify for a Virgin Experience Day voucher.


Step 2.

To claim for the Virgin Experience Day voucher, you must do so between 21 and 60 days from the purchase date of your qualifying product. You can start this by selecting the CLAIM NOW button on this page. You will need to provide the following information:

• Proof of purchase receipt
• Invoice number
• Model Code
• Serial Number
• Date and place of purchase
• General details
Step 3.
Once these steps have been completed you will receive an email confirming that your claim has been received - please be sure to check your inbox as well as your junk email in the case that the email has been filtered as such. You will then be contacted by email within 2 working days confirming the status of your claim.

If your claim is validated then we will send out a separate email that will include your gift card voucher code for Virgin Experience Days within 14 working days. If your claim is rejected the email will include the reason why as well as contact details of the customer service team.
Step 4.
Once you receive your gift card voucher code you will have 12 months to use it before it expires. To use the voucher please do the following:

• Choose the experience you want and select VIEW BASKET
• Enter in details of how you want the experience receipt (e-voucher or gift envelope) and select CHECKOUT
• Fill in the 'Your Details' section and under the 'Billing and Payment' section select the GIFT CARD option
• Here you will need to provide the 16 digit card number and 3 digit security code you received in your email
• When entering the 'amount to use' if your voucher is of higher value (say £150) than the experience (say £75) then you will be able to use the remaining amount (£75) on other experiences using the same voucher information. Where the voucher is of lower value (say £75) than the experience (say £100) then you will have to pay the outstanding amount (£25) using your credit/debit card
Terms and Conditions
Promoter: Samsung Electronics (UK) Limited. UK residents aged 18+ only (Participants). Purchase a selected Samsung cooking appliance (Promotion Product) from a participating retailer between 16/05/18 – 31/08/18 (Promotion Period) and claim a Virgin Experience voucher (Reward) by redemption. To claim, Participants must visit www.samsung.com/uk/vedpromo2018, complete the claim form, provide details of the Promotion Product purchased and upload proof of purchase (Claim). Claims must be made within 21 and 60 days from the date of purchase, meaning the final Claim date for a Promotion Product purchased on 31/08/18 is no later than 23:59 on 29/10/18. Maximum 1 Claim per purchase and 4 Claims per household. Virgin Experience terms apply (https://www.virginexperiencedays.co.uk/terms-and-conditions). Rewards must be redeemed within 12 months of issue. See www.samsung.com/uk/vedpromo2018/terms for full T&Cs.