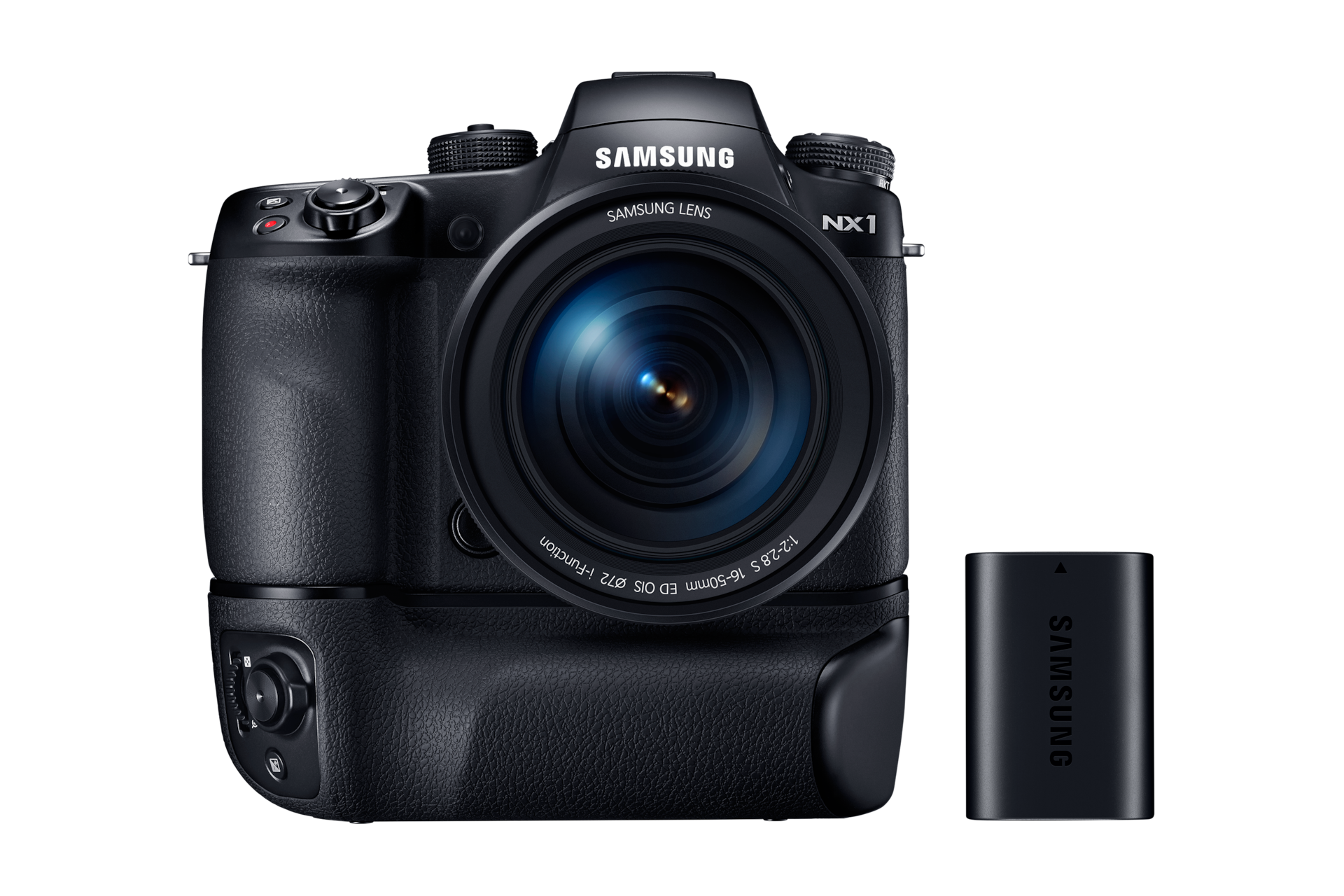 NX1 with 16-50 mm f 2.8 S Lens, Vertical Grip & Battery
EV-NX1ZZZBQBGB
NX1 with 16-50 mm f 2.8 S Lens, Vertical Grip & Battery
is rated out of
5
by
5
.
23.5 x 15.7 mm
Sensor Size
High-speed image processor DRIMe V
Meet the DRIMe V, Samsung's fastest, most powerful image processor yet. It drives the speed, performance and accuracy you need to shoot breathtaking photos or 4K UHD video under any lighting conditions.
Extremely fast and accurate NX AF System III
Capture signature images with amazing speed and precision. The NX AF System III features a blazingly fast AF of 0.055s , with 205 Phase Detection AF points and 153 cross-type sensor for edge-to-edge focus coverage.
Fast continuous shooting up to 15 fps at 28 MP
The NX1 pushes the boundaries for continuous shooting, giving you 15 precision continuous shots every second, all at a high resolution of 28MP, and up to 70 of those pictures at one time.
Accurate shots every time
See and compose your shot in an incredibly quick 0.005 seconds with the NX1's OLED Electronic View Finder. It comes on instantly and gives you a clean and wide view that reproduces the sharpness of optical view finders.
Ultra-high 1/8000s shutter speed
With a powerful shutter capable of shooting at up to 1/8000 sec, the NX1 can freeze and capture some of the fastest moving subjects with exquisite clarity.
Redefine images with 28 MP BSI APS-C sensor
The NX1 comes with a highly innovative 28 MP sensor that records more details without increasing noise beyond the level of a conventional 20 MP sensor. Crop images without worry and print without losing quality.
Shoot with confidence even in low light
Thanks to a truly innovative technology called Adaptive Noise Reduction, the NX1 is capable of producing crystal clear images virtually free of noise, even set at a high ISO of 25600.
Breathtaking 4K UHD video recording
The NX1 records video in true 4K, giving you 4 times the resolution of Full HD. It even supports HEVC (H.265), which captures extreme details while consuming only half the memory space of the conventional H.264 codec.
Highly durable magnesium alloy body
Built to last a lifetime and go anywhere with ease, the NX1 is fully crafted from highly durable magnesium alloy, giving you the firm, rigid structure you would expect from the most premium cameras.
Constructed to be dust and splash resistant
Every passing moment can be photo-worthy, but it's not always sunny out there. That's why the NX1 was built with a dust and splash resistant structure. It's ready to perform even when your surroundings are dusty or wet.
Convenient top-mounted LCD status window
The NX1 comes with a top-mounted LCD status display window that shows all your current camera setting values, putting all your key settings and information precisely where you'd expect them to be on a top-of-the-line camera.
Easy sharing with Wi-Fi and Bluetooth
The NX1 supports the most advanced Wi-Fi standard available for instant transfers of high-resolution photos and videos. Together with Bluetooth and NFC, you get all the fast connectivity you need for easy sharing.
BSI CMOS

Type

23.5 x 15.7 mm

Sensor Size

76.6 mm (3.0")

Size

1036 k dots

Resolution
Rated

5

out of

5
by
tocobern
from
Why discontinue a great product!
Why on earth did Samsung discontinue this product? Even after so many years it's better the most of what is on the market now! Are Samsung planning on bringing a replacement!?
Date published: 2018-03-20
Rated

5

out of

5
by
Beej
from
A brilliant camera. I can't understand why Samsung discontinued it.
By far the best camera I have ever owned. It never fails to capture the image that I want. The S line lenses back it up and I am sad that the 300mm may never see production.
Date published: 2016-08-19
Rated

5

out of

5
by
kipryanphotography
from
best of all my cameras - how could Smasung discontinue this brilliant offering
I am a professional photographer and I realise that this camera has become my favourite - the one that I pick up whenever I can. It is brilliant from every perspective (including the fact that it cost about half of what I paid for my Canons and Nikon. I am so shocked and saddened that Samsung is reported to be pulling out of the professional camera market - crazy!
Date published: 2016-08-13
Rated

5

out of

5
by
Digital Convert
from
Brilliant NX1
Only had this camera a few hours but love it already. It's perhaps a bit soon to send a review, but I'll return once I've been able to use it regularly and really be able to assess on a longer term basis. I just loved the NX10 (that will stay with me), I'm sure the NX1 will be no different. The NX1 has a design and feature set much evolved from the NX10. It is a faster camera overall. I'm hoping for the same faultless performance as the NX10. The body is a little longer by about 10mm (only 5mm taller) and heavier by about 200 gms, but the grip is excellent so one will only notice the difference when returning from the NX1 to the NX10. In contrast to the NX10, the NX1's battery can be charged directly in the camera, although I'd like an external charging cradle too. Don't leave the Bluetooth and/or the Wi-Fi switched on or the battery's charge will quickly drain. Anyone with a smart 'phone will understand. The NX1 is "feature rich", which means flexibility, not complexity. " Smart Camera" is close to the mark. The NX range has a good set of lenses and accessories, although a little difficult to find right now. I'm giving all 5's for my first review and trusting that my faith will not be unfounded.
Date published: 2015-08-01
Rated

5

out of

5
by
chefsolar
from
A must have prosumer camera
What i like most is the superb image quality and the connectivity, although it takes two attempts to connect a android device to the NX1. Works much better with iOs devices.
Date published: 2015-05-28
User manual & Downloads
Live Chat