What is HDR and Ultra HD Premium?
By Michael on 30th Jul, 2016
Since its invention over 90 years ago, TVs have been evolving to deliver more and more lifelike picture quality. The introduction of colour from black and white, High Definition from Standard Definition and recently, Ultra High Definition; visually our favourite shows have improved dramatically.
Now one of the biggest leaps forward in picture quality has made it into our sets with HDR and Ultra HD Premium certification. More than just an acronym, this new standard is revolutionising content, bringing it to life and allowing us to experience the action just as the creator intended. HDR content when viewed on Samsung's award winning SUHD with Quantum Dot Display TV's deliver an industry-leading picture that will truly blow your mind.
But what exactly is HDR?
HDR, or High Dynamic Range, is the latest viewing standard that offers a much greater range between lights and darks that appear on the screen. While UHD refers to the number of pixels a screen can display, HDR defines the range of brightness or luminosity in the picture – essentially with HDR content, lighter areas look lighter and darker areas look darker. Images on screen will feel more lifelike with exceptional levels of detail resulting in a picture that has to been seen to be believed – the sun feels warmer, ice feels colder and nights feel even darker, making a more immersive viewing experience when compared to standard UHD content.
A new quality standard
When buying your new TV you need to ensure it bares the Ultra HD Premium logo - the latest benchmark set by the UHD Alliance that ensures your set will display exceptional HDR images. Amongst other things there are two key elements that a TV must possess in order to gain Ultra HD Premium certification – minimum brightness levels and the ability to display colour in a wider digital cinematic colour space.

Featuring HDR 1000 technology, SUHD with Quantum Dot Display can display 1000nits of brightness. This is key as it is the same brightness level at which most HDR content is mastered, and through a 10 bit panel, are capable of displaying over one billion colours – that's 64 times more colour than first generation UHD TVs. Higher brightness levels and in a wider, more varied colour space delivers a stunningly realistic image. Imagine watching The Martian on Ultra HD Blu-ray - all the stars will shimmer in the dark sky and the greens and blues of earth will look exactly as if you were in orbit yourself.

You can rest assured that all Samsung SUHD TVs with Quantum Dot Display bare the Ultra HD Premium marque. While many TVs are capable of decoding and displaying HDR content it's important to understand not all screen technologies including Ultra HD Premium certified TVs are created equal. The range of brightness can vary significantly between different TVs and the technologies they use, and as we have seen, high brightness levels are critical to display HDR content at its very best. Low brightness levels will result in details within the content being 'crushed', which means the details are lost. The image will also suffer from a lack of colour accuracy. Take a look at the below images: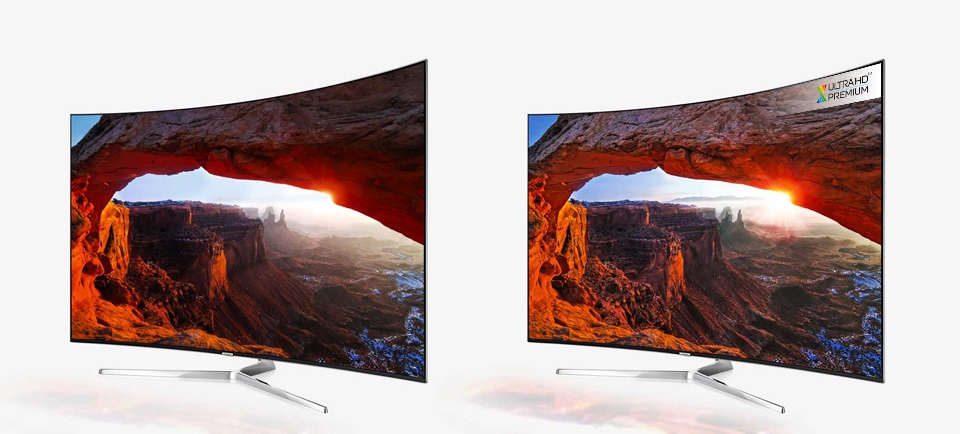 The image on the right represents HDR content displayed through a TV with brightness levels below 1000nits, the image on the right represents the same content as displayed through an SUHD TV with Quantum Dot Display with HDR 1000 Technology – notice the significant difference in the amount of detail and colour between the two!
Where to watch HDR video
The great news is HDR content is already here - from streaming services to the latest Blu-ray releases. Netflix subscribers can enjoy stunning programming right out the box, with shows like the gripping Marco Polo available. A whole host of new shows shot in HDR will also be released over the forthcoming year, including Marvel's Daredevil and Jessica Jones. Amazon subscribers aren't left out either, as hit shows like Man in the High Castle and Mozart in the Jungle are available to stream in glorious 4K HDR.

For the very best possible HDR experience, ensure your entire viewing ecosystem bares the Ultra HD Premium logo - from Blu-ray disc to Blu-ray player and, of course, the TV itself. You can experience this premium picture quality when you pair an SUHD Quantum Dot TV with our latest Ultra HD Blu-ray player and watch as a world of stunning content comes to life in your living room. All the major studios are starting to release movies in HDR10 standards. To start your collection off, the Ultra HD Premium certified UHD-K8500 Blu-ray player comes complete with a copy of The Martian* staring Matt Damon. Because both the player and Samsung SUHD Quantum Dot TVs are capable of decoding and displaying 1000nits of brightness - the same level as how the film was mastered - you can enjoy the movie just as director Ridley Scott intended it to be seen. Not all TVs can do this, but Samsung SUHD with Quantum Dot technology can.

*While stocks last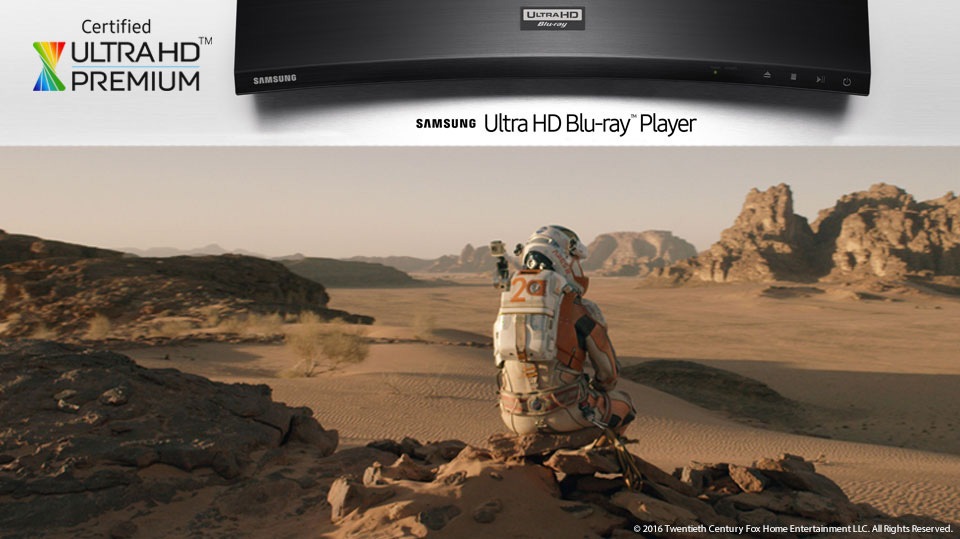 Where to next?
Click here to discover our amazing range of SUHD Quantum dot TVs certified Ultra HD Premium with HDR 1000