How do I connect my Gear IconX to my mobile device?
You will need to have the Samsung Gear app installed on your mobile device in order to connect your Gear IconX.
The Samsung Gear app is available in the Google Play Store and in Samsung Galaxy Apps.
Preparing your IconX earbuds for connection
The earbuds do not have a power on/off function. They will go into sleep mode a set period after being removed from your ears.
To prepare your earbuds for connection:
1. Insert the earbuds into the charging case, close it and take out the earbuds. This will wake them from sleep mode.
2. Put your earbuds into your ears. This will prompt them to enter Bluetooth pairing mode.
Note that if the earbuds do not connect to a mobile device within three minutes, Bluetooth pairing mode will be deactivated. To enter pairing mode again, repeat steps one and two above.
Connecting the earbuds to your mobile device
1. Open the Samsung Gear app on your mobile device.
The Samsung Gear app is available to download in the Play Store and Samsung Galaxy apps.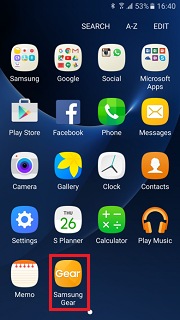 2. Tap Connect to Gear
3. The Samsung Gear app will now search for Gear devices. Tap Gear IconX when it appears on the screen.
Note that the Gear IconX needs to be in Bluetooth pairing mode for this to work. See Preparing your IconX earbuds for connection above to determine how to do this.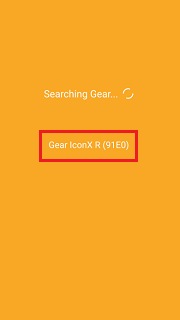 6. Read the Terms and Conditions and tick the box to confirm you agree. Tap NEXT
7. Choose which notifications you want to receive from your mobile device and tap the down arrow.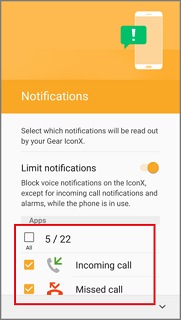 8. Select which earbud you wish to use as your main earbud by tapping on it. The right earbud is set as the main earbud by default. Tap NEXT again.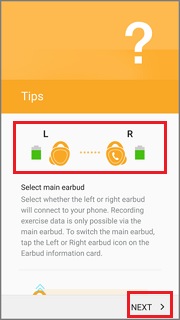 9. You should now hear 'Connected' from the main earbud. Once the earbuds are connected with your mobile device, they will automatically attempt to connect whenever you put them in your ears.
---
Need more help? Click on the below button to view a simulated model of the Gear IconX showing you how to use it.

Not finding what you're looking for? We're here to help.
Call
0330 726 7864General Support
Smartphone support | 24 hours, 7 days a week
All product support | 8am - 10pm, 7 days a week

0330 726 2677B2B Support
For business support
8am - 6pm, Mon - Fri
0330 726 7467Samsung Shop
For new and existing orders:
8am - 10pm, 7 days a week

For Business Shop related enquiries:
8am - 6pm, Mon - Fri
Calls to 0330 numbers cost no more than calls to geographic numbers (01 or 02).
Calls from landlines and mobiles are included in free call packages.
Call charges are subject to change and this information is provided as a reference only.
Calls maybe recorded for training and quality purposes.
For information on how we collect and use your details, please refer to our Privacy policy.

* For any printer related enquiries please visit the HP website.
Contact Us