How to start my Galaxy device in Safe mode
Safe mode lets you run your Android device using its basic interface, with simplified menus and without most third-party applications. You can think of it as a diagnostic tool to help identify and fix problems on your device, for example:
Detect the presence of malware.
Perform a hard reset to delete all phone data and restore to factory settings when the phone is locked.
Back up and restore data when the function is not accessible in normal mode.
Exit Kids Mode without entering the PIN.
Restart or switch off the phone.
Launch updates manually.
Delete apps that do not work properly.
To reboot your device in Safe mode, follow the steps below:
1
Press and hold the Power key until the "Power off" screen is displayed.
Please note: If your device does not have a separate Power key, use the key combination that you would usually use to switch off your device. The below image shows the key combination on the Galaxy Note10.
2
Tap and hold the Power Off icon until the "Safe mode" option is displayed.
3
Tap "Safe mode".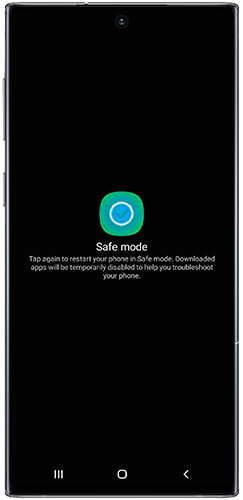 4
Your device will restart to show the home screen in Safe mode.
5
To exit Safe mode, press and hold the Power key again, then tap "Restart".
Not finding what you're looking for? We're here to help.
Online
There are a number of different ways of contacting us via Live Chat, Email, Twitter, Facebook Messenger and more.


LEARN MORE >
Contact Us