Additional steps required on your 2013 'F' Range
After a recent software update, you may see the message "Smart Hub is being updated. Please try again later" constantly displayed when the SmartHub button is pressed. You may also find that the Apps Panel is not populated. 
Follow the below instructions to resolve the issue. You can find a list of the model numbers for the F range below these instructions.
1
Power the TV off at the mains
4
Wait for 5 minutes. During this time DO NOT press the Smart Hub button
5
After 5 minutes press the Smart Hub button
6
Do not try to launch any App from the Recent section
7
Navigate to Featured

8
Click on the Apps tile

9
Launch Apps from the Mains Apps panel
Please note: to complete these instructions, Apps must be launched from the Mains Apps panel in this instance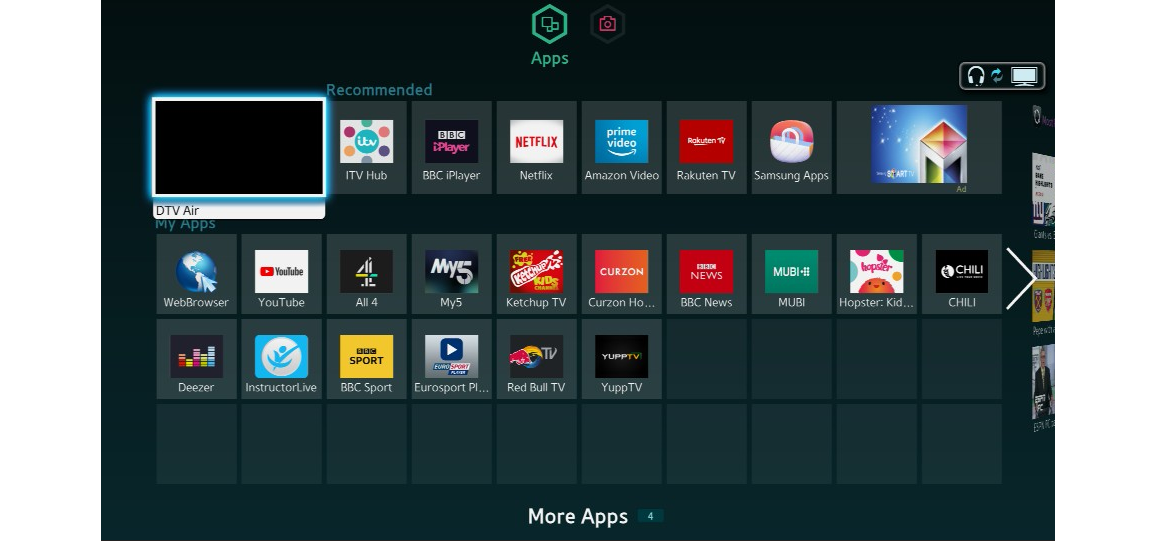 10
You can now launch Apps from the Recent section
11
If the Main Apps panel is still not populated, please wait for 5 minutes before trying these steps again
12
If you have followed the steps again but the Main Apps panel is still not populated, exit Smart Hub
13
Press the Menu button, then navigate to Smart Features

14
Navigate to Reset Smart Hub

15
Follow the on-screen instructions to reset your Smart Hub
16
Power the TV off at the Mains for 10 seconds before powering it back on
17
Press the Smart Hub button on your remote control and follow the on-screen instructions to set up your Smart Hub
18
Once completed, the Main Apps panel will populate by downloading all the default Apps
Model numbers for the F range

| Model number  | Software Label | BBC iPlayer update version |
| --- | --- | --- |
| UE40F7000STXXU | T-FXPDEUC | 1136.0 |
| UE40F8000STXXU | T-FXPDEUC | 1136.0 |
| UE46F7000STXXU | T-FXPDEUC | 1136.0 |
| PS51F8500STXXU | T-FXPDEUC | 1136.0 |
| UE46F8000STXXU | T-FXPDEUC | 1136.0 |
| UE46F8500STXXU | T-FXPDEUC | 1136.0 |
| UE55F7000STXXU | T-FXPDEUC | 1136.0 |
| PS64F8500STXXU | T-FXPDEUC | 1136.0 |
| UE55F8000STXXU | T-FXPDEUC | 1136.0 |
| UE55F8500STXXU | T-FXPDEUC | 1136.0 |
| UE60F7000STXXU | T-FXPDEUC | 1136.0 |
| UE65F8000STXXU | T-FXPDEUC | 1136.0 |
| UE75F8000STXXU | T-FXPDEUC | 1136.0 |
| UE85S9STXXU | T-FXP9DEUC | 2237.0 |
| UE55F9000STXXU | T-FXP9DEUC | 2237.0 |
| UE65F9000STXXU | T-FXP9DEUC | 2237.0 |
| UE32F6510SBXXU | T-MST12DEUC | 2127.0 |
| UE40F6510SBXXU | T-MST12DEUC | 2127.0 |
| UE32F6800SBXXU | T-MST12DEUC | 2127.0 |
| UE40F6500SBXXU | T-MST12DEUC | 2127.0 |
| UE40F6640SBXXU | T-MST12DEUC | 2127.0 |
| UE40F6650SBXXU | T-MST12DEUC | 2127.0 |
| UE40F6670SBXXU | T-MST12DEUC | 2127.0  |
| UE40F6740SBXXU | T-MST12DEUC | 2127.0 |
| UE40F6750SBXXU | T-MST12DEUC | 2127.0 |
| UE40F6770SBXXU | T-MST12DEUC | 2127.0 |
| UE40F6800SBXXU | T-MST12DEUC | 2127.0 |
| UE46F6500SBXXU | T-MST12DEUC | 2127.0 |
| UE46F6510SBXXU | T-MST12DEUC | 2127.0 |
| UE46F6640SBXXU | T-MST12DEUC | 2127.0 |
| UE46F6650SBXXU | T-MST12DEUC | 2127.0 |
| UE46F6670SBXXU | T-MST12DEUC | 2127.0 |
| UE46F6740SBXXU | T-MST12DEUC | 2127.0 |
| UE46F6750SBXXU | T-MST12DEUC | 2127.0 |
| UE46F6770SBXXU | T-MST12DEUC | 2127.0 |
| UE46F6800SBXXU | T-MST12DEUC | 2127.0 |
| UE50F6500SBXXU | T-MST12DEUC | 2127.0 |
| UE50F6640SBXXU | T-MST12DEUC | 2127.0 |
| UE50F6650SBXXU | T-MST12DEUC | 2127.0 |
| UE50F6670SBXXU | T-MST12DEUC | 2127.0 |
| UE50F6740SBXXU | T-MST12DEUC | 2127.0 |
| UE50F6750SBXXU | T-MST12DEUC | 2127.0 |
| UE50F6770SBXXU | T-MST12DEUC | 2127.0 |
| UE50F6800SBXXU | T-MST12DEUC | 2127.0 |
| UE55F6500SBXXU | T-MST12DEUC | 2127.0 |
| UE55F6510SBXXU | T-MST12DEUC | 2127.0 |
| UE55F6640SBXXU | T-MST12DEUC | 2127.0 |
| UE55F6650SBXXU | T-MST12DEUC | 2127.0 |
| UE55F6670SBXXU | T-MST12DEUC | 2127.0 |
| UE55F6740SBXXU | T-MST12DEUC | 2127.0 |
| UE55F6750SBXXU | T-MST12DEUC | 2127.0 |
| UE55F6770SBXXU | T-MST12DEUC | 2127.0 |
| UE55F6800SBXXU | T-MST12DEUC | 2127.0 |