10 great apps for the galaxy note
Make the most of the amazing Samsung Galaxy Note II and its S Pen with apps that enhance its amazing features. With its intuitive full-touch screen and unique interface, you can now capture, create and share more content on-the-go than ever before: drawing, sketching, note-taking, gaming and more. It's time to explore your creative side.
Loaded and Ready to Go
The Galaxy Note comes with some great preloaded apps tailored for its unique features and ready for you to start using.
S Planner helps you manage and coordinate schedules, link memos to events, and even add map locations and pictures.

This app integrates the phone's To-Do list and schedule so you can easily stay organised.
Crayon Physics is a 2D physics puzzle and sandbox game: see what your drawings would look like if they were transformed into actual physical objects.

With more than 70 levels, you can create and solve puzzles, using your artistic vision (with crayon lines and curves) and creative use of physics.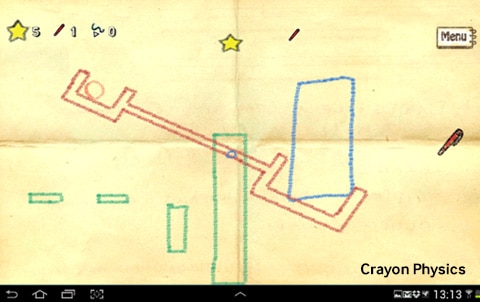 Made for S Pen
Whether you enjoy drawing a work of art or writing poetry, there are apps available in Samsung Apps developed specifically for the S Pen—so you can create the ultimate masterpiece. Here's a look at the apps you'll want to try.

Zen Brush allows sketching and writing with an "ink brush" to write or paint and create your very own masterpieces. You can easily make fluid strokes and choose from more than 36 background templates to complement your pictures. Select from 3 different ink shades and adjust brush size as you like.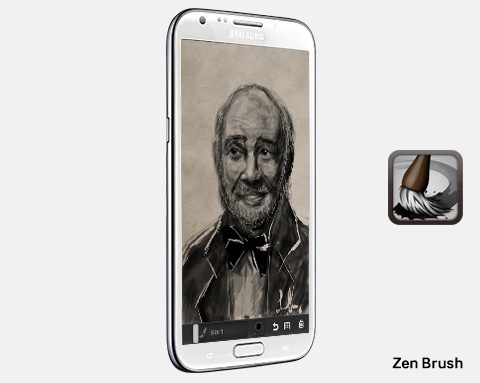 OmniSketch helps you create pictures and designs, even with detailed effects, thanks to the impressive precision of the S Pen™ and 24 brush patterns to play with.

Store pictures in your local gallery where you can view or edit them later; or upload them to an online gallery so everyone can admire your talent. You'll be amazed by what you can create with this app.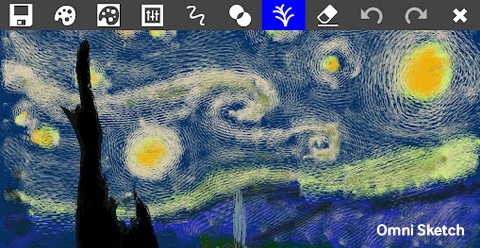 Write the Next Great Novel
A good idea can strike while you're grocery shopping or just sitting in front of the TV. When a pad and paper or your computer aren't easily accessible, there are apps for the Galaxy Note that will help make sure you never lose a burst of inspiration.

Soonr Scribble is a cloud-based app that allows you to quickly capture your ideas and easily mark up and share documents. It backs up documents and files and allows sharing, searching, editing and syncing of your files - from any device, online or offline. This app is a fantastic tool to keep up your productivity from wherever you are.

Catch is a feature-packed app that lets you capture your ideas and experiences on all your devices, with secure auto-syncing to the cloud. Capture pictures, jot down notes, record voice memos, map your location, and attach reminders. It's fast and easy.
Time To Get creative
With the creative photo apps available in the Android Market, there are many different ways for a photo enthusiast to tell an interesting story through their images.

ComicBook! transforms you into your favourite superhero or villain. With its comic book-style layout with windows and bubbles for creating dialogues, this fun app allows you to customise your images and design your own adventures.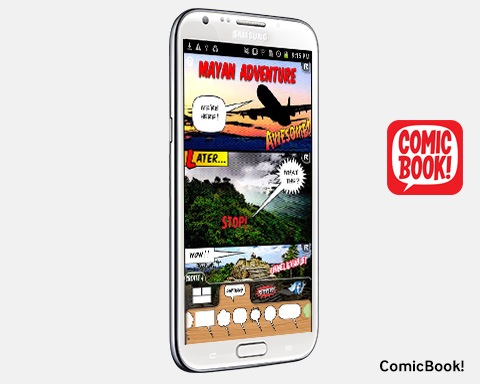 Share Your Adventures
There's no need to wait until after your holiday to share your favourite memories when you can share them as they happen.

Trip Journal Lite will transform any vacation. Now you can track and record your trips (using GPS route tracking), then share them on Facebook, Google Earth, and more. Friends and family can check out where you've been and see your travel photos and videos. You can document trip stats such as distance, time, and geography.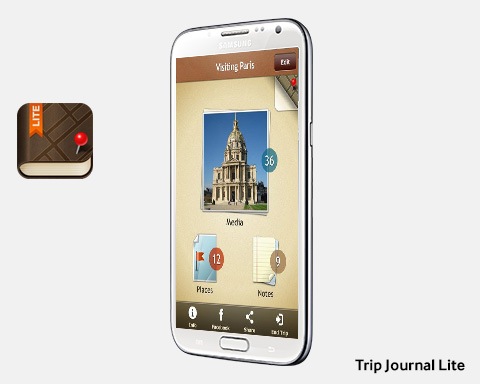 Let's Play
Everyone needs a break once in a while, so why not rest your brain with a fun game?

Fruit Ninja Free is an exciting action game in which fruit is squished, splattered and squashed. Swipe up across the screen to slash fruit like a true ninja warrior. Enjoy three game modes (Classic, Zen, and Arcade) in single player and worldwide leaderboards using Openfeint, and keep coming back to earn higher scores.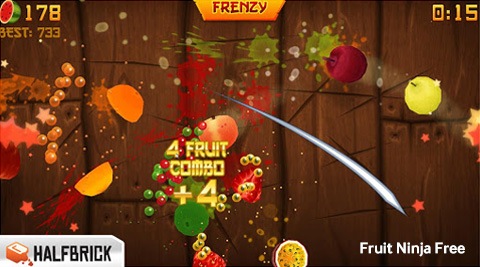 Want to find more apps for your Galaxy Note?
Simply select the "Samsung Apps" app on your device and go to the "S Choice" category. There you'll find fun and useful apps that will help you get the most out of your Galaxy Note and S Pen.

Alternatively, you can visit Samsung Apps and check out all the latest apps available for the Galaxy Note and other Galaxy devices.