Samsung harman/kardon HW-N950 Cinematic Wireless Smart Soundbar with Dolby Atmos and dts:X
HW-N950/XU
Samsung harman/kardon HW-N950 Cinematic Wireless Smart Soundbar with Dolby Atmos and dts:X
is rated out of
5
by
13
.
True Dolby Atmos
Up-firing speakers
Side-firing speakers
dts:X
Experience immersive surround sound
Discover the latest innovation in surround sound with the Samsung harman/kardon N950 soundbar. Featuring object-based sound powered by Dolby Atmos and dts:X, the N950 creates an incredible audio experience in your home. Thanks to the up-firing and side-firing speakers, the N950 soundbar delivers an incredibly immersive surround sound experience by enabling objects, such as flying helicopters or birds, to be heard above and around you, putting you right in the heart of the action. Experience no limit to your home entertainment.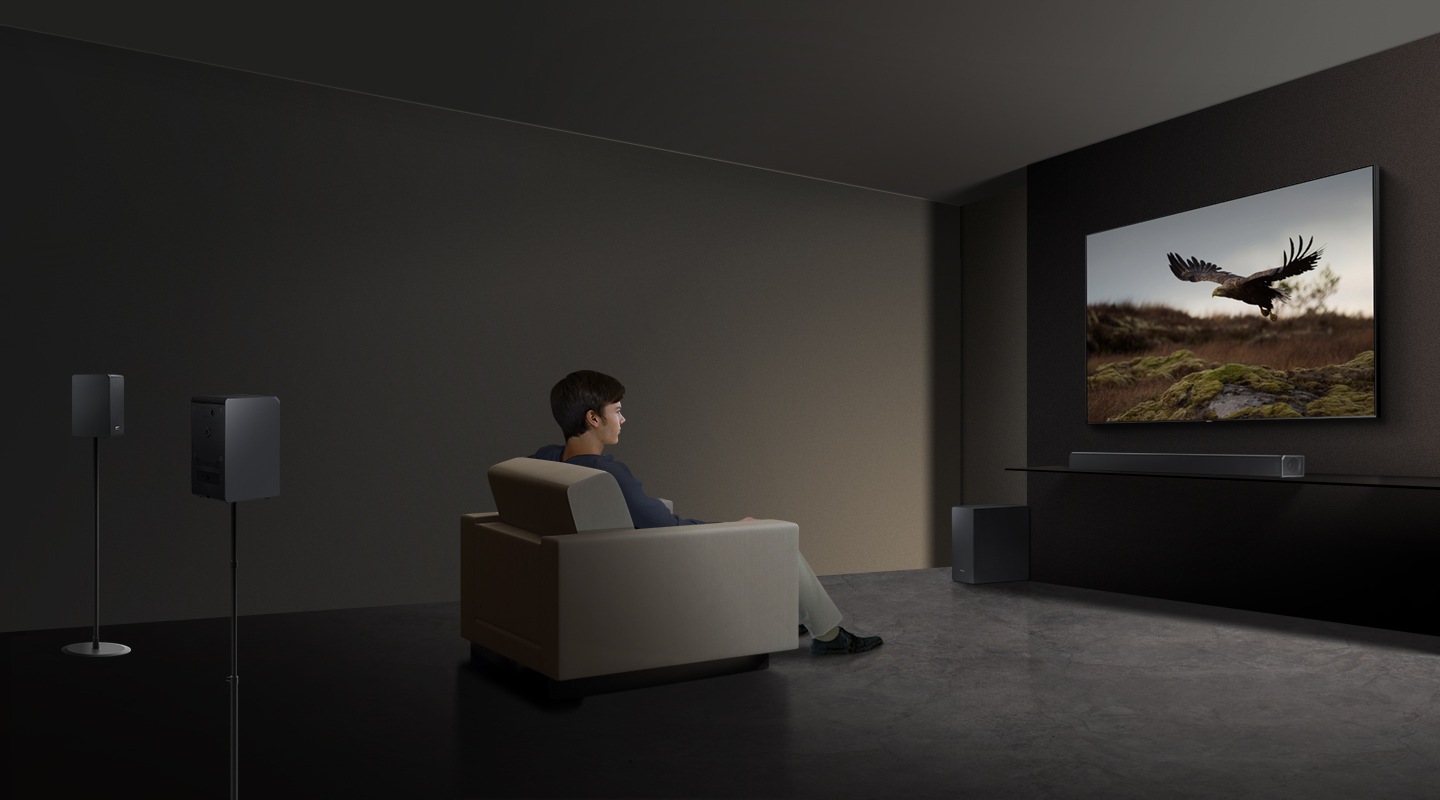 Crystal clear and accurate sound
A comprehensive setup of 17 individual, custom designed speakers is built into the N950 soundbar, delivering a powerful and clear audio experience that is second to none. Four up-firing and two side-firing speakers help deliver incredible object-based sound. Deep, powerful bass is provided by the included wireless subwoofer. Gone are the days when only viewers in a small sweet spot would enjoy the best possible audio quality - with the Samsung harman/kardon N950 delivering true 7.1.4ch sound, everyone can experience impressive audio.
Up-firing speakers
Powerful sound waves bounce off the ceiling making your audio surround you from above. Experience amazing overhead sound and a deep cinematic experience in the heart of your space.
Side-firing speakers
With side-firing speakers built into each end of the soundbar, you'll be totally immersed in surround sound. Left to right, front to back, from all angles.
Unrivalled cinematic sound
With the N950's rear speakers, you can enjoy the most realistic, multi-dimensional sound experience in your home without relying entirely on sound reflections off your walls. Physical rear speakers in the box enable you to experience true cinematic sound that makes you feel like you are part of the action. Added wireless capabilities provide more flexibility without the need for trailing cables in your living room.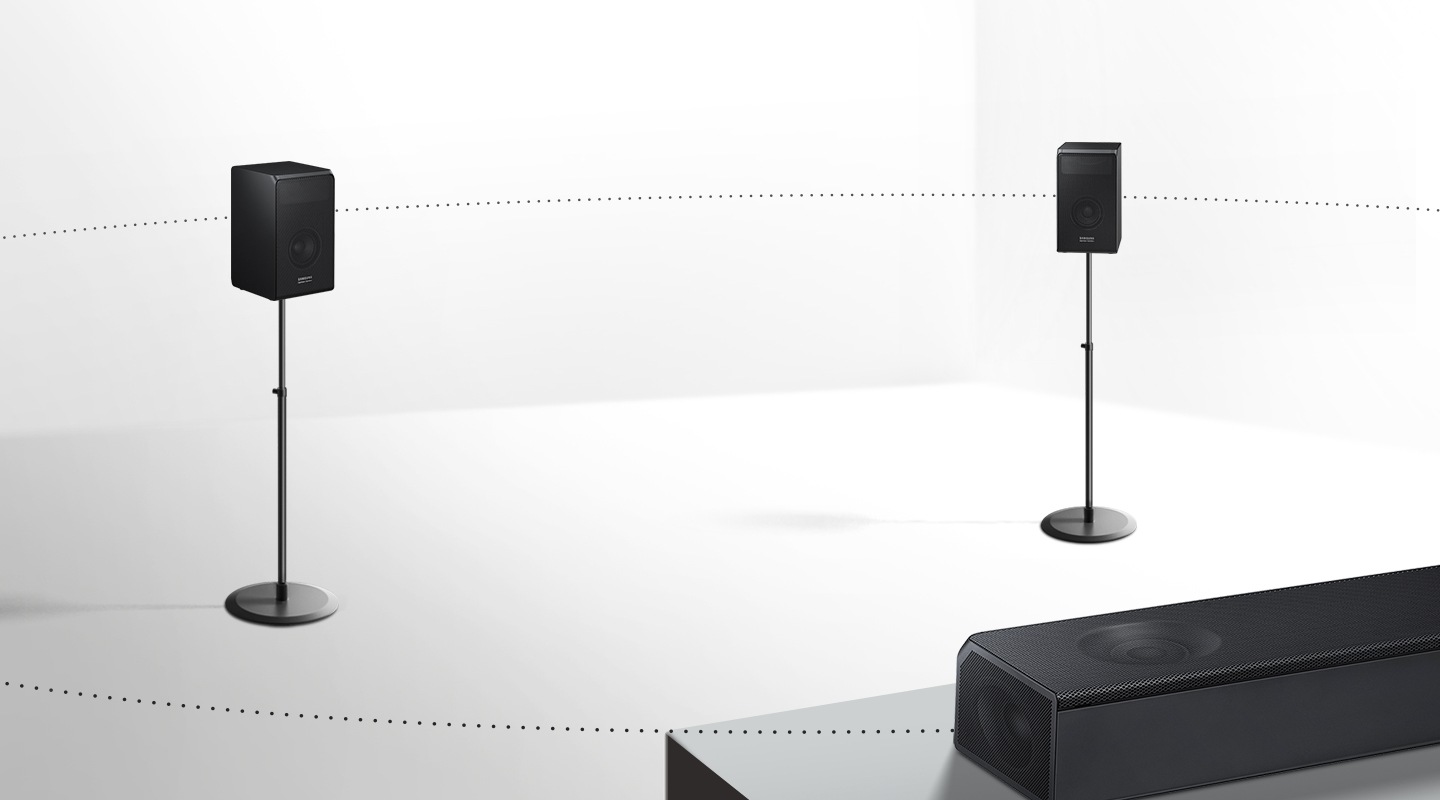 * Wireless Rear Speaker Kit needs to be connected to a power supply.
Sweet spot anywhere you sit
Three specially designed wide range tweeters are devoted to recreating crisp, clear high notes, with a wider sound coverage than conventional tweeters. This results in a greater sweet spot that stretches further.
Unleash studio quality music in your home
There are no limits when it comes to music. Get the best music experience with High Res Audio playback. Listen to studio quality sound, at an even higher resolution than CD *. Experience every track you play transformed into the highest quality with UHQ 32-bit upscaling.
* Track files have to be in lossless format such as FLAC, ALAC, AIFF or WAV.
Take your home entertainment to the highest level
Accompany an unrivalled sound experience with the most impressive picture quality. Match the N850 soundbar with a QLED TV and Ultra HD Blu-ray Player for the ultimate home entertainment experience powered by Samsung. Turn your living room into the ultimate entertainment centre and dive into a world of movies, music and TV shows like you've never seen or heard before.
Wireless music streaming
By connecting with ease to your compatible phone or tablet with WiFi or Bluetooth, you'll be able to instantly add atmosphere to a party or to wind down after work. And if you've got music saved on your device's internal memory, you can fill a room with all of your favourites at the press of a button.
A completely connected experience at the press of a button
With a single Samsung remote for both your TV and Soundbar, discover a completely connected experience at the press of a button. Clear the mess caused by having a number of controllers on your coffee table. Our Soundbars are designed to work effortlessly in sync with our Samsung 2018 Smart TV range.
* Compatible with select Samsung TVs. Please check in store for more details.
* Compatible with select Samsung TVs. Please check in store for more details.
Listen smarter with SmartThings
SmartThings lets you add your speakers to your network, giving you greater control over your audio throughout your smart home. Take connected living to the next level.
* SmartThings compatible devices may vary by region. This function may differ by mobile and OS(Operation System). Download and installation of SmartThings app are required.
* SmartThings compatible devices may vary by region. This function may differ by mobile and OS(Operation System). Download and installation of SmartThings app are required.
512W

Total Power

7.1.4 Ch

Number of Channel

Wireless

Subwoofer Type ( Active / Passive / Wireless, Bulit-in )

3

Number of Sound Modes (DSP)

1292 x 262 x 606 mm

Gross Dimension (WxHxD): One Packing

27.5 kg

Gross Weight (One Packing)

4.5(Wi-fi/BT off 0.3w)

Stand-by Power Consumption (Main)

35W

Operating Power Consumption (Main)
Rated

5

out of

5
by
Gpcaraudio
from
Excellent!
Got the N950 a few days ago. It sounds amazing. Setup is pretty straight forward. Extremely satisfied with this purchase. The subwoofer is tuned nice and low and a lot more powerful than I ever expected from an 8" woofer. The sound quality of the mids and highs is fantastic. I'm using the ARC hdmi connection from the sound bar to the TV for the video pass through and running the sony x800 UHD player to one of the hdmi inputs. To get the atmos sound mode I had to adjust the settings on the UHD 4k player (basically turning off all the sound assist features on the player, and rate to 192khz) doing this displays "dolby atmos" across the sound bar screen on media coded with atmos and disables the other sound modes. It took me a day to figure this out but it was not soundbar related as it was from the audio settings on the player itself. Tip during setup that is not really "exactly" noted in the manual: plug in the subwoofer and rear speakers, press and hold the bottom on the back of the rears and subwoofer until the slow blue flashing light. THEN plug in the sound bar and turn on, hold up on the remote for approx 5 seconds until the message is displayed on the soundbar screen. This connects ALL wireless speakers. In the beginning I had plugged in the soundbar sub and rears, turned the sound bar on, the sub was linked from turn on but the rears were not, and could not get the rears to connect doing the steps in the manual. Its not rocket science it just does not note the exact steps i outlined in the manual. So if anyone is having rear wireless connection just do the steps exactly as I noted. Hope that helps anyone struggling on setup.
Date published: 2018-12-23
Rated

5

out of

5
by
Soulman1
from
Best ATMOS sound bar money can buy
I've had the N950 for three months, in combination with my LG 55OLEDB7, Nvidia Shield and Sky Q Box. Here's my experience so far. As you'd expect for the price, sound quality is very good. Detailed and balanced, reaching loud levels of cinematic sound when you need it. Dolby ATMOS takes this experience to another level, it has been implemented extremely well. The difference between ATMOS and regular surround is difficult to express in words; the stage opens right up and you become enveloped in sound whizzing around the listening area. There is a real sense of vertical sound but keep in mind this is 'only' a sound bar, expectations should be realistic, but Samsung/Harmon Kardon have really set the bar here! The volume of each channel (centre, side, front top, rear, rear top) can be adjusted. My sub-woofer is placed in the corner of the room behind the TV unit, set to -6 and shakes the house without breaking a sweat. PROS: - Easy set-up, Nvidia Shield connected to N950 HDMI port, with LG TV & Sky Q connected over ARC for TV Apps (the Shield doesn't support Dolby Vision from Netflix but LG's OLED range does) - No trouble playing TrueHD Dolby ATMOS and DTS-X content from the Shield. - No trouble streaming Dolby Digital Plus ATMOS with Dolby Vision from the TV's Netflix app over ARC. - Switching sources is simple (and family friendly) - pressing any button on the Sky or Shield remote does the job. - Clarity of sound. Crystal clear dialogue with regular TV viewing and movies alike. - Dolby ATMOS. Wow, the rear speakers explode into action compared to regular surround. The race scene at the start of Ready Player One is a showcase for the ATMOS capabilities of this sound bar. CONS: - SmartThings App: Bit of a pointless app but necessary to use features of the sound bar such as updating firmware or using the graphic equaliser. - HDMI Handshake issues with Sky Q connected to N950 HDMI input (similar complaints on Sky Community website about other TV and AVR brands). It's a Sky problem, but one you should be aware of if wanting ATMOS from Sky (currently only available with movies or sports subscription). Irrelevant if connecting Sky box direct to TV. Tips to get the most out of this sound bar: You'll get the best possible sound with Dolby ATMOS, it can reach the N950 in two ways: 1) Dolby TrueHD: Lossless 7.1 format contained in Blu-ray discs or MKV files, can be played from a capable streaming device (Nvidia Shield or Blu-ray player) but cannot be streamed over ARC* so must be connected to N950 HDMI inputs. *eARC supports TrueHD, but the N950 and LG B7 don't have it at time of review. 2) Dolby Digital Plus: Compressed 7.1 format used by Netflix, Amazon etc, can be streamed over ARC from TV to N950. Lower bit-rate sound quality, but still sounds fantastic and certainly better than no ATMOS at all. Ensure TV sound output settings are set to 'auto', PCM won't work. Use Smart mode: There's little info in the manual about the three different sound modes, but Smart mode is definitely the better sounding option for regular surround sound (Dolby Digital). Sounding louder and clearer than standard mode, it uses DSP to send discrete audio to the rear channels when there would otherwise be no signal there. Not available with ATMOS or DTS-X. . Unlike most sound bars, this is a true 7.1.4 system, meaning you WILL need content encoded with 7.1 or 5.1 surround for the rear speakers to receive signal. Ignore reviewers complaining they "can't hear voices" or "can't hear music" from the rear speakers. Simply put, if you're not playing 7.1 or 5.1 content, there IS NO SIGNAL for the rear speakers (unless you switch to 'virtual surround' mode, urgh). Do yourself a favour and do plenty of research on surround sound and where you'll source it from, before spending this kind of money. Would I recommend this to a friend? Absolutely.
Date published: 2019-05-14
Rated

5

out of

5
by
Quinny2122
from
Awesome sound
I have had this soundbar now for 4 weeks and was reluctant at first because of the cost but as soon as I brought it home and set it up it blew me away. The sound that this soundbar creates while watching movies or listening to music is nothing but awesome. Its worth every penny. The Dolby atmos is amazing the way it fills the room with sound. The bass from the subwoofer shakes the settee which is 6 metres away from the subwoofer. My friends and family have come round to listen and their reaction is always the same WOW. My only Criticism is I am find it difficult to tweak the speaker levels on all the speakers which I have read will improve the sound quality even further.
Date published: 2018-10-06
Rated

5

out of

5
by
Arthur1
from
Pure Gold
I recently purchased this cinematic experience from PC World having scoured the big stores around the country as they had them on offer at £1200. With my blue light card discount I had another £78 off so total cost £1122. I found a local store with one in stock, lucky me as they are all on order with a waiting list of weeks at the bigger stores. The set-up is simple but the sound is phenomenal. You can connect via Wifi, Bluetooth or hard wire and the sound is still the same, amazing. My place is not so big but the whole house lifts off with Atmos, I am not exaggerating when I say this, it is like having your own personal earthquake.# The looks are as you see in all the photos, but you can feel the quality as you unpack it, for a spacebar it is just so much bigger than I was expecting. Looks, feel, quality, purpose, facilities it rocks my world. Can't reccomend this kit highly enough.
Date published: 2019-01-16
Rated

4

out of

5
by
frenzy382
from
Good performance, but....
I've bought a number of soundbars recently (different manufacturers) trying each one out, and was not happy. There were some fundamentals that they just couldn't get right. Eventually I ended up with the HW-N950 and out of the box it was way better than others. Good front seperation, good height... One issue for me....rear speaker volume. These really need to be enabled to pump up the volume more. I've had to drop the front to pretty much as low as possible, in order to hear the rear speakers. On occasion I can just hear it. I do have quite a large room, but the sales pitch I was given was that this system would be ideal for large rooms...well, for me, it 'nearly' is. I'm hoping a future firmware update can nail this issue...then it would be 5/5!
Date published: 2019-01-11
Rated

4

out of

5
by
KU2019
from
A Great "All-in-one" Atmos solution but some issue
I've had the HW-N950 for over a month now and have had a chance to play around with it. Make no mistake; for anyone looking for an all-in-one, wireless solution, this product is probably the best available out there. It has genuine 7.1.4 surround compared to other systems which merely reflect sound to give the impression of object based effects. Naturally, ATMOS channels are reflected sound but unless you want to drill holes and place speakers in your ceilings and deal with tricky wiring, then these soundbar solutions are the best alternative. In terms of set-up; it's easy enough. You'll have to make sure you purchase high quality HDMI cables, and make sure that your input sources and media are set to delivery audio content in Dolby/DTS format/ The soundbar can only give you these amazing sound experiences if it is given the right content (you cant get colour prints if you feed your colour printer with black ink). There is one underlying issue that many users are reporting but Samsung don't seem to acknowledge. It is also one that I am experiencing. When playing anything with ATMOS content, the system really comes to life and delivers thunderous bass and rear speaker effects. I haven't quite been able to notice the ariel Atmos overhead effects (despite playing some ATMOS Bluray discs and Dolby's own ATMOS test files) but I suspect this may be down to the physical set up of my room rather than the soundbar itself - you have to have a reflective ceiling within the right height range for the sound to be reflected correctly. However, when playing anything else, such as music from a Bluetooth source, or a 5.1 or 7.1 Bluray disc, I do notice that for some reason, the subwoofer and rear speakers suddenly seem to go into rest mode and the thunderous, punchy bass I was getting with ATMOS content is reduced to about 20% power. And you will have to press your ears to the rear speakers just to be able to hear the whispered sounds coming from the rear speakers. This really shouldnt be the case in a high-end, premium priced product. My older 5.1 system doesnt turn down the bass/rear speakers. This is even more noticeable when playing music from Bluetooth for example; the rear speakers might as well be turned off (even changing to stereo sound or changing the parameters make no difference). I suspect this might be fixed in a future update but Samsung really need to do something about this - yes it could be argued that this is for movies mainly, and as said, when playing an ATMOS movie, it tears the house down - but this is also supposed to be used for other purposes and not just movies - and sadly, although it clearly is capable of punchy bass and rear sound, its performance is a little underwhelming when playing anything other than Atmos.
Date published: 2019-02-28
Rated

5

out of

5
by
philisawesome
from
Loud and exciting. Atmos is tremendous
Had this for nearly a week and it's really superb. The biggest issue of the week was finding a pair of 1/4" UNC 20 thread screws to attach the rear speakers to my existing speaker brackets on the wall. The soundbar is really well put together. Lovely finish and is loud. Very loud. Atmos and DTS:X works wonderfully well. Fantastic Beasts Atmos soundtrack has been a standout so far along with Jurassic Park's DTS:X soundtrack where the T-Rex made the room shake. Added bonus the Nintendo Switch's LPCM surround works when it's connected directly into the soundbar.
Date published: 2018-09-01
Rated

5

out of

5
by
3axis
from
Shockingly expensive but worth every penny
This soundbar is big, in every sense! To hear it is like you were deaf before, you can tell where every penny went. Dolby Atmos is like 3d sound and even mp3s sound superb, it makes you want to turn it up to the point where you damage your house foundations. If you are considering buying this, don't hesitate.
Date published: 2018-10-05
User manual & Downloads
Live Chat
How It Stacks Up
Samsung harman/kardon HW-N950 Cinematic Wireless Smart Soundbar with Dolby Atmos and dts:X
HW-N950/XU

Free delivery

Get free delivery on all orders with no minimum spend

Free returns

Free, easy and convenient returns.

28 days to return

Change your mind? Just let us know and return your order within 28 days.

24/7 parcel tracking

Once you've place your order with us, you can track when it's coming.
Create your wishlist
Don't miss out on the products you love.
Sign in/Sign up now to access your wishlist on all your devices and get updates on great promotions.
Add to wishlist
Do you want to add this product to your wishlist?
Wishlist
This product has been added to your wishlist.
Sorry, the product you added to wishlist is not available anymore.
Get stock alert
Get alerts when this item is back in stock and available to buy, by adding your email to opt into alerts.
We will email you when inventory is added.
Thank you.
Estimate your installment plan
Remove item?
Are you sure you want to delete this option?
Option will be reset if you select Samsung care+.
Add to basket?
Samsung Care+
Dropped your phone and smashed it? Keep your smartphone protected from accidental damage.



Included

Accidental damage (incl. liquid damage) for mobile phone and accessories that come in the box.
Worldwide cover (up to 60 days international trips)
Maximum of 2 claims for the 2 years insurance period
An excess per claim of £52 for Galaxy S and Note series; £35 for A80, A70 and A50; or £29 for A40, A20e and A10
Repairs completed by Samsung using genuine Samsung parts



Not included

Loss of the phone
Deliberate damage or not adequately protecting the phone
Cosmetic damage
Theft
Any repairs carried out without Samsung approval

Samsung Care + Insurance is underwritten by AWP P&C S.A. - Dutch Branch, trading as Allianz Global Assistance Europe, with corporate identification No 33094603, registered office at Poeldijkstraat 4, 1059 VM Amsterdam, the Netherlands, registered at the Dutch Authority for the Financial Markets (AFM) No 12000535 and authorised by L'Autorité de contrôle prudentiel et de resolution (ACPR) in France. For more information on Samsung's privacy policy please click here.
Samsung Care+ Terms and Conditions
Protect your smartphone with insurance
An insurance that protects your smartphone anywhere and at any time to bring you greater peace of mind.
Coverage against breakage

Physical damage such as cracks or breakage of the screen or the rear window, which is detrimental to the functioning of the mobile phone.*

Cover against other damage

Damage caused by liquid or any physical damage, other than damage to the screen, affecting the use of the software or the charging of the mobile.*

Repair by official teams

Your smartphone will only be repaired by Samsung authorized service providers and Samsung genuine parts.
SAMSUNG CARE +
SAMSUNG CARE+ COVERS :
24 months cover for £139 (upfront payment only)
All accidental damage resulting from handling
2 claims over 2 years
£69 excess per claim
DO NOT COVERS :
Loss of the product
Deliberate damage
Cosmetic damage
Theft of any kind
Lack of reasonable care
Normal wear and tear
Option will be reset if you select Extended Warranty.
Add to basket?
Extended warranty
This is an extra 4 years on top of the standard 1 year warranty for parts and labour. It's another great reason to choose Samsung

During the Extended Warranty Period Samsung continues to warrant that the Samsung product shall be free from defects in materials and workmanship in accordance with the original warranty statement provided with the product.
In the event that Samsung is unable to repair your product, Samsung may at, its discretion, either exchange your existing product with a replacement product or provide you with a refund.
When warranty service involves the exchange of a product or part, subject to applicable law, the item replaced becomes the property of Samsung. The replacement may be a new or repaired item. The replacement item assumes the remaining warranty period of the original product.
Remote technical support may also be provided for the product(s).
If you select both exchange and bundle option, an additional exchange discount of the exchange option will not be applied. Add to basket?
This product qualifies for a special bundle deal.
If you select both exchange and bundle option, an additional exchange discount of the exchange option will not be applied. Add to basket?
Installment Calculate
Installments are provided by Santander Consumer Bank S.A.
How does it work?
Pay for your new Galaxy phone in monthly instalments and be invited to upgrade to the new Galaxy as soon as it launches.
01 Choose your device

Choose from the new Galaxy series.

02 Spread the cost

Pay a 10% deposit and then monthly instalments over 24 months. (0% finance available)

03 Yearly upgrades

Be invited to upgrade to the latest Galaxy phone after 12 months.
Upgrade Program
Upgrade your handset every 12 months.
SAMSUNG GALAXY S10 UPGRADE PROGRAMME TERMS AND CONDITIONS
1. THESE TERMS
1.1 What these terms cover. These are the terms and conditions on which you may take part in our Samsung Upgrade Programme (Upgrade Programme"), which provides you with the ability to purchase an eligible Samsung Galaxy S10 handset and the option to upgrade to the latest Samsung Galaxy S handset every 12 months.
1.2 Why you should read them. Please read these terms carefully if you would like to take part in the Upgrad Programme. These terms tell you who we are, the conditions of the Upgrade Programme and other important information.
2. INFORMATION ABOUT US AND HOW TO CONTACT US
2.1 Who we are. We are Samsung Electronics (UK) Limited, a company registered in England and Wales. Our company registration number is 3086621 and our registered office is at 1000 Hillswood Drive, Chertsey, Surrey KT16 0PS. We are authorised by the Financial Conduct Auth ority ("FCA") as a credit broker under reference number 727333.
2.2 How to contact us. You can contact us by calling our customer service team at 0330 SAMSHOP (726 7467) or by writing to us at support@samsunguk.zendesk.com
2.3 How we may contact you. If we have to contact you we will do so by telephone or by writing to you at the email address or postal address you provided to us in your order.
2.4 "Writing" includes emails. When we use the words "writing" or "written" in these terms, this includes emails.
3. THE UPGRADE PROGRAMME - OVERVIEW
3.1 How to take part in the Upgrade Programme. On placing your order for a new Galaxy S10 handset, you may, by selecting the relevant option on our website, and if you are successful in applying for a new 24-month credit agreement (including passing any relevant credit checks) with our chosen credit provider (for further details see below), be able to take part in the Upgrade Programme.
3.2 The ability to purchase a Galaxy S10 handset through finance, and to take part in the Upgrade Program me is available to consumers only; it is not available to business customers.2.4 "Writing" includes emails. When we use the words "writing" or "written" in these terms, this includes emails.
3. THE UPGRADE PROGRAMME - OVERVIEW
3.1 How to take part in the Upgrade Programme. On placing your order for a new Galaxy S10 handset, you may, by selecting the relevant option on our website, and if you are successful in applying for a new 24-month credit agreement (including passing any relevant credit checks) with our chosen credit provider (for further details see below), be able to take part in the Upgrade Programme.
3.2 The ability to purchase a Galaxy S10 handset through finance, and to take part in the Upgrade Program me is available to consumers only; it is not available to business customers.
Check Terms and Conditions
How trade–in works
01

Tell us about your current phone. We'll let you know how much it's worth

02

Get an immediate discount on the Samsung device you want

03

We'll send you a recycling package to return your current phone to us
Customize your watch
All from one hand
Now you get innovative smartphone with right tariff plan.
Check the Terms and Conditions
Phone powers on & holds charge

Functioning display & no cracked screen

Factory reset & no software locks
La liberté ne s'achète pas, elle se loue
Liberté

Possibilité de changer votre smartphone tous les 4 mois.

Sérénité

La garantie incluse et des assurances optionnelles.

Exclusivité

Le meilleur de la technologie à prix très attractifs.