True Dolby Atmos
Up-firing speakers
Side-firing speakers
dts:X
Experience immersive surround sound
Discover the latest innovation in surround sound with the Samsung harman/kardon N950 soundbar. Featuring object-based sound powered by Dolby Atmos and dts:X, the N950 creates an incredible audio experience in your home. Thanks to the up-firing and side-firing speakers, the N950 soundbar delivers an incredibly immersive surround sound experience by enabling objects, such as flying helicopters or birds, to be heard above and around you, putting you right in the heart of the action. Experience no limit to your home entertainment.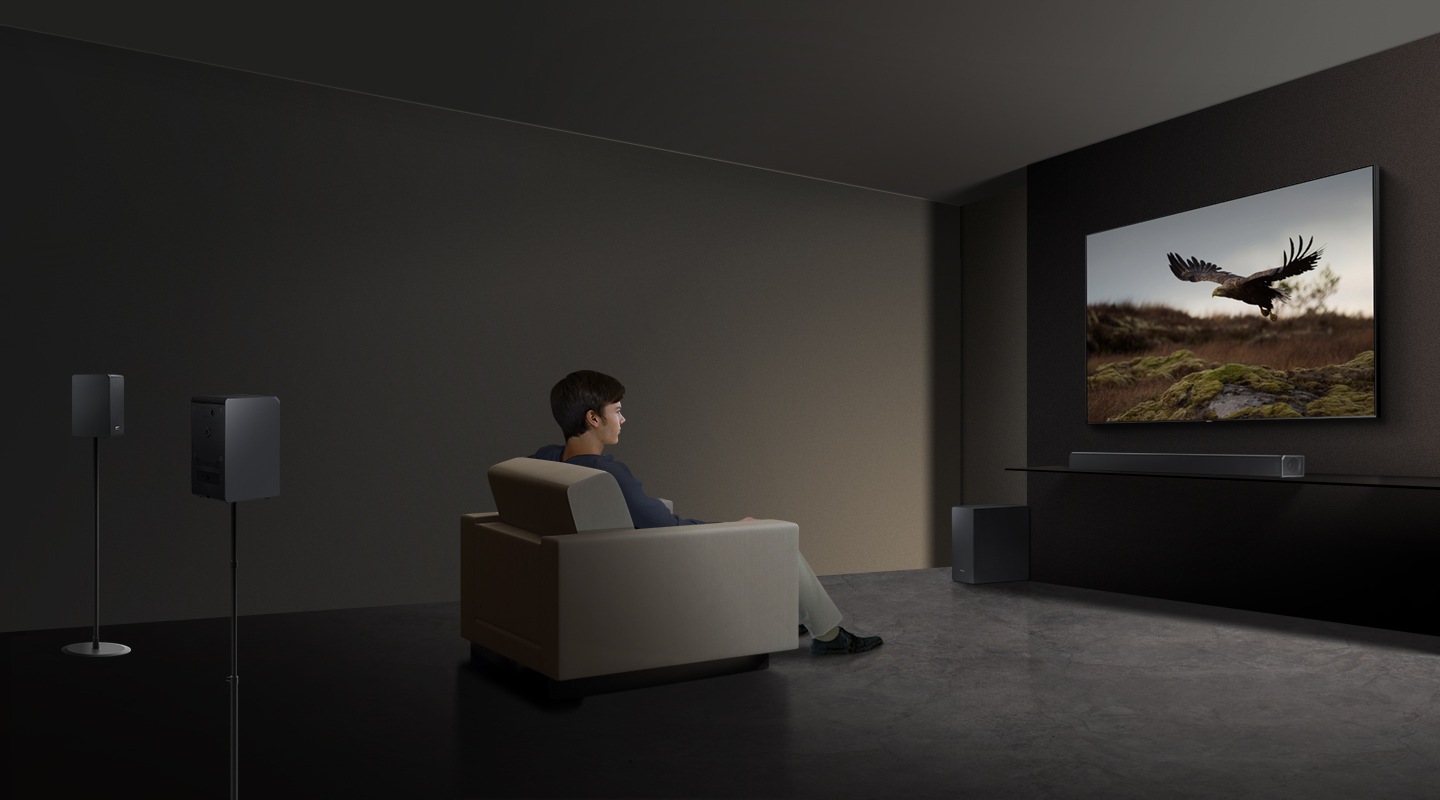 Crystal clear and accurate sound
A comprehensive setup of 17 individual, custom designed speakers is built into the N950 soundbar, delivering a powerful and clear audio experience that is second to none. Four up-firing and two side-firing speakers help deliver incredible object-based sound. Deep, powerful bass is provided by the included wireless subwoofer. Gone are the days when only viewers in a small sweet spot would enjoy the best possible audio quality - with the Samsung harman/kardon N950 delivering true 7.1.4ch sound, everyone can experience impressive audio.
Up-firing speakers
Powerful sound waves bounce off the ceiling making your audio surround you from above. Experience amazing overhead sound and a deep cinematic experience in the heart of your space.
Side-firing speakers
With side-firing speakers built into each end of the soundbar, you'll be totally immersed in surround sound. Left to right, front to back, from all angles.
Unrivalled cinematic sound
With the N950's rear speakers, you can enjoy the most realistic, multi-dimensional sound experience in your home without relying entirely on sound reflections off your walls. Physical rear speakers in the box enable you to experience true cinematic sound that makes you feel like you are part of the action. Added wireless capabilities provide more flexibility without the need for trailing cables in your living room.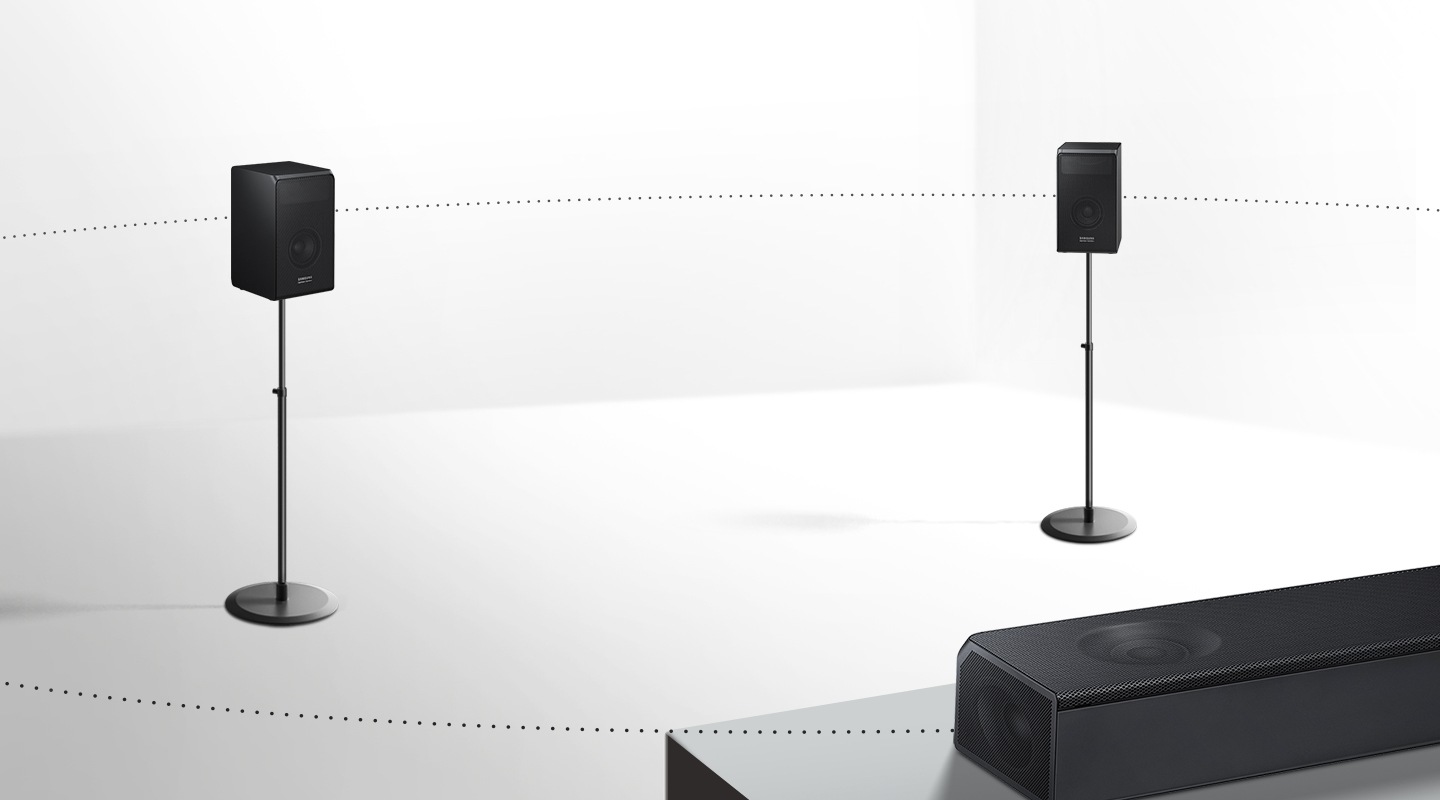 * Wireless Rear Speaker Kit needs to be connected to a power supply.
Sweet spot anywhere you sit
Three specially designed wide range tweeters are devoted to recreating crisp, clear high notes, with a wider sound coverage than conventional tweeters. This results in a greater sweet spot that stretches further.
Unleash studio quality music in your home
There are no limits when it comes to music. Get the best music experience with High Res Audio playback. Listen to studio quality sound, at an even higher resolution than CD *. Experience every track you play transformed into the highest quality with UHQ 32-bit upscaling.
* Track files have to be in lossless format such as FLAC, ALAC, AIFF or WAV.
Take your home entertainment to the highest level
Accompany an unrivalled sound experience with the most impressive picture quality. Match the N850 soundbar with a QLED TV and Ultra HD Blu-ray Player for the ultimate home entertainment experience powered by Samsung. Turn your living room into the ultimate entertainment centre and dive into a world of movies, music and TV shows like you've never seen or heard before.
Wireless music streaming
By connecting with ease to your compatible phone or tablet with WiFi or Bluetooth, you'll be able to instantly add atmosphere to a party or to wind down after work. And if you've got music saved on your device's internal memory, you can fill a room with all of your favourites at the press of a button.
A completely connected experience at the press of a button
With a single Samsung remote for both your TV and Soundbar, discover a completely connected experience at the press of a button. Clear the mess caused by having a number of controllers on your coffee table. Our Soundbars are designed to work effortlessly in sync with our Samsung 2018 Smart TV range.
* Compatible with select Samsung TVs. Please check in store for more details.
* Compatible with select Samsung TVs. Please check in store for more details.
Listen smarter with SmartThings
SmartThings lets you add your speakers to your network, giving you greater control over your audio throughout your smart home. Take connected living to the next level.
* SmartThings compatible devices may vary by region. This function may differ by mobile and OS(Operation System). Download and installation of SmartThings app are required.
* SmartThings compatible devices may vary by region. This function may differ by mobile and OS(Operation System). Download and installation of SmartThings app are required.
512W

Total Power

7.1.4 Ch

Number of Channel

Wireless

Subwoofer Type ( Active / Passive / Wireless, Bulit-in )

3

Number of Sound Modes (DSP)

1292 x 262 x 606

Gross Dimension (WxHxD): One Packing

27.5 kg

Gross Weight (One Packing)
Rated

5

out of

5
by
Arthur1
from
Pure Gold
I recently purchased this cinematic experience from PC World having scoured the big stores around the country as they had them on offer at £1200. With my blue light card discount I had another £78 off so total cost £1122. I found a local store with one in stock, lucky me as they are all on order with a waiting list of weeks at the bigger stores. The set-up is simple but the sound is phenomenal. You can connect via Wifi, Bluetooth or hard wire and the sound is still the same, amazing. My place is not so big but the whole house lifts off with Atmos, I am not exaggerating when I say this, it is like having your own personal earthquake.# The looks are as you see in all the photos, but you can feel the quality as you unpack it, for a spacebar it is just so much bigger than I was expecting. Looks, feel, quality, purpose, facilities it rocks my world. Can't reccomend this kit highly enough.
Date published: 2019-01-16
Rated

5

out of

5
by
Gpcaraudio
from
Excellent!
Got the N950 a few days ago. It sounds amazing. Setup is pretty straight forward. Extremely satisfied with this purchase. The subwoofer is tuned nice and low and a lot more powerful than I ever expected from an 8" woofer. The sound quality of the mids and highs is fantastic. I'm using the ARC hdmi connection from the sound bar to the TV for the video pass through and running the sony x800 UHD player to one of the hdmi inputs. To get the atmos sound mode I had to adjust the settings on the UHD 4k player (basically turning off all the sound assist features on the player, and rate to 192khz) doing this displays "dolby atmos" across the sound bar screen on media coded with atmos and disables the other sound modes. It took me a day to figure this out but it was not soundbar related as it was from the audio settings on the player itself. Tip during setup that is not really "exactly" noted in the manual: plug in the subwoofer and rear speakers, press and hold the bottom on the back of the rears and subwoofer until the slow blue flashing light. THEN plug in the sound bar and turn on, hold up on the remote for approx 5 seconds until the message is displayed on the soundbar screen. This connects ALL wireless speakers. In the beginning I had plugged in the soundbar sub and rears, turned the sound bar on, the sub was linked from turn on but the rears were not, and could not get the rears to connect doing the steps in the manual. Its not rocket science it just does not note the exact steps i outlined in the manual. So if anyone is having rear wireless connection just do the steps exactly as I noted. Hope that helps anyone struggling on setup.
Date published: 2018-12-23
Rated

5

out of

5
by
Quinny2122
from
Awesome sound
I have had this soundbar now for 4 weeks and was reluctant at first because of the cost but as soon as I brought it home and set it up it blew me away. The sound that this soundbar creates while watching movies or listening to music is nothing but awesome. Its worth every penny. The Dolby atmos is amazing the way it fills the room with sound. The bass from the subwoofer shakes the settee which is 6 metres away from the subwoofer. My friends and family have come round to listen and their reaction is always the same WOW. My only Criticism is I am find it difficult to tweak the speaker levels on all the speakers which I have read will improve the sound quality even further.
Date published: 2018-10-06
Rated

5

out of

5
by
3axis
from
Shockingly expensive but worth every penny
This soundbar is big, in every sense! To hear it is like you were deaf before, you can tell where every penny went. Dolby Atmos is like 3d sound and even mp3s sound superb, it makes you want to turn it up to the point where you damage your house foundations. If you are considering buying this, don't hesitate.
Date published: 2018-10-05
Rated

5

out of

5
by
philisawesome
from
Loud and exciting. Atmos is tremendous
Had this for nearly a week and it's really superb. The biggest issue of the week was finding a pair of 1/4" UNC 20 thread screws to attach the rear speakers to my existing speaker brackets on the wall. The soundbar is really well put together. Lovely finish and is loud. Very loud. Atmos and DTS:X works wonderfully well. Fantastic Beasts Atmos soundtrack has been a standout so far along with Jurassic Park's DTS:X soundtrack where the T-Rex made the room shake. Added bonus the Nintendo Switch's LPCM surround works when it's connected directly into the soundbar.
Date published: 2018-09-01
Rated

4

out of

5
by
frenzy382
from
Good performance, but....
I've bought a number of soundbars recently (different manufacturers) trying each one out, and was not happy. There were some fundamentals that they just couldn't get right. Eventually I ended up with the HW-N950 and out of the box it was way better than others. Good front seperation, good height... One issue for me....rear speaker volume. These really need to be enabled to pump up the volume more. I've had to drop the front to pretty much as low as possible, in order to hear the rear speakers. On occasion I can just hear it. I do have quite a large room, but the sales pitch I was given was that this system would be ideal for large rooms...well, for me, it 'nearly' is. I'm hoping a future firmware update can nail this issue...then it would be 5/5!
Date published: 2019-01-11
Rated

3

out of

5
by
ren_123
from
Good sound; nightmare to contol
I have this set up with a Samsung Q9 (2018) and Panasonic UB9000; trying to get it to do what I want is a nightmare. Constantly discounts the ARC connection and switches to DIN which has nothing connected, no user interface for setup and the app does nothing. Now connects to my TV via wireless and I can't stop it meaning no ARC control of volume or Blu-ray, my 10 year old Yamaha system was far easier to set up and control. Also no calibration options for setup
Date published: 2018-11-11
Rated

1

out of

5
by
cwazypaving
from
Avoid: hidden 5min power off kills this product
Having been pleased by this product, I find it has a hidden feature that it turns off if the content is paused! The time it takes is a few minutes, you can't even make a cup of tea without having to get the remote and turn it back on. I found some forums complaining about this and they seem to have been ignored. Well I am now gutted to have paid £1500 for this product to find that it has this stupid "feature", it makes it not fit for purpose and with no option to change it and it being ignored by Samsung I would no longer recommend this product and I am upset to recently have spent nearly £6000 on Samsung products to discover this and that Samsung don't seem to care!
Date published: 2018-11-02
User manual & Downloads
Live Chat
How It Stacks Up
* Gorkana (within a set list of TV and AV media. Jan - Dec 2015).
** Which? Best Buy awarded to R1,3,5