How do I clean the dust bin and grille on my Samsung vacuum cleaner?
1. Empty the dust bin if the dust level reaches MAX or the filter
light is illuminated.
2. Take the dust bin out by lifting the handle.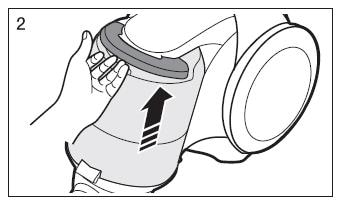 3. Push the button aside.
4. Turn the grille and take it out.
5. Push the button. Seperate the dust bin from the body.
6. Clean the dust bin and body with water.
7. Leave the dust bin and body until it is completely dry.
8. Insert the grille again and turn it clockwise.