How do I create an interactive virtual tour using my Samsung Galaxy S5 camera?
The Virtual tour shot photo shooting mode lets you create interactive virtual tours of your surroundings.
 
Accessing Virtual Tour shot mode
1
From the Home screen touch Apps.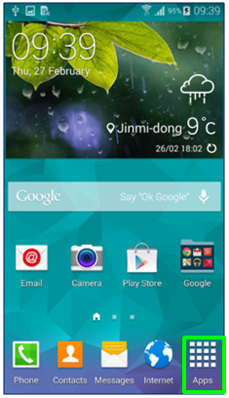 2
Touch Camera (you may need to swipe left or right first to locate it).
4
Touch the Virtual tour shot thumbnail.
Creating a Virtual Tour
To begin, place the target pointer in the center of the circle by tilting the device in order to calibrate it. Follow the instructions on the screen to change direction or move straight ahead. Hold the device steady so the target pointer is within the target circle each time a new photo is taken. Each time the target circle displays another photo will be captured and stitched into the tour.
Touch the stop button when you have finished the tour.