How do I use the edge of the S7 edge?
1. Follow the below steps to access the edge function:
1.1 From the front screen of your device, tap and drag the tab to the left.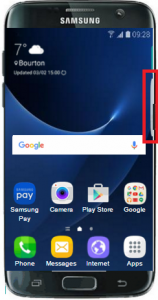 1.2. The Edge panel will now be revealed.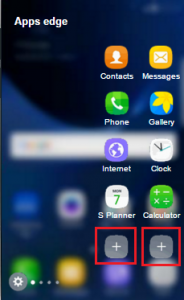 1.3. You can choose the + icon to add new apps to this panel. (If you do not see this on your device, skip ahead to step to step 2 in the second half of this tutorial.)
To add to the panel, tap and hold the App you would like, then drag it over to the area on the right hand side of the screen.
Release your finger once the App is within the right hand section of the screen. This will add the App to your Edge App shortcuts.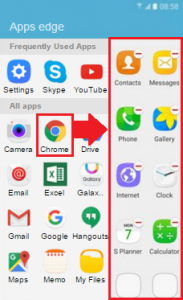 2. You can also edit which type of items you would like to see on the panel.
2.1. From the front screen choose Apps.
2.2 Choose Settings.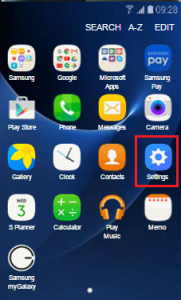 2.3. Choose Edge screen.
Edge panels: Display apps or certain contacts within your Edge panel from the front screen for easy access.

Edge Feeds: Show missed calls, your step count, messages and more along the Edge of your device.

Edge Lighting: Set the Edge of the screen to light up when you receive calls or notifications while the device is turned over.

My Places: Share your location and journeys with contacts.

CNN: Keep up to date with current breaking news.
Quick Tools: A fully functional compass.

Internet: Quickly access favourite web pages.

S Planner: View important dates or appointments within the S Planner quickly.

Weather: Keep up with the weather in your area.
2.5. Using the tick boxes, choose which items you would like to display on your Edge panel.

Note: You can just tap the On switch at the top of the page to turn on the Edge Panel for your device.