How do I install an Evolution Kit on my ES7000 or ES8000 Samsung TV?
If you own an ES7000 or ES8000 TV you can have all the functionality of the F range Smart Hub by installing an Evolution Kit on your TV. Follow the steps to do so.
Turn off your TV by switching it off at the wall socket and then remove the mains plug from the wall socket or from the back of the TV. Then follow the steps below:
1. Remove the sticky label from the back of the set that has Evolution Kit written on it.
2. Remove the rubber cover from the large plug connector on the Evolution Kit.
3. Line up the Evolution Kit with the two slots as shown in the diagram and insert it.

4. Swing the Evolution Kit round into place as if closing a door. This will line the large connector on the Evolution Kit up with the large socket on the rear of the set.

5. Ensure the Evolution Kit is attached securely by pushing it towards the rear of the TV until you feel a click (you will need to support the TV while you are pushing against it). You can check the Evolution Kit is installed correctly by gently pulling the right-hand side: if the kit comes away from the rear of the set then repeat steps 1, 2 and 3. If installed correctly the kit will not move.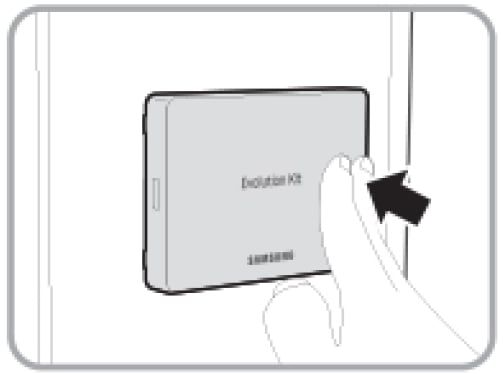 6. Reconnect the power cable between the back of the TV and the wall socket and switch the power on at the wall socket and then turn on your TV.
The TV will detect the Evolution Kit and will start the installation process. The Evolution Kit will write new software to the TV and then the TV will switch itself off and on again automatically. Next you will see the new 2013 Smart TV Welcome video followed by an Evolution Kit installation screen. Press the

button on the standard remote control (or the centre of the touchpad on the Smart Touch Control) when prompted to start the installation. The process will take about one minute to complete.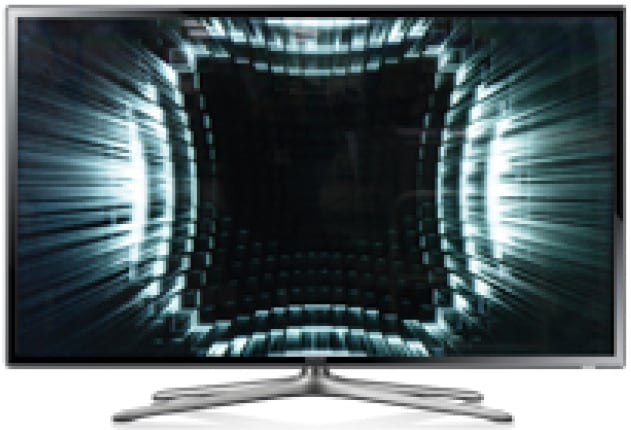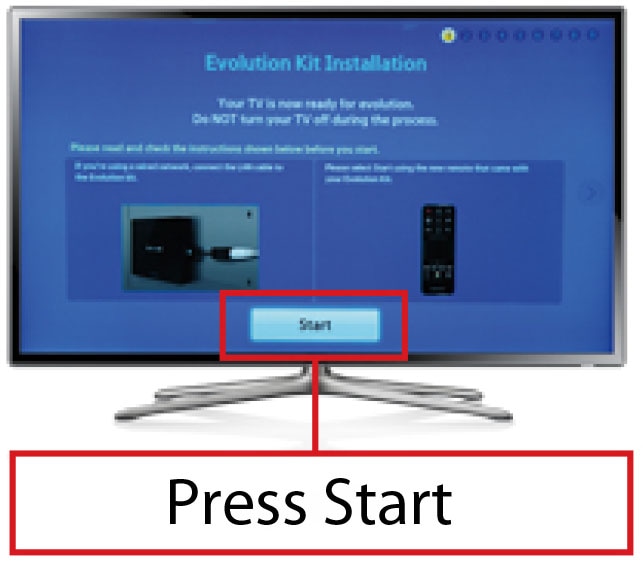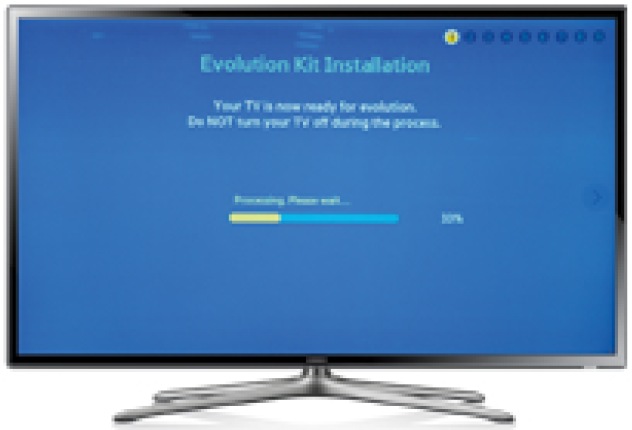 Follow the on-screen menus and prompts to set up your Evolution Kit-upgraded TV.