Open lasagna with parmesan tuiles
A deceptively simple, creamy vegetable lasagna topped with homemade parmesan crisps.

This vegetarian lasagne is a modern take on everyone's favorite Italian comfort classic. Simple yet elegant, this version skips the traditional ragù bolognese, ricotta, and béchamel in favor of a robust roasted mushroom and crème fraîche filling.

The deep stacks of silky noodles a layered with a creamy filling, garnished with parmesan tuiles that you bake – at the same time at a different temperature – using Samsung's Flex Duo™ Smart Divider. The lacy crisps deliver a visually stunning, salty finish to each delectable bite.
Ingredients
· 2 large leeks, trimmed, washed and sliced
· 9 oz mushrooms, sliced
· 2 tbsp olive oil, plus extra to drizzle
· 2 oz parmesan or vegan alternative, finely grated
· 2 lbs fresh spinach
· 5 oz fresh lasagna sheets, halved or quartered to make squares
· 2 garlic cloves, crushed
· A pinch of chili flakes
· 7 oz crème fraîche
· ½ small bunch of chives, finely chopped, plus extra to serve
· ½ small bunch of parsley, finely chopped
Nutrition Information of Lasagna and Vegetables

| Cal     | Fat(g) | Saturated (g) | Carb (g) | Sugar (g) | Fiber (g) | Protein (g) | Sodium (g) |
| --- | --- | --- | --- | --- | --- | --- | --- |
| 827 | 61.0 | 30.0 | 10.0 | 7.0 | 6.0 | 52.0 | 0.94 |
Delightfully crispy finish to each silky bite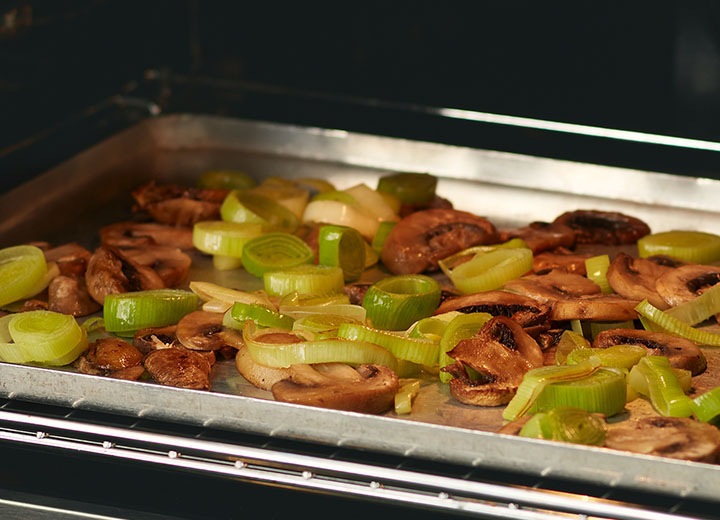 Step 1. Roast the vegetables
Insert the divider into the middle of the oven, heat the top oven to 180°F Convection and the bottom oven to 220°F Convection. Add the leeks and mushrooms into a bowl and drizzle with 1 tbsp olive oil. Season well with salt and pepper. Transfer to a baking tray and roast in the top oven for 20 mins until golden and tender.
Step 2. Bake the parmesan tuiles
Add a sheet of baking parchment to a baking tray, then drop 6 tsp of parmesan in four heaping spoonfuls, leaving plenty of space for each to melt and spread out on the tray. Cook in the bottom oven for 5 mins until golden, crisp and lacy. Leave to cool on the tray. These will keep in an airtight container for up to a day.

Tip: You can make extras as a snack or appetizer.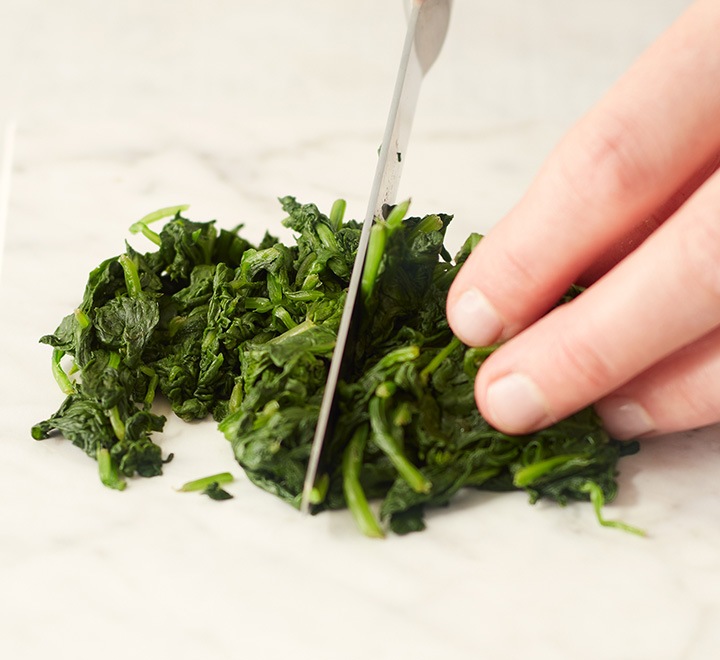 Step 3. Blanch & chop the spinach
Meanwhile, blanch the spinach in a large pan of boiling, salted water for 1 to 2 mins until wilted, then drain. Rinse with cold water, then squeeze out to drain again. Pat dry with a kitchen towel and roughly chop.
Bring a large pan of salted water to boil, then lower in the lasagna sheets. Simmer for 3 to 4 mins until tender, then drain well. Drizzle with a little oil to stop the sheets from sticking together.

Tip: Dried lasagna sheets take longer to cook, so boil them for 6 to 8 mins until al dente.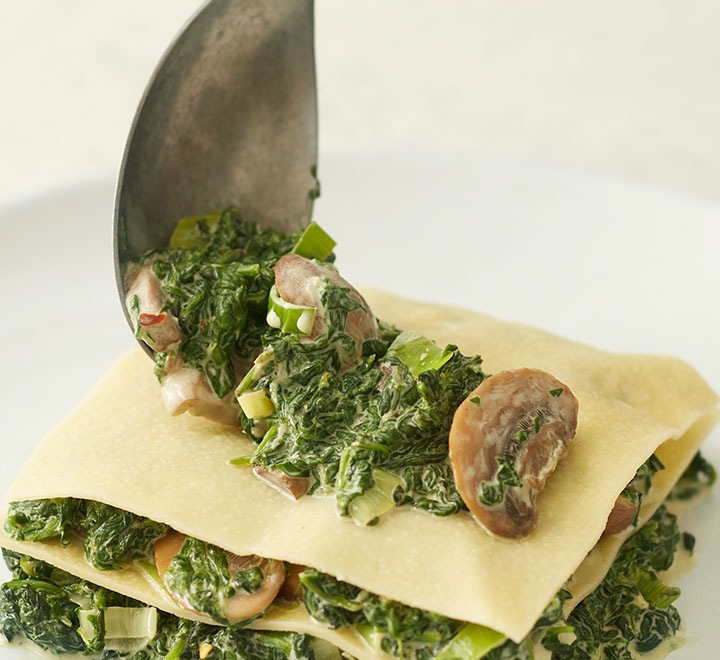 Step 5. Make the creamy veg sauce
Heat the remaining 1 tbsp oil in a deep frying pan and fry the garlic and chilli for 30 seconds until it smells fragrant. Stir in the crème fraîche, the remaining parmesan, chives, parsley and the chopped wilted spinach. Bring to a gentle simmer. Season well with salt and pepper, then stir in the roasted mushrooms and leeks. Keep on a low heat.
Step 6. Assemble & garnish
To assemble, add a spoonful of the creamy veg sauce to four shallow bowls. Add a layer of lasagne and add a spoon of the vegetable sauce, then repeat until you have four or five layers, finishing with a layer of sauce. Remove the tuiles from the tray with a palette knife and top each bowl with one. Sprinkle extra chives, a crack of black pepper and a drizzle of olive oil to serve.
30" Smart Microwave Combination Wall Oven with Steam Cook
Enjoy more flexibility to prepare multiple dishes simultaneously.

30" Smart Microwave Combination Wall Oven with Steam Cook