Steam, refresh, and purify your wardrobe
Quickly refresh your clothes in as little as 20 minutes or thoroughly steam sanitize from the comfort of home. Our Bespoke AirDresser clothing care system has up to 24 cycles that extend the life of fabrics—from wool and linen to down and delicates.
Shop Bespoke AirDresser
Available in two sizes, the Bespoke AirDresser is loaded with Smart innovations and high-performance features to keep your wardrobe looking and feeling fresh.
Intelligent and elegant
Designed with AI Powered learning and Wi-Fi connectivity to be easy to use. Beautiful to look at, the Bespoke AirDresser brings unassuming sophistication to your closet, office or anywhere in your home.
A smart closet that learns
your style
Remotely start, pause, get cycle recommendations and energy usage notifications from your smart closet right on your phone with the SmartThings app.*
Peace of mind with the SmartThings App


Remotely start, pause, get cycle recommendations and energy usage notifications right on your phone with the SmartThings app.*
Convenient clothing care
Bring thorough fabric care to any space in your home with Bespoke AirDresser's easy installation.

Give your clothes new life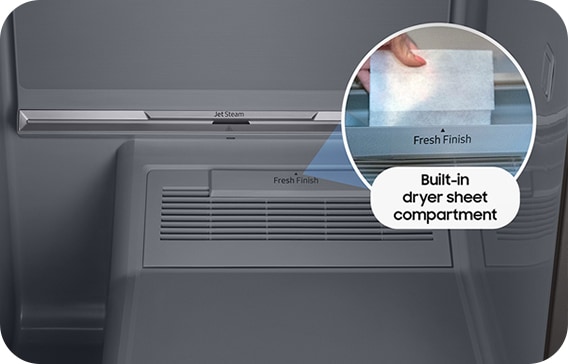 Fresh Finish™


Freshen up your garments and reduce static cling by inserting a dryer sheet into the built-in Fresh Finish™ compartment.²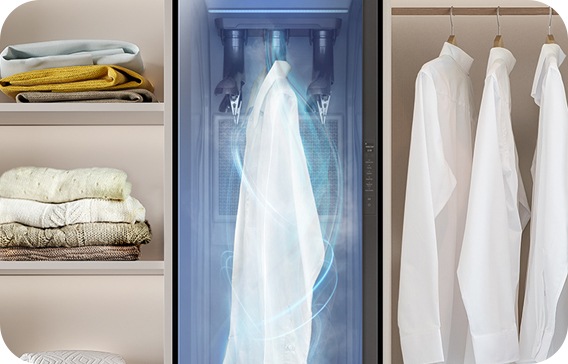 Optimized drying times


Sensor Dry continuously senses the humidity of the clothing and intelligently reduces the drying time accordingly, so your laundry is always dry cleaned thoroughly in the shortest possible time.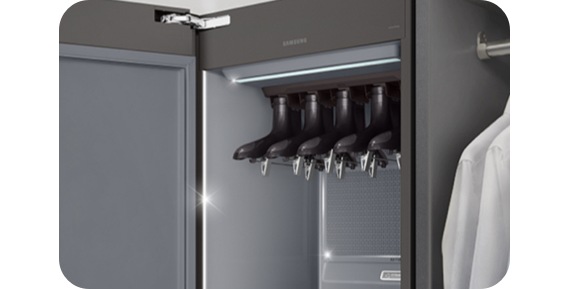 Simply maintained, effortlessly cleaned
Self Clean technology eliminates odors and buildup inside your AirDresser so you don't have to. It even sends reminders when you're due for a cleaning every 40 cycles.
Ranked #1 in Product & Service Quality
and Repair
Samsung was rated #1 in Product Quality, Service Quality and Service Repair by the 2022 American Customer Satisfaction Index.††

Get it superfast with free Samsung Select 3-day delivery.
Shop eligible home appliances and get it in 3 days or less on us. Limited to select ZIP codes. See Terms & Conditions.π

* Using Daily Care course + Sanitize Option, eliminates: 99.9% of viruses and bacteria, including influenza A, adenovirus, herpesvirus, norovirus, rhinovirus, hepatitis, Staphylococcus aureus, E. coli, MRSA, Streptococcus pneumonia, and Legionella Pneumophila.

** Dead dust mites may still cause allergies.
All testing based on Samsung protocols; data/results provided
to and co-interpreted by Intertek.
1 Based on testing by Intertek using Daily Care course, eliminates 99% of isovaleric acid, 4-ethynylpyridine, valeraldehyde, tetrachloroethylene, Methyl Mercaptan, Trimethylamine, Dimethyl Disulfide, Nonanal, MEK, Formaldehyde, Ammonia, Acetaldehyde/acetic acid, Toluene, isobutyraldehyde and Acetone.

2 Dryer Sheets not provided. Scent strength may differ based on dryer sheet used. Scent may remain inside Air Dresser after cycle is complete. Discard dryer sheets after each cycle to prevent mold growth.
3  Requires wireless network, Samsung account and Samsung SmartThings App. The Samsung Smart Things App supports Android OS 4.0 (ICS) or later, which is optimized for Samsung smartphones (Galaxy S and Galaxy Note series). This app also supports iOS 7 or later for iPhone models. Samsung SmartThings App available in App Store and Play Store.
± Subject to credit approval. Restrictions apply.
††Based on the 2022 American Customer Satisfaction Index survey of customers rating their own appliances.  Samsung tied with three other brands for Service Quality.  ACSI is a registered trademark of American Customer Satisfaction Index LLC.