Things to consider before mounting the TV on the wall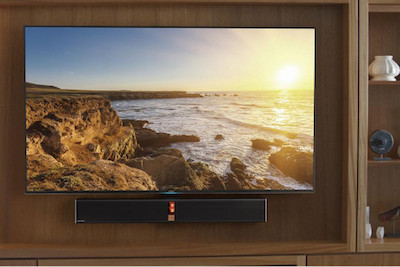 Getting your TV up on the wall gives you more space, a better view, and keeps it out of reach of children and pets. But before you begin, you may be wondering: where is the best place to mount the TV, how high should I mount my TV, what types of mounts work with my TV, what size screws or bolts do I need, can I buy replacement screws, and finally, how do I mount my TV? Find the answer to all of the above and more.

Where to mount the TV
These days, TVs are in almost every room in the house. Choosing whether to mount the TV or leave it on its stand is going to depend on the room and personal preference. Keep these factors in mind as you make your decision.
To calculate the proper viewing distance, take your TV's size and divide by .55. For instance, the recommended distance to sit away from a 60 inch TV would be 109 inches. If you have less space than that, you'd want a smaller TV. In cramped environments, bigger is not always better.
Your TV is heavy, and the wall you choose for mounting must be able to support it. Your wallmount should be attached to a stud. In most cases, this won't be a problem, but depending on the house you may find that the space between studs makes it difficult to mount a TV. If you don't attach the mount to a stud, you can use drywall anchors (toggle bolts) but you need to make sure the wall can hold the weight of the TV.
Mounting your TV above a fireplace
You can mount your TV over the fireplace, but you may not want to, unless you never use the fireplace. Your primary concern will be the heat: Samsung TVs should never exceed 104 degrees Fahrenheit. Before you even think of mounting a TV above your fireplace, light a fire and check the temperature first.
Another issue specific to wood-burning fireplaces that are actively used is that ash could accumulate on the TV and its vents. You may be cleaning the TV much more often because of it.
Also keep in mind that if you mount your TV above the fireplace, it will be well above eye level when you're sitting down. Consider getting a mount that can be angled to make it easier on your neck.

And finally, don't forget about your devices. Do you really want a cable box, game console, or Roku sitting on your mantle next to your family photos?
Putting a TV in the bathroom
In general, you should not put your Samsung TV in extremely hot, cold, humid, or dusty places. Consequently, we recommend that you do not install your Samsung TV in a bathroom or any other room with high humidity.

Finding a place for your cable box, Xbox, and other boxes... (Blu-ray player, Nintendo Switch, PlayStation, etc.)
If you're only going to connect your TV to Wi-Fi and stream content, you just have to worry about the power cord. If you want to connect any external devices, you'll need a plan to corral that mess of cords hanging from the TV.
Many of our TVs have a One Connect box that connects devices to the TV with one very small wire. For everything else, consider getting some in-wall rated cables and a kit that allows you to run all your cords through the wall to your devices.
How high to mount the TV
Height may be the most important thing to consider when you mount your TV. First, think about the room itself. Is the TV going in your living room, a home bar, or a game room? If you are going to be watching from bar stools, then it needs to be mounted high enough for comfortable viewing from that height. But if you'll be standing around a pool table and watching TV, you'll want to mount it even higher since you will watch it primarily while standing up. You may also want the option to angle it down, if you decide to sit.
If you are mounting your TV in a living room, it's a good idea to sit in your favorite spot and have a friend measure the distance from the floor to your eye level. If that's too much trouble, you can mount your TV 42 inches from the floor to the center of the TV. This should meet the approximate eye level of someone who is 5 feet 6 inches tall sitting on a standard couch.
Note: Make sure you don't forget the piece of furniture you may be placing under your TV. Depending on the size of your TV, 42 inches may not allow enough space for the table or cabinet. If not, mount the TV about 4 to 6 inches above the furniture. (This is about the same height you would hang a mirror above a dresser.)
Compatible wall mounts
Samsung TVs are VESA Compliant and work with any wall mount that is also VESA Compliant and designed for the TV's size. We have several wall mounts available on our Accessories page. The best part is that the wall mount you purchase comes with all of the screws, spacers, and washers that you need to install it. The following information can help you determine what kind of mount you should get based on the size of your TV.
Note: For information specific to your model, see the user manual for your TV.
VESA Bolt Patterns in Millimeters (A and B)
100 by 100 (usually 19 - 22 inch TVs)


200 by 100 (usually 23 - 29 inch TVs)


200 by 200 (usually 30 - 43 inch TVs) 


400 by 400 (usually 46 - 75 inch TVs)


600 by 400 (usually 75 inch or larger)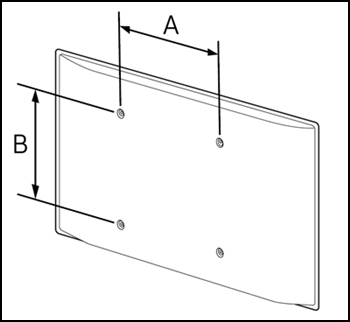 Replacement wall mount screws
The wall mount comes with all the screws you need to get it successfully installed, and you should be able to contact the manufacturer of the mount to obtain additional screws if needed. However, if you ever need to replace them, this information should help. The length of the screws varies depending on the thickness of the wall mounting bracket, if spacers are being used, or if washers are being used. The thread pitch, regardless of TV size, is always 1.25 millimeters. You can purchase wall mounting screws from Samsung Parts. There is always a universal TV mounting screw kit available as well.
For TVs 19 - 22 inches, the screw size is M4. 


For TVs 30 - 40 inches, the screw size is M6.


For TVs 43 - 88 inches, the screw size is M8.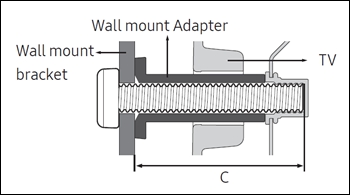 How to mount your TV
Now you're ready to mount your TV. While this can be a fairly easy DIY project, please don't do it all by yourself! Make sure you have someone to help you when it comes time to lift the TV. If at any time you don't feel comfortable completing this project, there are many professional options available.
Tools needed
These are the tools you'll need, with links to suggested examples:
Installing a standard wall mount
There are many different wall mount options available, but as long as you follow the instructions that come with your wall mount, and you're comfortable using common household tools (screwdriver, tape measure, drill, etc.), installing the wall mount should prove to be a fairly simple task. Of course, many hands make light work, so having a friend to assist you will really make mounting your TV a breeze. 
Installing a no gap wall mount
When selecting a mounting kit, pay close attention to its depth. Samsung No Gap Wall Mounts which are exclusively for the QLED or Frame TVs, allow it to fit snuggly to the wall but still leave enough room to ventilate the TV. They also allow for leveling the TV after is is mounted.
Installing the mini wall mount
Samsung Mini Wall Mounts have a profile between 0.7 and 1.6 inches, which is enough to ventilate the TV without making its profile the center of attention in a small room. They also allow for leveling the TV after hanging and it includes a leg that you can use to angle the TV away from the wall for access to the connections.

Other answers that might help
How would you like to contact us?
1-800-SAMSUNG 8 AM - 12 AM EST 7 days a week IT/ Computing - 8 AM to 9 PM EST Mon to Fri

Call Us
Want help right away?
Email as a contact option was discontinued as of April 3rd, 2019. Please contact us via Live Chat for a faster response.
Give us a call 1-800-SAMSUNG (1-800-726-7864)

Mobile Support 8 AM - 12 AM EST 7 days a week

Home Electronics & Appliance Support 8 AM - 12 AM EST M-F 9 AM - 6 PM EST Sat, Closed Sunday

IT/Computing Support 8 AM - 9 PM EST, Mon - Fri Closed Sat-Sun
televisions-home-theater|tvs|4k-suhd-tvs