How do I use the Samsung calendar app?
The calendar app is the first place you should go to keep ahead of all the important occasions in your life. Sync your existing calenders, colour code and add stickers to your appointments or invite others to your events, the calendar app gives you all the tools you need to get organised.
If you're just getting started with the calendar app you may need a little help getting around. Find out how to change the calendar view, jump to the current date, get a closer look at your events and much more.
Basic navigation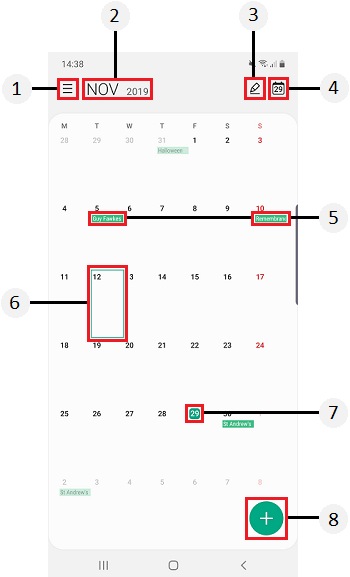 1
Menu - tap here for more options
2
Date select - tap here to quickly change the date, month and year to jump to a specific date
Swipe up and down on the day, month and year to select a date to jump to.
3
Drawing mode - this option is only available while looking at the monthly view on specific devices that have an S pen. Use drawing mode to doodle on your calendar just like if it was hung on the wall
4
Today - this button will quickly take you to the current date
5
Events - you can see the title of your events on the calendar itself. Tap an event to expand it
6
Selection box - the outline around a date shows you the date you have selected. When you open the calendar it will automatically select the current date
7
Current date - the current date will be highlighted to make it easier to see
8
Add event - tap this button to create an event. The date of the event will be automatically entered as whichever day is currently selected with the selection box
You can swipe left or right to switch the month that you are currently looking at.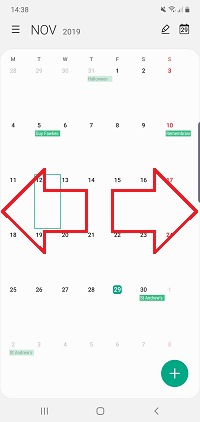 Swipe up one or two times to see more information about the date that you have selected.
Changing the calendar view
You can change the view of the calendar to easily see the whole year, month, week or just a single day. You can also quickly jump to the reminder app.
1
Tap the menu icon
2
Tap Year to view the full year
3
Tap Month to view the current month
4
Tap Week to view an expanded view for the current week. In this view you can see more details about your events
5
Tap Day to view your schedule for the day in detail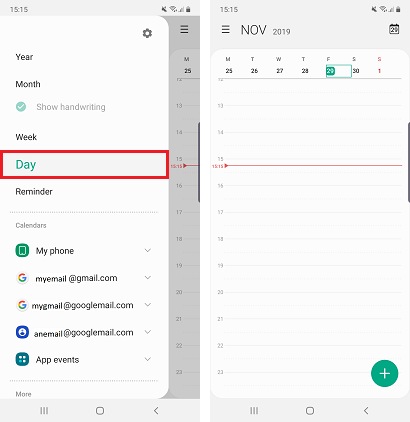 Tasks and reminders used to be integrated into the calendar app but have been moved to give you greater options. From the menu you can tap Reminder, to jump straight to the reminder app. 
Your events and occasions are the reasons to keep a calendar, there are some things that are just too important to miss. Whether it's your favourite artist coming to town, a work meeting or a special anniversary, keep track of it by making an event.
Adding an event
1
Tap the day that you would like to create an event for. This will make it easier to add your event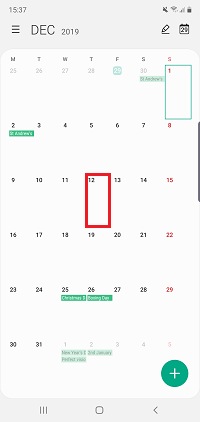 2
Tap the same day again or tap the + icon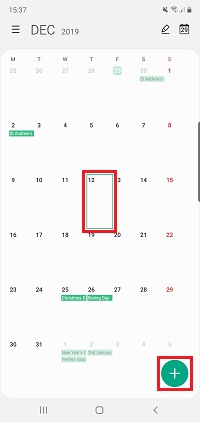 3
Give your event a Title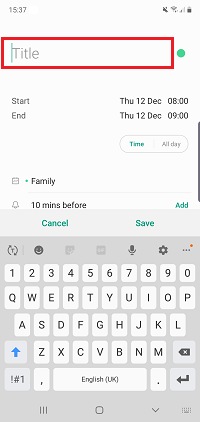 4
Tap Start to change the date and time of the event. If this is an all day event, tap All day instead
5
As we selected the day the event is happening earlier, the date is already correct. However, you can also swipe the calendar to change the month and tap on a day to choose it
6
Swipe up and down on the clock to adjust the start time of your event
7
Once you are happy with the start time, tap End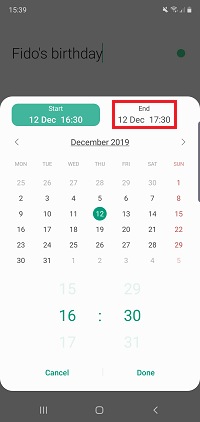 8
If this event goes on for more than one day, tap the date that it ends on the calendar
9
Swipe up and down on the clock to adjust the end time for your event
10
Tap Done once you are happy with the start and end times for your event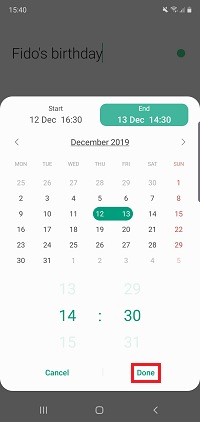 11
On the Samsung calendar app you can import multiple calendars, helping to keep your events separate. If you would like to change the calendar that this event is added to, tap the option next to the calendar icon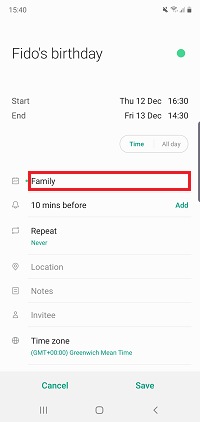 12
Tap the calendar that you want to add this event to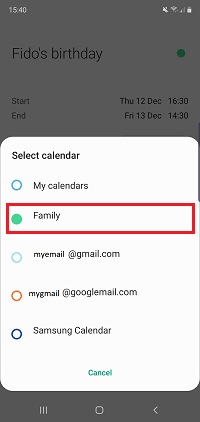 13
Tap the option next to the notification bell to adjust how and when you will be alerted about your event
14
Tap Notification or Email to select how you are notified about this event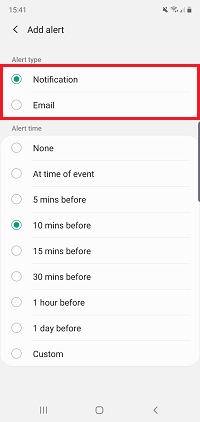 15
Choose your preferred Alert time
16
If you would like to have multiple alerts, tap Add to create another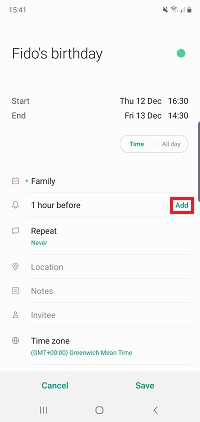 17
If this is a repeating event, for example a weekly meeting, tap Repeat. If it isn't skip to step 20
18
Select when you would like this event to repeat
19
Once happy with how the event will repeat, tap the back icon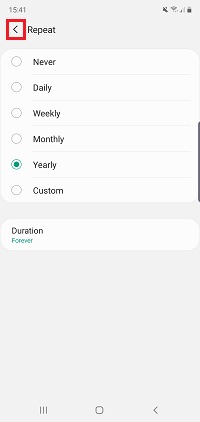 20
If you would like to set where the event will happen tap Location. You can enter the name of the location or choose it on the map
21
Tap Notes to add more details about your event
22
Tap Invitee to add guests to the event
Please note: you will only be able to invite people that are in your contact list
23
Tap Save to create the event
Your event will now appear on your calendar.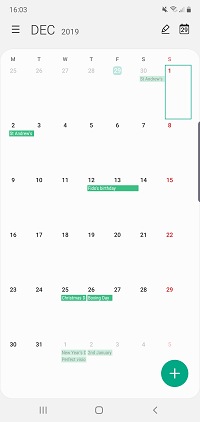 Editing and deleting an event
Plans change and fortunately your calendar can keep up with that. Forget the days of scribbled out events and cluttered calendars because editing and deleting events is easy.
1
Find and tap on the day of the event you want to change
2
Tap and hold the event
3
Tap Delete or Edit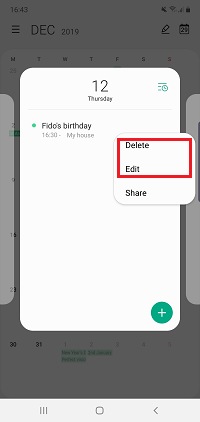 If you are editing an event you will have all the same customistation options as when you first set the event up.
Sharing an event
Events are better with your friends, that's why it's super easy to share your events and invite your loved ones. You can share your calendar events through email, WhatsApp, Bluetooth and more, so that no matter what platform your connections are on they will never be left out.
1
Find and tap on the day of the event you want to share
2
Tap and hold the event
3
Tap Share
4
Choose whether you would like to share this event as a Calendar file or as Text. Sharing as a calendar file allow the recipient to easily add it to their own calendar while a text file just provides the details of the event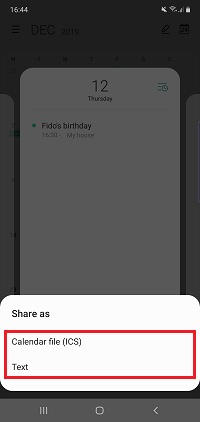 5
Tap on the app that you want to use to share your file
Please note: the available apps will depend on the apps you have installed on your specific device
6
Complete sharing your event through your chosen app. The steps for this will differ depending on the app selected
You can also share the event by adding an invitee. If you have already created an event and would like to add an invitee, edit the event to include that contact in the invitee list.
The Samsung calendar app lets you bring together your events from other calendars including Gmail, Google, and Microsoft Exchange. This makes it easy to create shared calendars and import any you may already have. You can also turn on calendar syncing so that your calendars stay up to date across all your devices.
Adding an existing calendar
1
Tap the menu icon
2
Tap the settings cog
3
Tap Add new account
4
Tap the type of account you want to add
5
Follow the on-screen instructions to finish adding your calendar
Change the calendars on display
Having all of your calendars in one place is great, but it can start getting a little cluttered. If you'd like you can choose which calendars are displayed, helping you see the events you need to, when you need to.
1
Tap the menu icon
2
All of your Calendars will be displayed
3
Tap the calendar whose display you want to adjust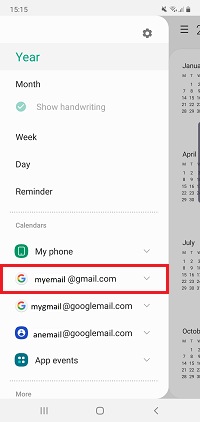 4
Depending on the calendar selected there will be a variety of calendar types. Tap the calendar you want to display or hide. The calendar will have a tick next to it if it will be displayed
5
Repeat for your other calendars until you have your preferred display
Removing a calendar
Sometimes hiding a calendar from you display isn't enough. If you would like to remove a calendar completely you can do so through your settings.
Please note: removing an account will also remove it from any other apps. For example, if the calendar you want to remove is associated with an email account it will also be removed from the email app
1
Swipe up on your home screen, to access your apps
2
Tap Settings
3
Tap Accounts and backup
4
Tap Accounts
5
Tap the account that you want to remove
6
Tap Remove account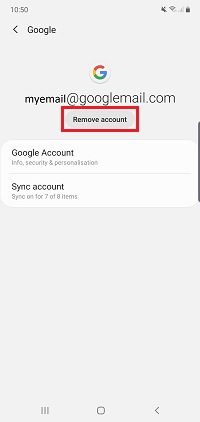 7
Tap Remove account to confirm
If you're experiencing unusual behaviour on Samsung mobiles, tablets or wearables, you can send us an error report or ask us a question in the Samsung Members app.
This allows us to take a closer look at what is happening. The data is anonymised and only held for the duration of the investigation. Find out more about sending an error report through the Samsung Members app.
Not finding what you're looking for? We're here to help.
Online
There are a number of different ways of contacting us via Live Chat, Email, Twitter, Facebook Messenger and more.


LEARN MORE >
Contact Us