How to use the cover screen of your Galaxy Z Flip
Last Update date :
May 30. 2023
Tap and swipe to control your phone and take selfies even when it's folded shut. The cover screen notifies you at a glance, while contextual continuity lets you tap to seamlessly transition to relevant apps as you unfold your phone.

Quick glance at notifications and answer calls without unfolding Galaxy Z Flip
Simply tap and swipe on the cover screen to check system alerts, app notifications and check messages without unfolding your phone.

If the phone is folded and locked, press the Side key or double-tap the cover screen to turn on. The time, date and battery information appears first when you double-tap the cover screen. 

If a notification requires you to open an app, you can easily switch directly to it. Tap the notification on the cover screen, tap again, and then unfold the phone to directly access the selected app.
Tap cover screen and swipe to right to answer a call or swipe to left to reject it. If you aren't using a headset or Bluetooth audio accessory, the speakerphone will be enabled when you answer a phone call with the phone folded. You can also use Bixby to help you make calls. Simply say, "Hi Bixby, call Mum."

How to setup Bixby for use when your phone is locked

Step 1. Unfold the phone and navigate to Bixby Assistant Home.
Step 2. Open the app, tap More options (three vertical dots).
Step 3. Tap Settings, and then tap the switch next to 'Use while phone locked.' 
Quick shot without unfolding Galaxy Z Flip
Take selfies using the rear camera and preview on the cover screen without unfolding.
To activate the camera when the device is folded, double-tap the Side key. 
Photos can be taken using Volume down key and palm gesture.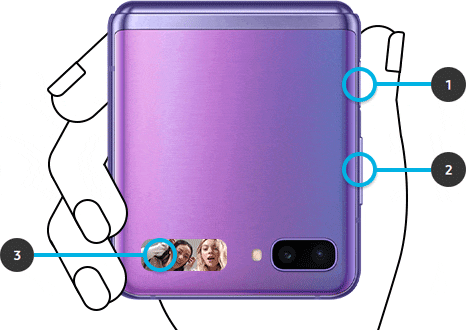 1
Side key : Double-tap to launch camera app
2
Volume key : Take photo
Dual Preview : Photographer and subject can both experience filming
Dual Preview : Both the photographer and subject can preview simultaneously through the viewfinder on the cover screen using the On/Off option button on the upper right side of the camera menu.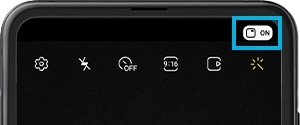 Dual Preview Indicator : Share to the subject (Timer, Flash, Recording) information so that the subject can prepare to get the best photo taken by the photographer.

Please answer all questions.