What to do when Samsung TV keeps turning on and off?
Last Update date :
2022-07-04
For your convenience, there are many ways for your TV to connect with other devices and automatically turn on or off when needed. However, if your TV is turning off and on continuously, there are one or two simple actions you can take to fix it. The first step is unplugging the TV from the power source.
Method 1: Check your connections
1
Unplug the TV for 30 seconds.
Unplug the TV from the wall outlet or surge protector and leave it unplugged for 30 seconds.
2
Inspect the power cord for damage.
Check the power cord to see if there is any visible damage. If the power cord appears to be damaged. You can get a replacement from our service center or call our contact center for further assistance. 
3
Plug the TV power cord back into the wall outlet.
If you were using a surge protector, bypass it for now and use a wall outlet.
4
Disable the Power On with Mobile option.
TVs which can connect to SmartThings can be turned on using compatible devices, sometimes automatically. However, if abnormal "power on" signals are sent through the wireless network, they will trigger this function and make the TV turn on.
If you do not want this function, navigate to Settings > General > Network > Expert Settings > Power On with Mobile, and turn the setting off.
5
Check HDMI connection
If a Set Top Box, game console, PC, or other external devices are connected to your TV, unplug the power cables of the external devices and plug them back in again. Your TV screen may go dark if the source that your TV was connected to turns off.
When there are no external devices connected to the TV, set the Sources to TV. (Settings -> Source -> TV)
Make sure to use a certified HDMI cable. If you use an uncertified HDMI cable, the screen may be black, or a connecting error may occur.
Method 2: Check your TV settings
1
Eco Solution settings
Eco Solution feature turns the TV off to save power when there's no input for a long time.
(Settings -> General -> Eco Solution -> Auto Power Off -> Select Off)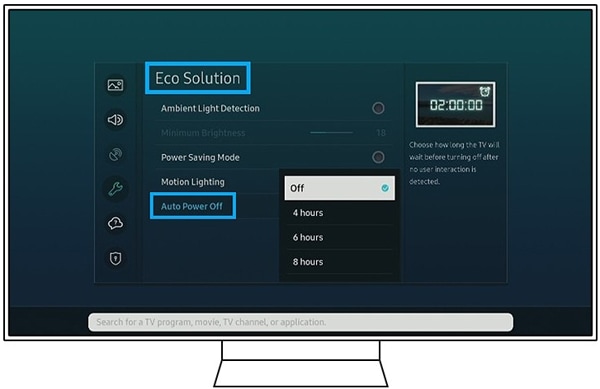 2
Sleep Timer settings
Sleep Timer turns the TV off after a preset period of time.
(Settings -> General -> System Manager -> Time -> Sleep Timer -> Select Off)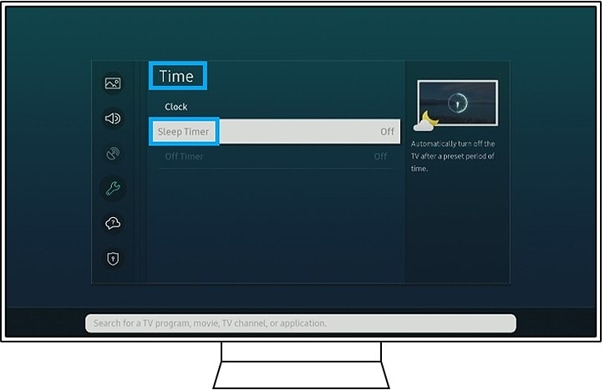 3
Software updates
Keep your TV's software up to date.
(Settings -> Support -> Software Update -> Update Now)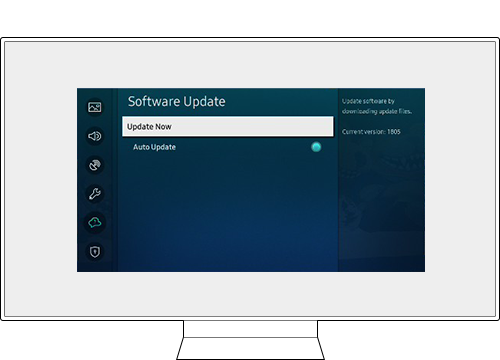 Important: By default, some HDMI devices are set to turn the TV on when they turn on. This feature is Anynet+, also known as HDMI-CEC, and allows you to control both devices with your TV remote. If you want to turn on your devices separately, you can turn off Anynet+ in Settings > General > External Device Manager, but you will no longer be able to use your TV remote for both devices.
Note: If the TV continues to turn off and on by itself continuously, please call our contact Center to request a service appointment.
Please click the submit button below to share your feedback with us. Thank you for your participation.
Please answer all questions.