How to set up fall detection on the Galaxy Watch
The Galaxy Watch3 and Galaxy Watch4 detect if you suffer a hard fall and sends an SOS message to your emergency contact, with your location. Set up fall detection and stay safe with your Galaxy Watch3 adn Watch4.
**Galaxy Watch3 and Galaxy Watch4 cannot detect all falls. Intense physical activity can trigger Fall Detection feature Sending SOS calls and messages requires network connection and smartphone pairing. Galaxy Watch3 and Galaxy Watch4 are not medical/therapeutic devices and are not intended for medical use. They are solely intended for fitness and wellness purposes only and are not intended for use in the diagnosis of disease or other conditions; or in the cure, mitigation, treatment or prevention of disease; or for the prevention or control of pregnancy. Samsung recommends that you consult with your doctor before participating in any exercise program. Using Samsung Health app with Galaxy Watch3 and Watch4 requires signup and pairing with your compatible smartphone. Fall Detection must be switched on and your Location must be enabled to share with your Emergency contact.
On the Galaxy Watch4 there is a 'High sensitivity' option. When switched on, if your watch detects a hard fall, it will send an SOS call and message to your contacts if you haven't reacted or responded within 60 seconds.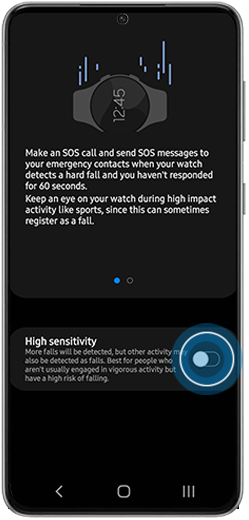 Please note: When 'High sensitivity' is enabled a fall is more likely to be detected when exercising.
Transcript: How to set up fall detection on the Galaxy Watch3 and Watch4
After pairing your Watch3 or Watch4 to your smartphone
1. Open the Wear app
2. Tap on SOS
3. Turn on Detect falls
4. Read and agree to the Terms and Conditions
5. Tap on Create contact or Select from Contacts
6. You can add up to 4 contacts
7. Select 1 contact for SOS calls
8. After a hard fall your watch will alert you for 60 seconds with a pop-up sound and vibration
9. If you don't respond, an SOS message with your current location will be sent to your SOS contact
SAMSUNG
We would love to know your feedback to help us improve. Please click submit to tell us what you think.
Please answer all questions.