[Galaxy J7/J5 2017] How should do I for better fingerprint recognition?
Last Update Date :
Apr 09. 2018
When you scan your fingerprints on the device, be aware of the following conditions that may
affect the feature's performance:
● The Home key contains a fingerprint recognition sensor. Ensure that the Home key is not
scratched or damaged by metal objects, such as coins, keys, and necklaces.
● Ensure that the fingerprint recognition area and your fingers are clean and dry.
● The device may not recognize fingerprints that are affected by wrinkles or scars.
● The device may not recognize fingerprints from small or thin fingers.
● The screen protector supplied with the device may cause the fingerprint recognition sensor
to malfunction. Remove the screen protector to improve fingerprint sensitivity.
● If you bend your finger or use a fingertip, the device may not recognize your fingerprints.
Make sure to cover the entire Home key with your finger.
● To improve recognition performance, register fingerprints of the hand used most often
to perform tasks on the device.
● In dry environments, static electricity can build up in the device. Avoid using this feature
in dry environments or before using the feature, discharge static electricity by touching
a metal object.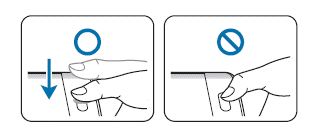 Not finding what you're looking for? We're here to help.
Call
For your Inquiries on Samsung Products
(Inside Saudi Arabia)
8002474357
24 hours all days a week

(Outside Saudi Arabia)
+966112974690
24 hours all days a week

* May Call Charges will be applied
* For any printer related enquiries please visit the HP website .
Face-to-face support
Samsung Support Center

The latest Coronavirus (COVID-19) updates (Service Centers)
With the global spread of COVID-19 impacting most communities, Samsung is adapting its practices to protect the health and wellbeing of our people and customers.

As such, our customer service centers are operating with extremely limited resources and we are unable to serve you as usual.

We apologize for any inconvenience this may cause.
Contact Us