How do I watch a video on Samsung Galaxy S5 while doing something else on the device?
Your mobile device can play videos in the following formats: 3G2, 3GP, ASF, AVI, FLV, M4V, MKV, MP4, WEBM, and WMV. To play videos on your device, touch Apps > Video. 

The Personal tab contains videos captured or downloaded. When DLNA-enabled devices are available you can also view videos available on those devices by touching the Devices tab. Touch a video to begin playback on your device.
Note: If the Devices tab does not appear and you verified that both devices are connected to the same Wi-Fi access point then touch the Reload icon to scan for nearby devices.
Your device supports the ability to multitask while you are watching a video. You can watch the video while reading email, browsing the web, sending messages, or even while playing games.
Pop-up Video Multitasking
You can do something else on your device while you watch a video, such as read email, browse the web, send messages and even play games. Follow these steps to do so.

1
Play a video from the Gallery or Video.
2
When you open a video for viewing with the Video application touch Pop up Video . If the control menu is hidden simply touch the video to unhide the menu.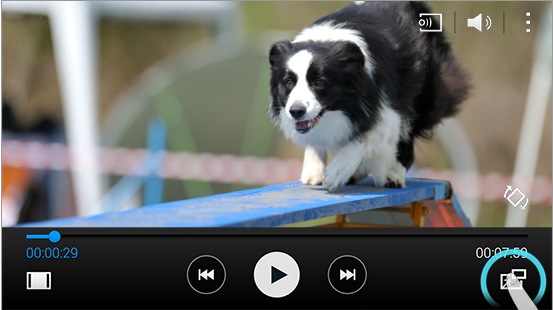 3
The video will be shown in a smaller window and will remain on the screen until the video finishes playing. In the example below, we are composing an email while watching a video in the pop-up window.
You can navigate the device normally and the video will remain on top. To return to the video player double-touch the video window.
You can move the video to a different area of the screen by touching and holding the window: drag it to the desired screen location and release it.
Touch the video window to pause the video. You can then touch the cancel icon (an X)  in the top-right corner of the window to close it. 
Using two fingers, make a "pinch" or "expand" motion on the screen to resize the video window.
Not finding what you're looking for? We're here to help.
Call
0818 717100Phone Support
Smartphone support | Mon-Sun | 8am to 8pm
All Products support | Mon-Sun | 8am to 8pm

0818 302 016Samsung Shop
For new and existing orders | 9am - 5pm, 5 days a week
0124 75161B2B Support
For business support
8am - 6pm, Mon - Fri
Calls to 0818 numbers are a National Call number.
These are subject to call charges which vary by network and are subject to change.
Calls maybe recorded for training and quality purposes.
For information on how we collect and use your details, please refer to our Privacy policy
* For any printer related enquiries please visit the HP website.
Contact Us