Galaxy Fold: What is the purpose of the Slim Film in the main screen?
Last Update date :
2020-10-02
All Galaxy Fold devices come with a replaceable Protective Layer that is already applied to the screen of the phone.

It's a special protective layer to prevent main screen is scratched or damaged.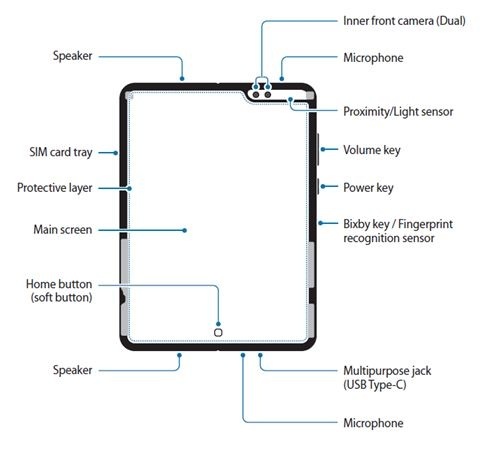 The protective layer is a part of the display module that reduces the external impact on the main display and provides a similar display quality like initial level through replacement as quality of display surface is degraded by various scratches or damages. Do not remove the layer. If you remove the layer, the Main screen will be damaged. And, do not attach any adhesives such as protectors or stickers. The protective layer may e detached from the Main screen when you remove the adhesives.
If scratches or compression marks or dents are shown on protective layer of your Galaxy Fold and you would like to replace this protective layer, please visit to the Authorized Samsung Service Center and check whether you are eligible for warranty. Depending on types of scratch or damage, replacement may not be covered by the warranty and additional costs for replacement will be incurred if the Protective Layer has been damaged due to customer's negligence. After replacement, do not remove the layer while using. If you remove the protective layer, the main screen will be damaged. It is also recommended  to  do not attach any adhesives such as protectors or stickers.